UPDATE 4:50p.m. ET: The Carson campaign did not initially dispute that Carson registered as a Republican in October 2014, though later Tuesday cited Florida state information that said Carson was registered since July 2013 and was a Republican. According to Palm Beach County, however, Carson first registered with the independence party in 2013 and changed his registration to a Republican in 2014.
—
Ben Carson's presidential campaign confirmed to TheBlaze that the famed neurosurgeon was previously a registered independent ahead of entering the race for the 2016 Republican nomination.
"Prior to registering as a Republican, Dr. Carson was indeed registered as an Independent in the state of Maryland," Carson spokesman Doug Watts told TheBlaze in an email. "His registration as a Republican followed and was generally in concert with his declaration of Florida as his official domicile."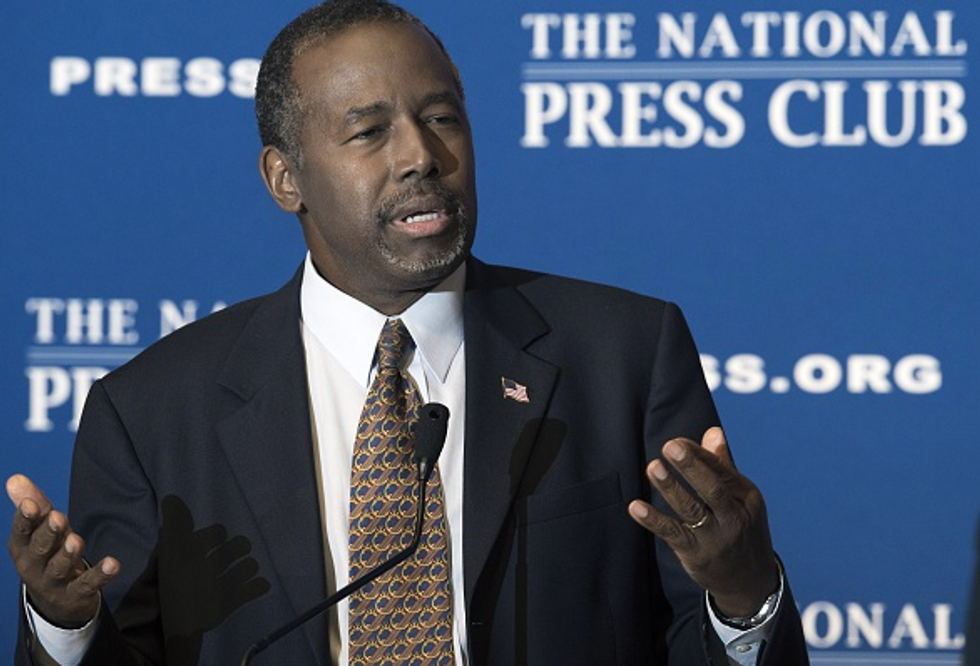 Republican presidential candidate Ben Carson gestures as he discuss his new book 'A More Perfect Union: What We the People Can Do To Reclaim Our Constitutional Liberties' at the National Press Club in Washington, DC on October 9, 2015. (PAUL J. RICHARDS/AFP/Getty Images)
TheBlaze inquired about a report posted on the website, The American Mirror, which cited local government documents in Maryland and Florida, showing Carson had registered as an independent and became a registered Republican less than a year ago – on Oct. 31, 2014.
After the initial post of the story, the Carson campaign provided TheBlaze with information from the Florida Department of State, Division of Elections, showing Carson registered as a Republican in Florida on July 24, 2013. Watts said Carson was in meetings for much of Tuesday and he couldn't reach him directly.
"I suspect that he registered at the same time he got his [driver's license], and just forgot, then put in the later registration in 2014," Watts said in a follow up email. "Best I can do for now, but I think its a pretty good guess."
Mark Malone, an elections specialist with the Palm Beach County Supervisor of Elections, told TheBlaze that Carson was registered with the Independence Party in 2013 but changed his voter registration to Republican in 2014. The recorded date for the party registration change was Nov. 6, 2014, after Carson filed the registration form on Oct. 31, 2014.
Because of Carson's schedule, Watts said he would probably not be able to confirm directly with the candidate on Tuesday.
"I will say that the affadavit said 10/31, not 11/6," Watts said in a later email. "Guess we know why Florida is the land of election problems. Not going to contest your finding, except the date of the 2014 record. But, the state record does say Republican. We're fine if the claim is 10/14 or 7/13. He is a Republican today. Better than going in the other direction."
Carson is running a relatively close second to Donald Trump in most Republican presidential polls both nationally and in early states.
It was in early 2013 after his National Prayer Breakfast speech that many conservatives called for Carson to run, a time when he was still an independent. In May he confirmed he would seek the Republican presidential nomination.
Editor's note:This headline has been changed from its original version.