White House press secretary Josh Earnest said Wednesday that the public — including Democratic presidential contender Hillary Clinton — hasn't yet seen the final draft of the Trans-Pacific Partnership agreement between the United States and 11 other nations.
That hasn't stopped Clinton from saying she has.
Clinton said of TPP during Tuesday's Democratic debate, "I did say, when I was secretary of state, three years ago, that I hoped it would be the gold standard. It was just finally negotiated last week, and in looking at it, it didn't meet my standards. My standards for more new, good jobs for Americans, for raising wages for Americans."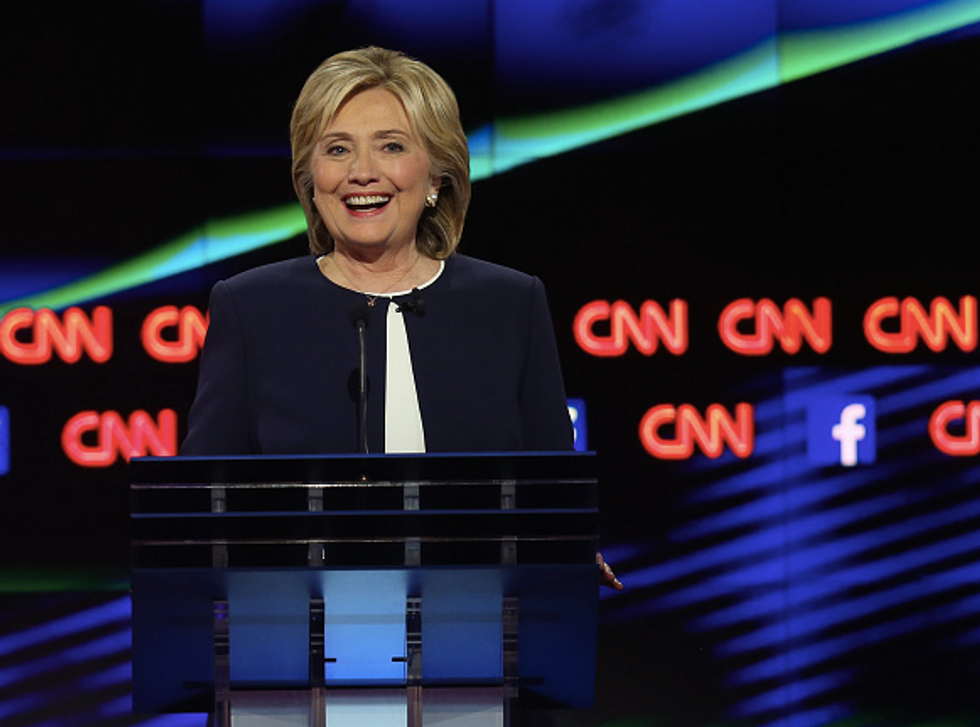 Democratic presidential candidate Hillary Clinton stated her opposition to President Obama's Trans-Pacific Partnership trade deal during the Democratic debate sponsored by CNN and Facebook Oct. 13, 2015 in Las Vegas. (Joe Raedle/Getty Images)
One White House reporter asked Earnest, "Is it possible that [Clinton]'s actually looked at it, because I thought it hasn't been made public?"
Earnest responded, "Yeah. I noticed that too."
"What we have indicated is we have made a commitment to make the text public both prior to the president signing it and also prior to the responsibility the Congress has to consider and ratify," Earnest continued.
He was later asked if her opposition seemed "phony."
"I don't think I have minced any words that we have a disagreement on this issue, but for the reasons she has arrived at this position, I'd refer you to her campaign," Earnest.
Pressed on the comparison between the White House's criticism of those opposed to the Iranian nuclear agreement before it was public and the TPP, Earnest said, "I think they are two different situations."
Clinton has been criticized for previously supporting the trade deal before opposing it. Though Clinton said during the debate she had only said she "hoped" the TPP would be the "gold standard" for trade deals, the Associated Press pointed out that Clinton had actually said it was in fact the gold standard of trade deals.