The family of a Michigan teen fatally shot by a sheriff's sergeant during a traffic stop filed a federal lawsuit Wednesday against Eaton County and the officer who shot 17-year-old Deven Guilford in February.
Four months ago Eaton County Prosecutor Doug Lloyd cleared Sgt. Jonathan Frost of criminal wrongdoing after he shot the unarmed Mulliken teen seven times, the Detroit Free Press reported.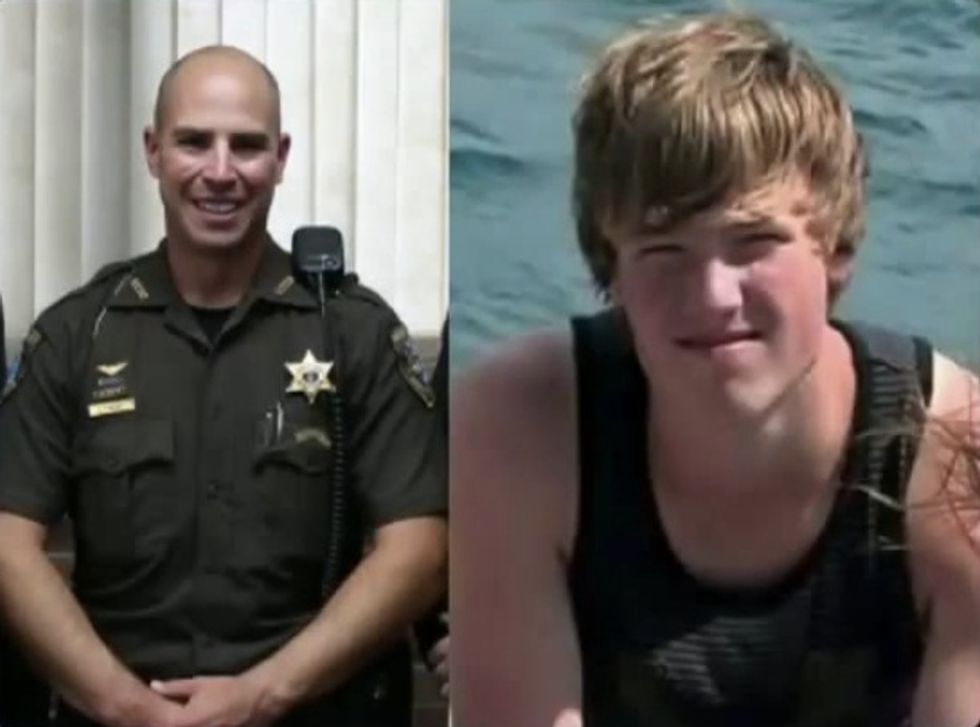 Sgt. Jonathan Frost, left, and Deven Guilford. (Image source: YouTube)
The shooting was preceded by an altercation between Frost and Guilford, the paper said.
The Free Press reported that after the shooting, Frost radioed dispatch and said, "I shot one," and then seconds later said,"I'm bleeding."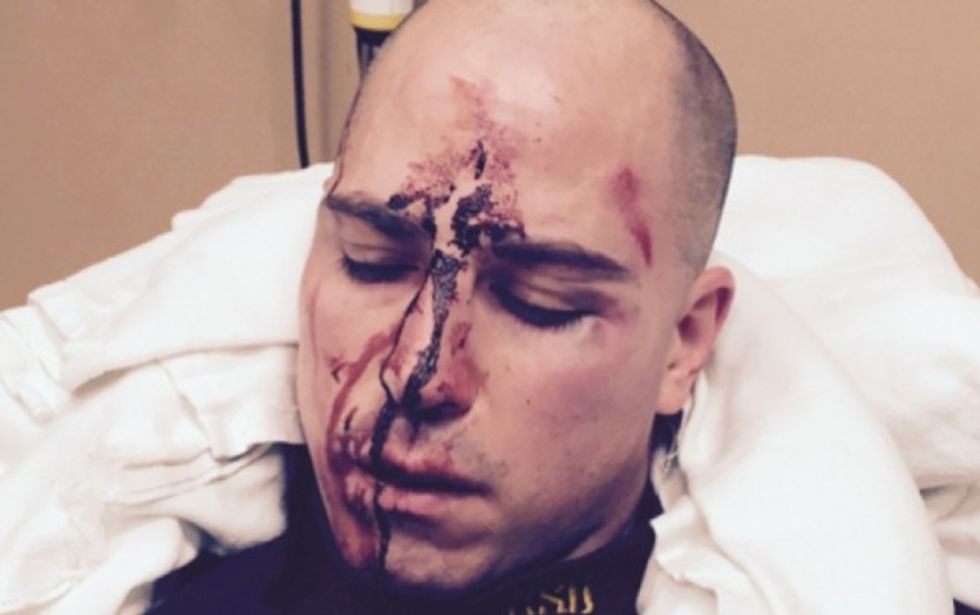 A photo of Sgt. Frost after the shooting released by the Eaton County Sheriff's Office. (Lansing Journal)
But the lawsuit asserted that Frost, an eight-year veteran, "acted in an intentional, reckless, malicious manner toward Guilford with deliberate indifference to and callous disregard for his health, safety and welfare" and demanded damages.
It all transpired about 8 p.m. Feb. 28 after Guilford flashed his high beams at Frost's vehicle because the teen thought Frost's high beams were on, and the sergeant pulled over Guilford.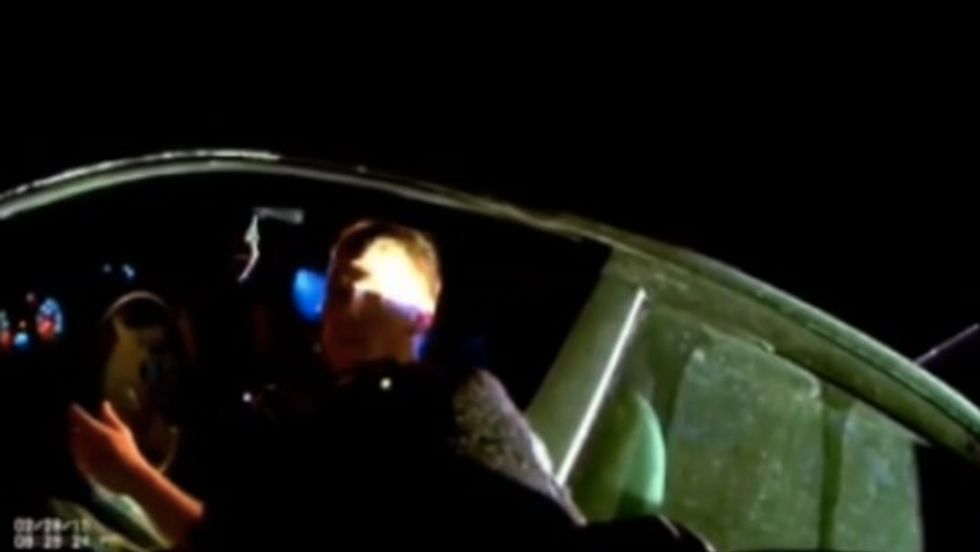 Image source: YouTube
More from the Free Press:
According to his family, Guilford was driving home from a basketball game at Liberty Church in Grand Ledge and was on his way to his girlfriend's home to watch movies.

A Michigan State Police investigation included the review of video of the stop, both from Guilford's cell phone — the teen was recording the traffic stop — and Frost's body camera. Frost's new patrol vehicle did not have a dash camera, according to Lloyd.

Guilford refused to give Frost his driver's license, registration and proof of insurance, which would have been a misdemeanor, according to Lloyd. It was later determined Guilford's license was with his girlfriend. Frost declined requests from Guilford for his badge number.

Frost pulled Guilford from the vehicle and ordered him to lie on his stomach next to his vehicle. When Guilford would not put both his hands behind his back as Frost was attempting to handcuff him, Frost fired his stun gun into Guilford. The stun gun wasn't fully effective because only one of two probes embedded into Guilford, according to Lloyd.

Image source: YouTube
Lloyd said an investigation determined that a fight broke out between the pair, and then Guilford was shot seven times, the Free Press reported.
According to the lawsuit, the night of the incident was the first time Frost drove the new vehicle and that he "effected traffic stops on all three of the vehicles who flashed their lights at him, although he issued no citations."
More from the Free Press:
There is no video of the final moments of the traffic stop. Frost's body camera came off during what Lloyd said was a struggle. Guilford's cell phone remained on the pavement, recording audio of the gunshots but did not capture video of the shooting. Frost was treated for facial injuries at a local hospital and released.

Toxicology results showed that THC, the active ingredient in marijuana, was in Guilford's system at the time of the stop.
This video clip combines Frost's bodycam video and Guilford's cellphone video from the incident:
Frost followed "regulations, general orders and training" of Eaton County Sheriff's Office, according to an internal investigation released in August, the Free Press said — although officials recommended re-emphasis of training on stun gun use and "defensive ground fighting tactics."
"Deven's tragic and totally unnecessary death represents a disturbing trend of demanding 100% compliance with police authority, coupled with zero tolerance of risk of harm to police officers," Cynthia Heenan of Constitutional Litigation Associates P.C., a Detroit law firm specializing in police misconduct litigation and representing the Guilford family, said in a statement.
Eaton County officials are not commenting on the lawsuit, the Free Press said.
(H/T: Daily Mail)
—
Follow Dave Urbanski (@DaveVUrbanski) on Twitter