A pizza delivery man in Alaska who had fallen on some tough times financially got the surprise of a lifetime Sunday — and it came from a local church.
Ken Felber, 53, who has worked for Papa John's Pizza in Anchorage for 14 years, recently had some unexpected bills start piling up with no way to pay them. Little did he know, however, that Chugach Covenant Church was about to pitch in in a very big way.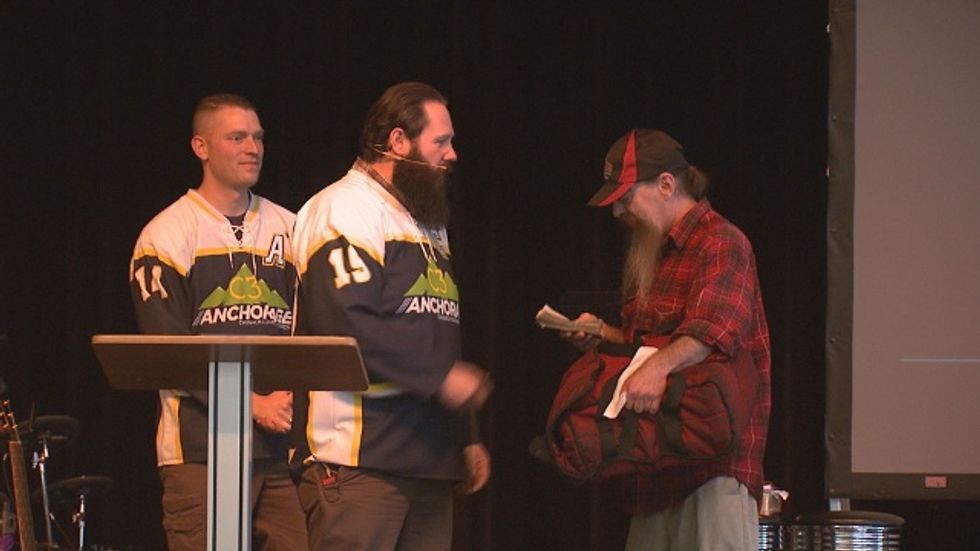 Image source: KTUU-TV
The church had decided to do something nice for someone in the community, so they called up Papa John's and asked which of their employees needed help the most. The restaurant gave the church Felber's name. So on Sunday, the church ordered a pizza and asked that Felber deliver it.
"The [pastor] asked me, 'What's your biggest tip you ever got?' And I said, 'Biggest tip I ever got was 100 bucks,'" Felber told KTVA-TV. "How does a tip of $1,900 sound?" Pastor Dan Krause then asked him.
"Oh, heck no!" Felber responded.
"Oh, heck yes!" the pastor said.
Felber later told KTVA that he could hardly believe what had just happened.
"You hear it every now and then, but it actually happened to me." Felber said.
Krause explained exactly why his congregation decided to do what it did, saying that all too often people hear about what the church is against, rather than what it stands for.
"We kind of lose sight that there's a lot of people who really love our community and want to do whatever they can to help people out, and this is just an opportunity for us to do something really small but really have a big impact on somebody's life," Krause said.
Felber said he plans to spend the money on snow tires and medical expenses but added that he and his wife would also celebrate with a nice spaghetti dinner.
"The Lord does work in mysterious ways," Felber said. "Think about that. I've never believed that, but now I do."
(H/T: KTVA-TV)
–
Follow Jon Street (@JonStreet) on Twitter