Just one week after actor and "Dancing With the Stars" contestant Carlos PenaVega danced to "Amazing Grace" to illustrate his dramatic conversion to Christianity back in 2012, the performer was faced with a moral conundrum.
During the celebrity dance competition's sixth week, PenaVega and his fellow contestants were told to recreate famous and iconic dances; he was assigned the song "Pony" from the movie "Magic Mike" — a raunchy routine that immediately left him openly voicing his qualms.
"The movie's basically about dudes stripping," PenaVega said in a video package that aired before his performance. "I'm a little freaked out."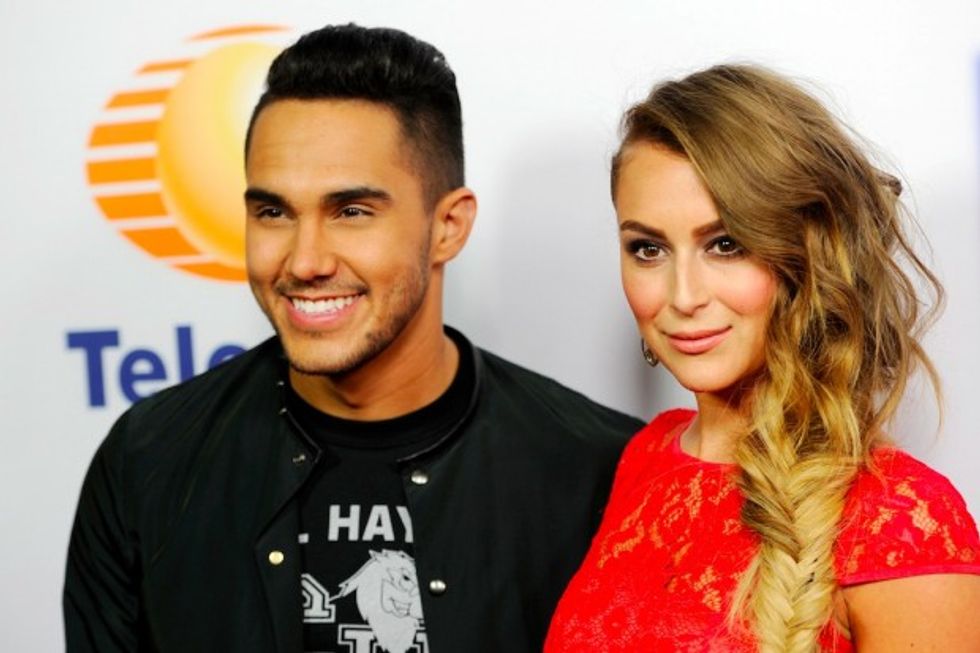 Carlos Penavega, left, and his wife Alexa Penavega, cast members in "Spare Parts," pose together at the premiere of the film at Arclight Cinemas on Thursday, Jan. 8, 2015, in Los Angeles. (Photo by Chris Pizzello/Invision/AP)
The "Big Time Rush" member said that he felt that the routine was a contradiction of the faith and values that he had highlighted on "Dancing With the Stars" just one week earlier.
"I'm not sure where I stand with all this, because I just came off like telling how God changed my life and this is like the complete opposite of that," PenaVega said. "My faith means everything to me. I don't want to cross that line to be raunchy, especially because that's not who I am."
The cameras also captured some moments of frustration between him and partner Witney Carson, with PenaVega continuing to explain that the dance was "uncomfortable" for him, as he struggled through practices.
In the end, he performed what appeared to be a toned-down version of "Pony." Do you think it crossed any lines — or no?
Watch it for yourself and let us know in the comments section below:
As TheBlaze previously reported, PenaVega, who is married to fellow "Dancing With the Stars" contestant Alexa PenaVega, recently explained in a video package that his most memorable year was 2012, as events during a one-week period lifted him out of a very "dark place" and forever transformed his life.
"My band Big Time Rush — we were at the peak of our success," PenaVega said, describing tour life as being party-filled and exciting. "[But] when you get home, it's just you. The tour ended and I felt really alone."
That loneliness took its toll on PenaVega.
"I locked myself in the house. I started smoking weed like everyday," he said. "I was like, 'I don't want to talk to anybody' … I really hit rock bottom."
It was at that point that PenaVega turned to a friend and decided to go to church with him — a decision that profoundly changed his life.
"I walk in church and I know that I was supposed to be there," he said. "From that Sunday to the next Sunday, my life changed forever."
PenaVega continued, "On Thursday, I got invited to a Bible study and at the Bible study I met my wife."
Through tears, the actor and singer explained that he's still in awe that those events led him to where he is today. To commemorate 2012 as the most memorable year, he decided to dance to "Amazing Grace," which he said was one of the first songs he heard in church.
Watch PenaVega share these details below:
Follow the author of this story on Twitter and Facebook: