The mother of one of the four men killed in the 2012 attack on the U.S. diplomatic compound in Benghazi, Libya, unloaded on former Secretary of State Hillary Clinton during an interview on CNN and detailed just how little Clinton has kept her informed about the events leading up to her son's death.
"She has not called me. She has not contacted me. She has not given me any information except to tell me that I am not a member of the immediate family, and I do not need to know," Patricia Smith, mother of Sean Smith, said Wednesday morning.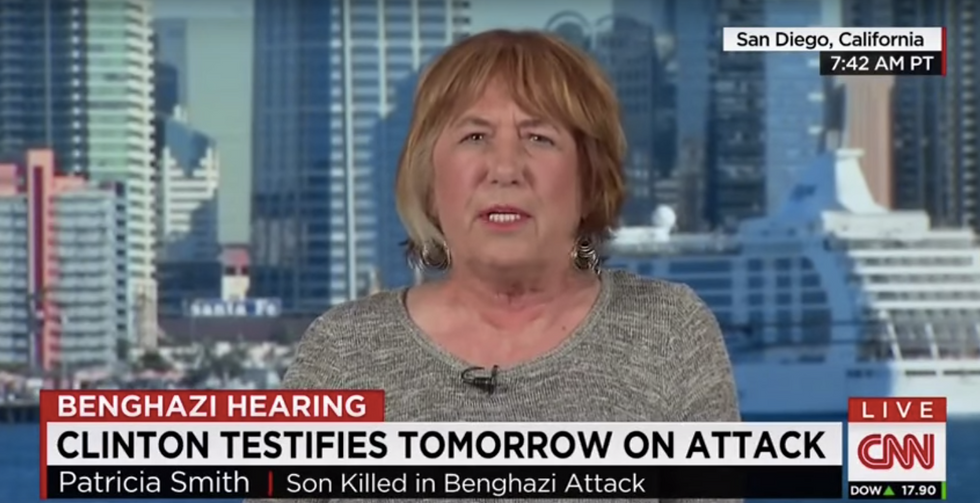 Image source: CNN
"They told you that?" CNN host Carol Costello replied, visibly surprised. "Oh my goodness."
The mother answered affirmatively and reiterated later in the interview that she had been told by the government that she's not "a member of the immediate family."
Smith absolutely unleashed on the Democratic presidential candidate after Costello played a clip of Clinton's 2013 testimony about the attack, during which she uttered the infamous line, "what difference at this point does it make?"
"She's lying, she's absolutely lying," Smith said emphatically.
"I saw on the TV the bloody fingerprints on the walls over there. I asked specifically, 'Are those my son's fingerprints crawling down the walls, the bloody fingerprints?'" she said. "Nobody ever got back to me on that. Are those his fingerprints? Were those his fingerprints? What happened? Somebody's got to tell me from the government."
Watch Smith's passionate interview below.