Jim Kennard likes to say that if he and his partners can find one shipwreck a season, they'll be happy.
Well, last season, the team casing the Great Lakes for sunken history were treated to a banner year, discovering three ships and one plane.
"Sometimes you get spoiled," Kennard, who has been diving on shipwrecks in the Great Lakes since the 1970s, told TheBlaze.
Which is why when he and his partners were still searching for their first shipwreck of the 2015 season in late August, they were a bit discouraged.
"This year, four months go by. We're covering a lot of area, spending a lot of time, the weather hasn't been that good — it's kicking our butt. ... And we're getting really discouraged that we haven't found anything," said Kennard, who is credited with discovering 200 or so shipwrecks in the Great Lakes, including the oldest one, the HMS Ontario.
And then it came.
"We went over first with our boat's depth finder. We said, 'Whoa, I think we just went over something,'" Kennard recalled, being cautiously optimistic because he noted that sometimes a mass of fish could result in a spike.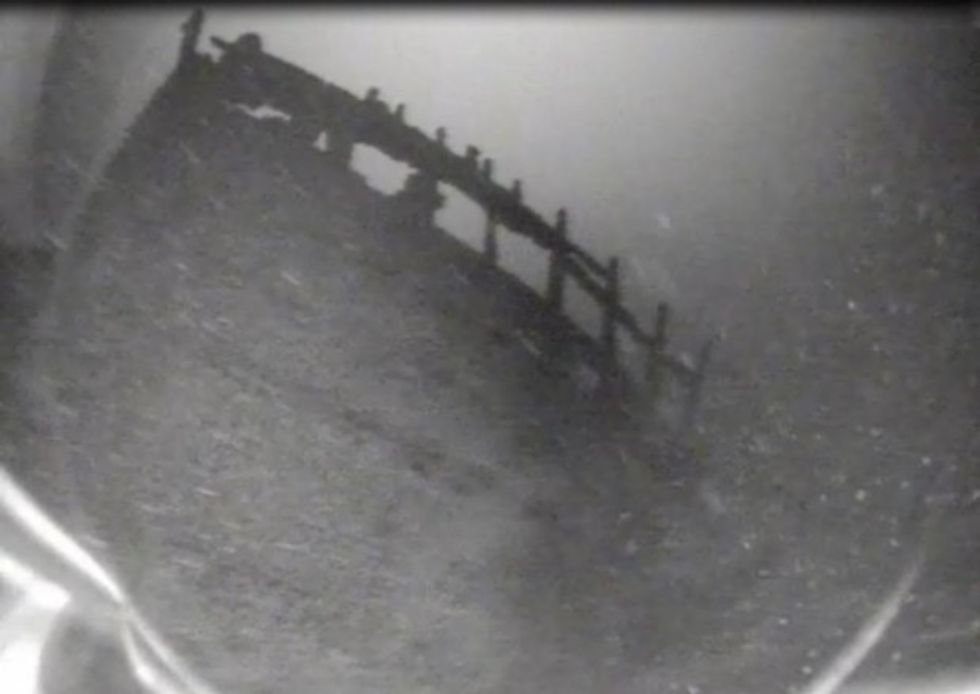 The bow and rail area of the ship explorer Jim Kennard is almost certain to be the Bay State, which went down in Lake Ontario in 1862. (Image credit: Roger Pawlowski via Shipwreck World)
Using DeepVision side-scan sonar, it was confirmed to be a ship, it's size, shape and location analyzed for comparison to historical records. The find in Lake Ontario was identified as a steamer that Kennard is 99.9 percent sure is the Bay State, a cargo ship.
The 137-foot-long wooden steamer got caught in a storm on Nov. 4, 1862, carrying goods from Oswego, New York, to Cleveland and Toledo, Ohio. The ship ultimately foundered with none of its crew or passengers, estimated to be up to 18 people, surviving.
With the ship being in 200 or so feet of water — Kennard is unwilling to give an exact depth, fearing that some people might seek it out and make what he called a dangerous dive — it was too deep for recreational divers. So, Kennard and his partners sent down an ROV to take pictures and video.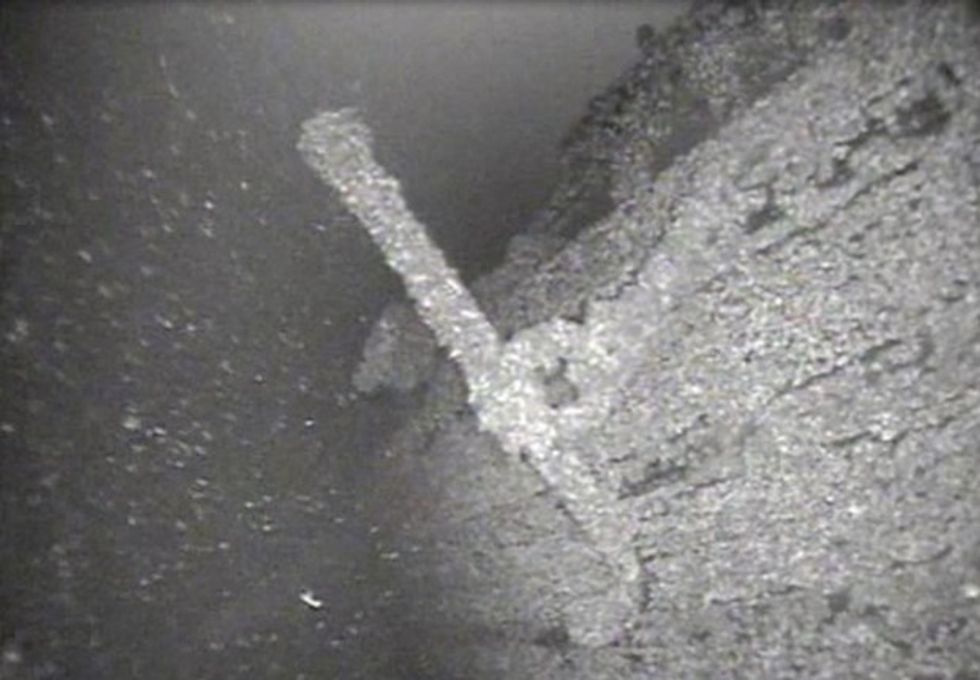 The starboard anchor of the Bay State. (Image credit: Roger Pawlowski via Shipwreck World)
The ROV's visit to the the shipwreck was not without issue. On the blog Shipwreck World, Kennard wrote that the device became snagged on a piece of wood. Despite several hours of trying to get it free, "inclement weather in September and lack of availability of technical divers to make a deep dive, nearly a month went by before the ROV would be recovered."
So now the team had enough information to conclude the shipwreck was likely the Bay State and some pretty cool images to go along with it. But why are such shipwreck surveys important — and intriguing — anyway?
For one thing, Kennard said finding and surveying the actual wreck helps "write the end of the story." Kennard can tell in the case of the Bay State, for example, the decisions made in the ship's final moments.
"This ship ran into a gale obviously from the west, because we see a debris trail west of where the ship went down. I think what happened is the Bay State [captain] realized that ... he was making no headway forward in this gale, so the best thing he can do is turn around and go back to port. He turns ship around, so now it's broadside to waves. That's probably where the disaster started," Kennard said. "We see pieces of debris about a quarter mile away. Now the ship is coming apart. For the next quarter mile, we see several different pieces on the sea floor followed by the main body of the ship."
Check out this video from the ROV:
Some pieces, including the cabin area and cargo on deck, didn't go down but floated three miles back to Oswego.
"I'm sure that the residents around Oswego just had a field day," Kennard said, speculating that people would have come down to the shore with carts to collect floating cargo at the time.
Despite discovering about 200 shipwrecks in the Great Lakes himself and with some of his peers, he said, reaching into similar numbers, Kennard said he thinks there are still a good amount of wrecks left of find the lakes.
And for what?
"I think just from a personal standpoint, it's an adventure, an exploration adventure," said Kennard, who built his own side-scan sonar for a couple of thousand dollars in the 1970s instead of purchasing one new for $35,000 at the time when his interest was just starting. "I often tell people most mountains have been climbed. You can't be the first person on mountain anymore, but you can be the first person on a shipwreck."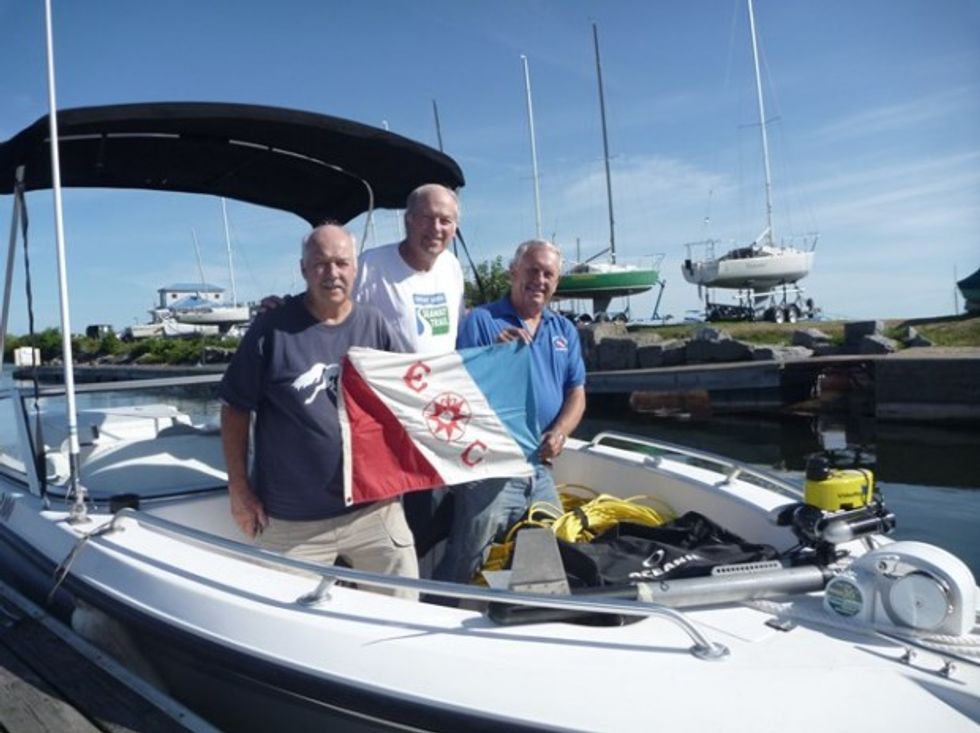 (Left to right) Roland Stevens, Jim Kennard and Roger Pawlowski discovered the Bay State in Lake Ontario in August. (Image credit: Jim Kennard via Shipwreck World)
And why is everyone else so intrigued when one is found as well?
"I think one of the things are there's a bit of mystery of why did that ship go down and what condition is it in. It is a little mini museum down there. I think it's like uncovering the mystery and that's essentially what we've done in many of these cases," he said.
Though the Bay State might have been the only shipwreck found this season by Kennard and his team, funded by a grant from  The National Museum of the Great Lakes of Toledo, it wasn't the first shipwreck found in the Great Lakes this year overall. In July, a team announced the discovery of the 116-year-old John. V. Moran.
Learn more about the discovery of the Bay State in Kennard's post on Shipwreck World.