In one of the more tense exchanges of the day, Rep. Mike Pompeo (R-Kan.) grilled former Secretary of State Hilary Clinton over accountability for security failures leading up to the Benghazi terror attacks and why Libya security requests allegedly never made it to her desk.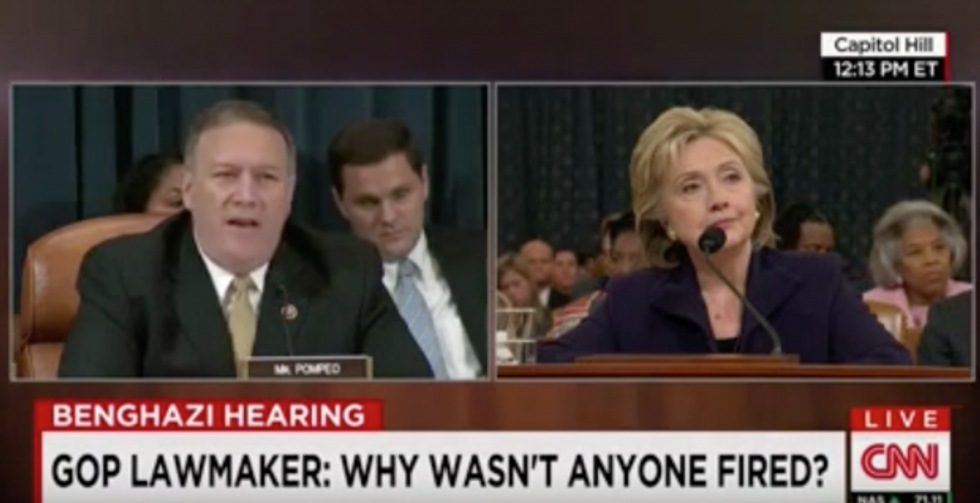 CNN
"How come no one has been held accountable to date?" Pompeo asked
Clinton argued that she "followed the law" and the Accountability Review Board found no officials were guilty of "breach of duty" relating to Benghazi.
Pompeo went on to press Clinton on her State Department's response to multiple security requests in Libya.
"I want to do some math with you," he said, asking her how many "security requests there were" in the first and second quarter "related to Benghazi and Libya."
When Clinton said she didn't know, Pompeo said there were 100-plus in the first quarter of 2012 and "172-ish" in the second quarter. He also said there were 83 requests made in the months before the attack.
"That's over 600 requests," he pressed. "You've testified here this morning that you had none of those reach your desk, is that correct?"
"That's correct," Clinton said.
That's when Pompeo asked Clinton why none of the security requests reached her desk but all of Sidney Blumenthal's 150 emails reached her desk.
"As you're aware, he's a friend of mine. He sent me information that might be of interest. Some of it was, some of it wasn't," she replied.
Watch below:
---