© 2023 Blaze Media LLC. All rights reserved.
What Grade Level Does Donald Trump Speak At? New Analysis Claims to Have Answer
"It's Trump. It's simple."
He's brash, blunt and direct — and speaking at the level of a fourth grader, according to a new analysis.
The Boston Globe reviewed the announcement speeches of each 2016 hopeful and found that Donald Trump's choice words were at the comprehension level of a fourth grader — the lowest of any candidate, Republican or Democrat.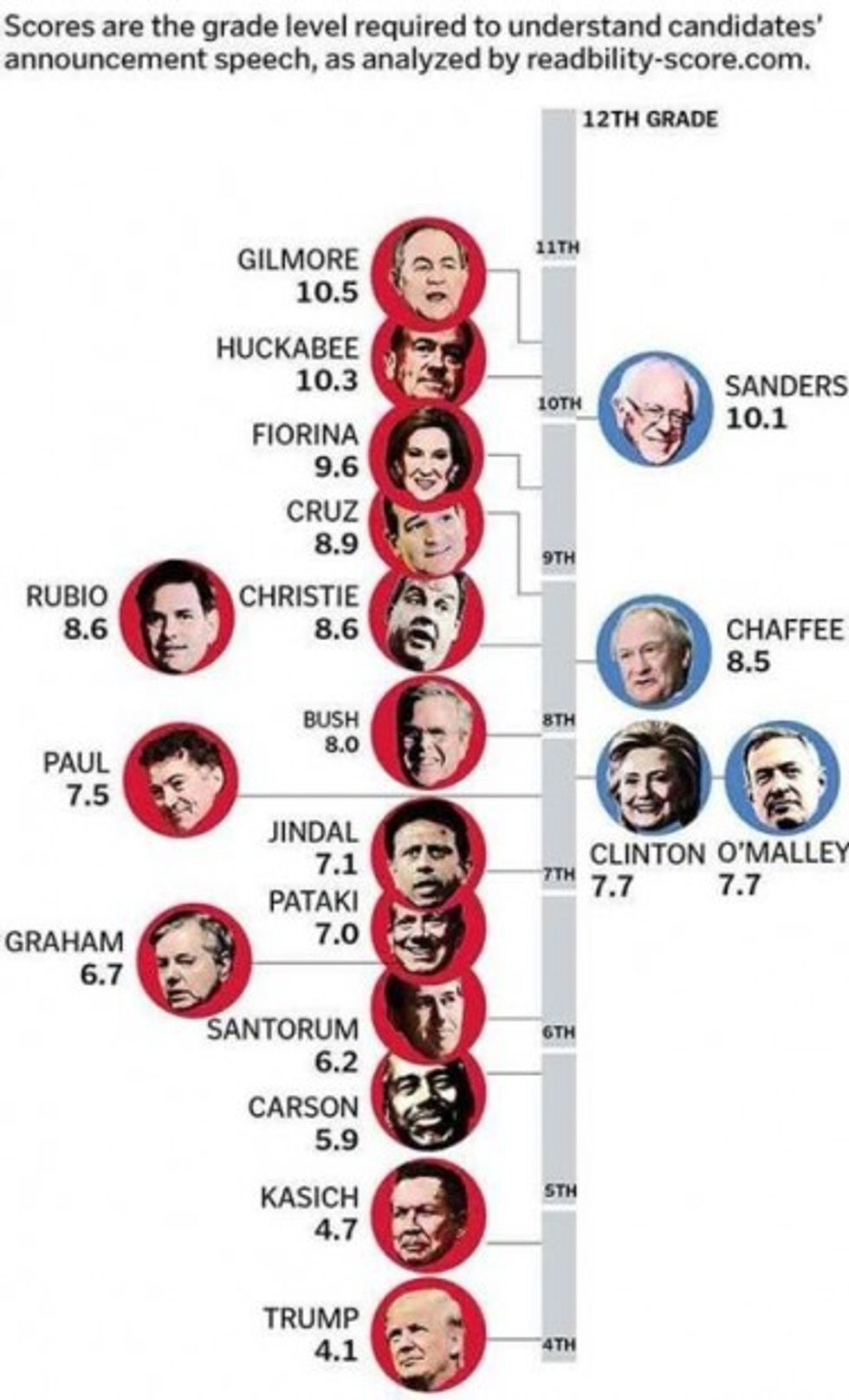 Image source: Boston Globe
"Trump is talking about things that are emotional, simple, and angry," prominent Republican strategist Rick Wilson told the Globe. "He's not talking about the complexity of international affairs. It's, 'Let's take their oil!' It doesn't have to be a long, drawn-out exegesis of American foreign policy. It's Trump. It's simple."
The analysis was based on a common algorithm called the Flesch-Kincaid readability test, the Globe said.
Ben Carson, the retired neurosurgeon who has surged to second place, spoke at about a sixth grade level in his announcement speech. Sens. Marco Rubio (R-Fla.) and Ted Cruz (R-Texas) were at the higher end of the spectrum, delivering speeches at about the ninth grade level.
On the Democratic side of things, Sen. Bernie Sanders (D-Vt.) announced his candidacy at a tenth grade level. Hillary Clinton and former Gov. Martin O'Malley spoke with language suitable for eight graders.
—
Follow the author of this story on Twitter and Facebook:
Want to leave a tip?
We answer to you. Help keep our content free of advertisers and big tech censorship by leaving a tip today.
more stories
Sign up for the Blaze newsletter
By signing up, you agree to our
Privacy Policy
and
Terms of Use
, and agree to receive content that may sometimes include advertisements. You may opt out at any time.