Charles Woods opened up a small day calendar and read from his Sept. 15, 2012, entry — the day after a ceremony at Andrews Air Force Base transferring the remains of his son, former Navy SEAL Ty Woods, one of the four Americans killed in the attack on the CIA annex in Benghazi, Libya.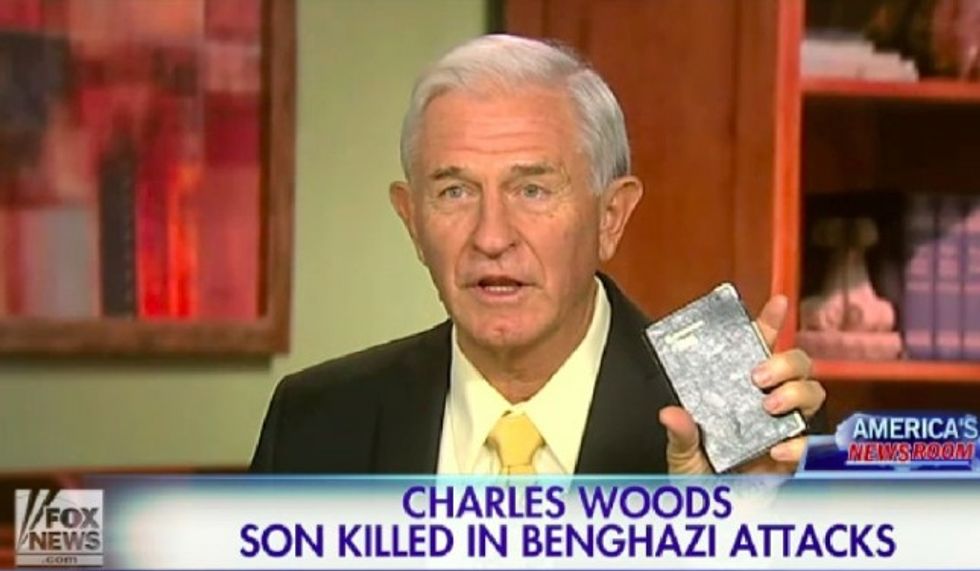 Image source: Fox News
"I haven't looked at my notes for quite some time before I came out here to Washington, D.C.," Woods told Fox News, as he was in the nation's capital for former Secretary of State Hillary Clinton's testimony before the House Benghazi Select Committee Thursday. "And I just decided I'd better look at the notes just to review exactly what she said so I'd have the facts down."
Then Woods read what he wrote about his encounter with then-Secretary Clinton just over three years ago: "I gave Hillary a hug and shook her hand, and she said we are going to have the filmmaker arrested who was responsible for the death of my son." (On camera, Woods used the words "your son.")
Diary entry from Benghazi victim's dad: 'I gave Hillary a hug,' she blamed filmmaker https://t.co/ksPiqey1lO

— Fox News Politics (@foxnewspolitics) October 23, 2015
Woods' recollection to Fox News of what he said Clinton told him contrasts with newly released records indicating she said early on that the attack had nothing to do with an anti-Islam film, "Innocence of Muslims," that had been posted on YouTube. Yet, in their initial public declarations, Clinton and other Obama administration officials blamed the video for angering Middle Easterners and inciting the Benghazi attack.
"She wasn't saying the failed foreign policy that I was responsible for," Woods told Fox News. "It wasn't her taking the blame for it. It says we are going to place the responsibility [for] the death of your son on the filmmaker."
Woods accused Clinton of lying, Fox News reported, and that Democratic presidential candidate shouldn't sit in the Oval Office as a result.
"In order to follow a leader, as a commander in chief, the military needs to trust what their leader says," Woods told the network. "They're putting lives on the line. They have to know that what she says is true in order for them to be able to sacrifice their lives."
—
Follow Dave Urbanski (@DaveVUrbanski) on Twitter