The chairman of the House Select Committee on Benghazi could not say Thursday whether an extensive 11-hour hearing with former Secretary of State Hillary Clinton revealed anything new about the deadly 2012 terror attacks in Libya.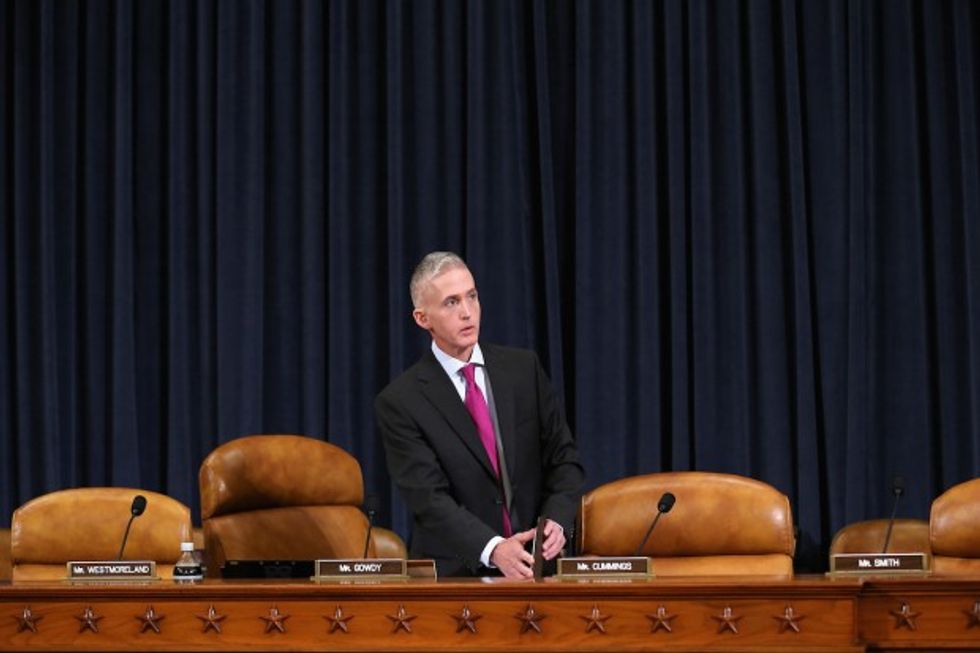 Chip Somodevilla/Getty Images
When asked what new information the hearing provided the public with, Rep. Trey Gowdy (R-S.C.) paused momentarily.
"Uh," he said. "I think some of Jimmy Jordan's questioning — well, when you say new today, we knew some of that already. We knew about the emails."
"In terms of her testimony, I don't know that she testified that much differently today than she has the previous times she testified," the South Carolina Republican added.
Here's a fuller clip of Gowdy when asked what new things he learned from the Benghazi hearing. via @WSJvideopic.twitter.com/pgh9a5QLj4

— Tim Hanrahan (@TimJHanrahan) October 23, 2015
Gowdy said he would "have to go back and look at the transcript" to better be able to answer the question.
Gowdy was asked to identify what he learned from the hearing. He couldn't name a thing. "I'd have to go back and look at the transcript."

— Justin Peligri (@Justin Peligri) 1445564240.0
The inability for the chairman of the controversial committee to answer the question would most certainly be used by the Clinton campaign in its efforts to portray the hearing as a partisan witch hunt. In recent weeks, Clinton and her surrogates have seized on comments made by two House Republicans to contend the committee was formed to weaken her poll numbers heading into the 2016 presidential elections.
—
Follow the author of this story on Twitter and Facebook: