A Christian baker who was found guilty of discrimination after declining to make a cake for a gay wedding is appealing to the Colorado Supreme Court, arguing that the government should not force him to communicate messages with which he disagrees.
The move comes after the Colorado Court of Appeals ruled in August that Jack Phillips, owner of Masterpiece Cakeshop in Lakewood, Colorado, cannot cite his faith in his refusal to make a gay wedding cake, as such an act constitutes discrimination.
That ruling backed a decision that was previously made in May 2014 by the Colorado Civil Rights Commission, requiring Phillips to make cakes for same-sex celebrations, to engage in "re-educating his staff" and to file reports for two years that show that he is abiding by anti-discrimination laws.
The state Supreme Court appeal is an attempt to secure a religious-freedom exemption for Phillips and others like him, according to his attorneys with the Alliance defending Freedom, a conservative legal firm.
In this March 10, 2014 photo, Masterpiece Cakeshop owner Jack Phillips decorates a cake inside his store, in Lakewood, Colo. Phillips is appealing a ruling against him in a legal complaint filed with the Colorado Civil Rights Commission by a gay couple he refused to make a wedding cake for, based on his religious beliefs. (AP Photo/Brennan Linsley)
"The freedom to live and work consistently with one's faith is at the heart of what it means to be an American," Jeremy Tedesco, a lawyer with the firm, said in a press release. "Jack simply exercised the long-cherished American freedom to decline to use his artistic talents to promote a message with which he disagrees."
Tedesco hopes that the Colorado Supreme Court will rule on the side of protecting the freedoms of business owners' "to follow their beliefs personally and professionally, not force them to violate those beliefs as the price of earning a living."
As TheBlaze previously reported, problems for Phillips began in 2012 when he turned gay couple Charlie Craig and David Mullins away after they approached him seeking a wedding cake for a celebration that they planned to have in Colorado.
"In an exchange lasting about 30 seconds, Phillips politely declined, explaining that he would gladly make them any other type of baked item they wanted but that he could not make a cake promoting a same-sex ceremony because of his faith," read a press release from Phillips' team.
The legal case against Phillips and his bakery touched off after the couple complained to the Colorado Civil Rights Commission over the baker's refusal to make the requested cake; Craig and Mullins are now represented by the American Civil Liberties Union.
The commission found Phillips guilty of discrimination, leading the Alliance Defending Freedom to file a brief with the Colorado Court of Appeals earlier this year alleging that a member of the commission compared the baker's stance to "slave owners and perpetrators of the Holocaust."
A statement from the legal firm cited the words of civil rights commissioner Diann Rice, which were reportedly uttered during a July 25, 2014 hearing on the matter.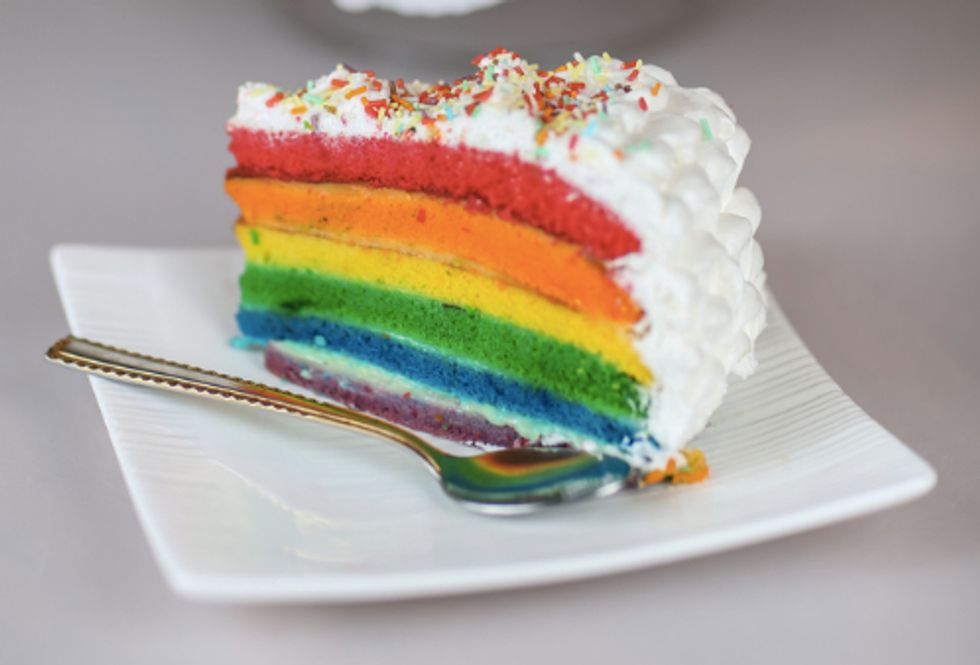 Photo credit: Shutterstock
"I would also like to reiterate what we said in … the last meeting [concerning Jack Phillips]. Freedom of religion and religion has been used to justify all kinds of discrimination throughout history, whether it be slavery, whether it be the Holocaust," Rice said. "I mean, we can list hundreds of situations where freedom of religion has been used to justify discrimination. And to me it is one of the most despicable pieces of rhetoric that people can use – to use their religion to hurt others."
Phillips and his attorneys have argued that the baker simply declined to make a cake that violates his Christian beliefs, and that he would similarly reject "cakes with offensive written messages and cakes celebrating events or ideas that violate his beliefs, including cakes celebrating Halloween, anti-American or anti-family themes, atheism, racism, or indecency."
In addition to these themes, he also does not make cakes that are considered "hateful, vulgar, or profane messages, or sell any products containing alcohol."
His decision not to "create cakes celebrating any marriage that is contrary to biblical teaching" is in line with this policy, his attorneys argue. Phillips has since stopped making all wedding cakes in an effort to prevent fines moving forward. 
--
Front page image via Shutterstock.com.
Follow the author of this story on Twitter and Facebook: