A high school football coach who was banned from praying on the 50-yard line is threatening to sue officials after they denied his plea for a religious freedom exemption that would have allowed him to continue on-field invocations after each game.
Officials with the Bremerton School District in Bremerton, Washington, sent a letter to coach Joe Kennedy on October 23, denying his request that they reconsider the ban, which was implemented after a district investigation into the matter.
The letter, which followed Kennedy's October 16 decision to once again pray again on the field, threatened discipline and potential firing if the prayer practice continues, according to Kennedy's lawyers at the Liberty Institute, a conservative legal firm.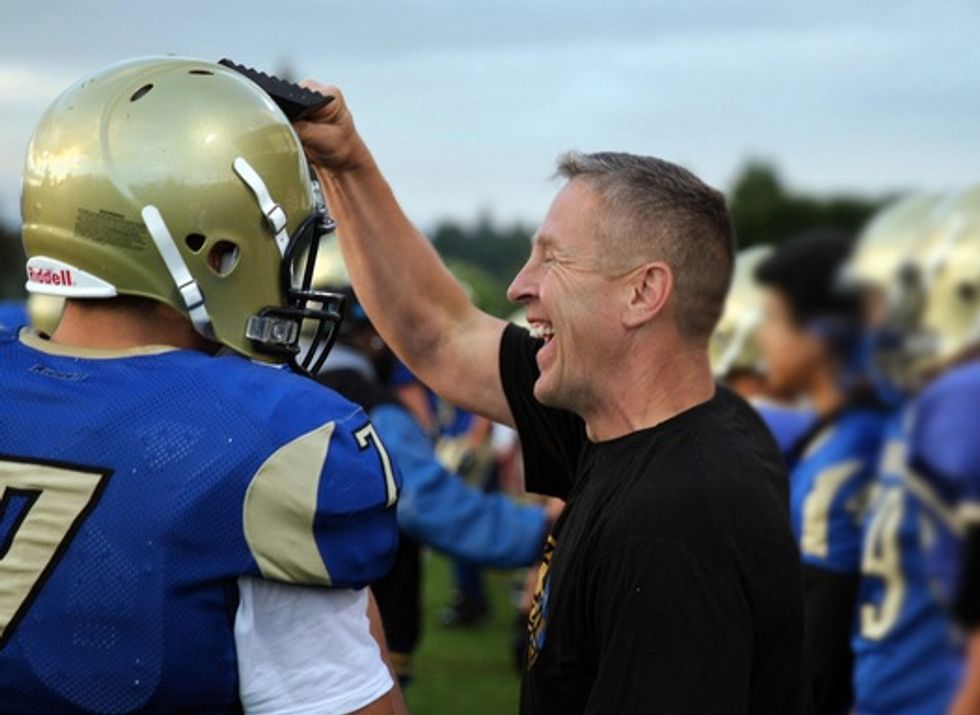 High school football coach Joseph Kennedy (Liberty Institute)
Kennedy is now threatening to sue under Title VII of the Civil Rights Act, claiming that his rights have been violated.
"Based on their denial of the religious accommodation, we are going to initiate legal proceedings against the school district this week," Mike Berry, senior counsel for the Liberty Institute, told TheBlaze. "We're still hopeful and willing to talk to the district and meet with them … in hopes that we can resolve this without having to resort to legal proceedings."
In the end, Berry said that he is "committed to defending religious freedom" and that Kennedy isn't prepared to back down after the district said that he was "still on duty for the district" when he defiantly prayed on the field on October 16.
"While on duty for the district as an assitant coach, you may not engage in demonstrative religious activity, readily observable to ... students and the attending public," read the letter, signed by Bremerton superintendent Aaron Leavell. "You may not repeat your conduct of October 16, 2015."
The letter affirmed that termination is a possibility if the coach continues to pray on the field after games.
According to Berry, the debate over Kennedy's prayers came about after a compliment from a school district employee who attended a game, saw Kennedy praying and offered praise to the high school principal.
"[The employee] saw them gathered together … he went to compliment the principal and say, 'This is really great — that's kind of old school,'" Berry explained. "I think the principal thought, 'What if we're doing something we shouldn't be doing?'"
In the end, Barry said that both he and Kennedy want the school district "to follow the law" and allow for personal prayer on the field, as Kennedy has been doing since 2008.
"His hope and our hope is that we don't have to [sue]," Barry said. "Our intent is not to initiate legal action for the sake of taking legal action. Obviously, we're getting closer and closer to the point of no return."
He continued, "If they're not willing to do the right thing … we are willing to do what's necessary to defend his religious freedom."
Kennedy has been praying on the field since 2008; it was that year that he saw the Christian movie "Facing the Giants" and was inspired "to try and make a difference in ... kids' lives."
"I made a commitment to pray for them," Kennedy said in a statement to TheBlaze. "So after the games, I am just thanking God for putting these incredible young men in my life, and for blessing me with this opportunity."
As for his refusal to back down from his right to pray, Kennedy said that he wants to keep teaching students good values, even if it poses an uphill battle for him both personally and professionally.
"I want to teach my kids those same values; that you have to take a stand for what is right, even if it might cost you," he said. "So, I can't not do this. I have to continue to be a role model, even if some think it's unpopular."
A request for comment has not yet been returned to TheBlaze by the Bremerton School District, though Randy Dorn, the state superintendent of public instruction in Washington, agreed with officials' stance on the matter in a statement released this week.
Photo credit: Shutterstock
"School officials are role models; leading a prayer might put a student in an awkward position, even if the prayer is voluntary," the statement read, according to the Seattle Times. "What's more, that official could open the district up to a lawsuit."
As TheBlaze previously reported, Kennedy first came under fire in September and was investigated by the district for routinely praying on the 50-yard line after every game, where he regularly thanks God for each and every one of his players.
While he typically goes on the field to pray alone, students and players often voluntarily join him — and that is what has sparked controversy and concerns over the separation of church and state.
In an initial letter, the district claimed that an inquiry showed that Kennedy leads prayer in the locker room and that he delivers inspirational talks on the field that generally includes religious sentiment. While voluntary, these activities would pose a constitutional problem, according to superintendent Aaron Leavell.
Kennedy agreed to halt the locker-room prayers, as he concurred that it involved a "captive audience" and was, thus, illegal, but he has continued to push back against the ban on prayer on the field following games.
Follow the author of this story on Twitter and Facebook: