He played God in the films "Bruce Almighty" and "Evan Almighty."
Now, Morgan Freeman is visiting religious sites around the world for the National Geographic faith series "The Story of God" which will explore the mysteries of the divine, creation and miracles.
On a shoot Wednesday at Jerusalem's Church of the Holy Sepulchre, believed by Christians to be the site of Jesus' burial and resurrection, Freeman told Reuters that he hadn't "found any answers yet."
"I'm primarily interested in why, what is the why of it," Freeman told Reuters during a break in shooting the series in which he stars and serves as executive producer.
"I haven't found any answers yet. We're still in production," the Academy Award-winning actor said.
On Sunday, Freeman visited Jerusalem's Western Wall.
#MorganFreeman seeks redemption at Western Wall #Israel https://t.co/cwoMed630q pic.twitter.com/sOW0qEFJLs

— The Jerusalem Post (@Jerusalem_Post) October 25, 2015
And last week, he was shooting at Egypt's pyramids at Giza.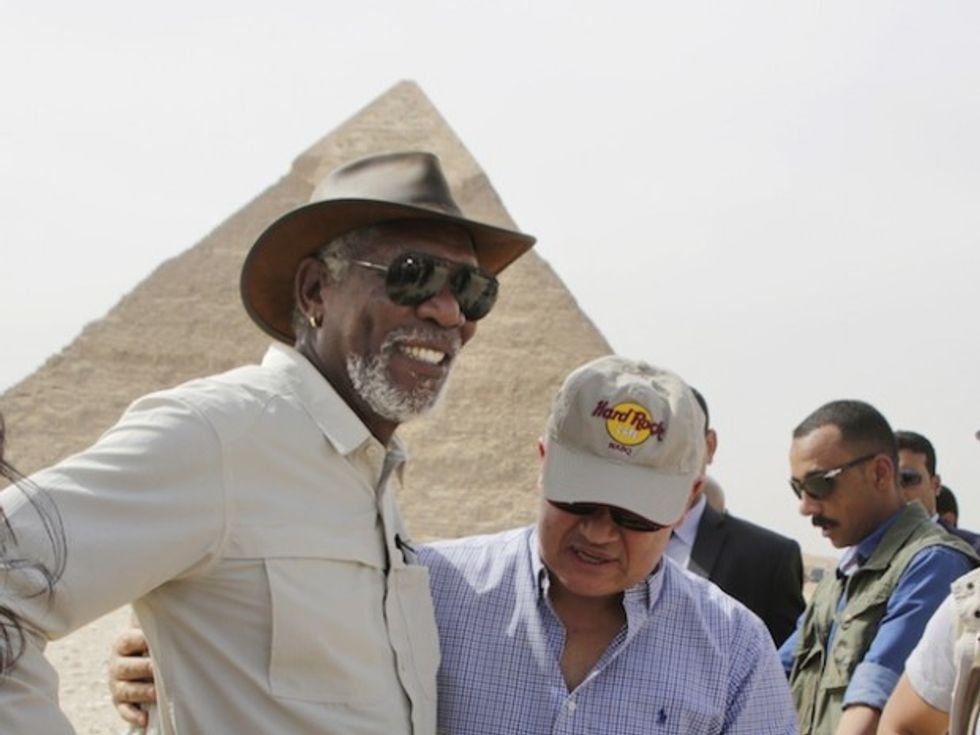 Actor Morgan Freeman, left, is welcomed by Egyptian Tourism Minister Hisham Zaazou, as he visits the Giza Pyramids, just outside Cairo, Egypt, Friday, Oct. 23, 2015. Freeman is in Egypt to work on a National Geographic documentary titled, "The Story of God." (AP Photo/Amr Nabil)
When the documentary series was announced in June, Freeman was quoted by Variety describing the search for the divine as a personal quest.
"The story of God is one of the greatest mysteries and most important ideas in the world," Freeman said. "For me, this is a personal and enduring quest to understand the divine, and I am humbled by the opportunity to take viewers along on this incredible journey."
Variety described the series as an "epic exploration" to reflect on God as Freeman travels to key religious sites – including in Israel, Egypt, India, Guatemala and other locations - to experience faith rituals.
Freeman declined to comment Wednesday on the Israeli-Palestinian conflict.
"I don't have a message for anybody. No, we're just here doing a documentary," he told Reuters.
The program, produced for National Geographic Channel by Revelations Entertainment - the production company where Freeman serves as president - is scheduled to air in 2016 in the U.S. and 171 countries in 45 languages, Variety reported.
---