Half of the 10 Republican representatives who did not vote for a Speaker Paul Ryan Thursday have a history of accepting money from the Wisconsin congressman's PAC, according a CQ Roll Call analysis.
Nine Republicans defied leadership Thursday morning, choosing to support Rep. Daniel Webster (R-Fla.) for the House's highest post. Webster's supporters were: Reps. Dave Brat (Va.), Curt Clawson (Fla.), Louie Gohmert (Texas), Paul Gosar (Ariz.), Walter Jones (N.C.), Thomas Massie (Ky.), Bill Posey (Fla.), Randy Weber (Texas) and Ted Yoho (Fla.).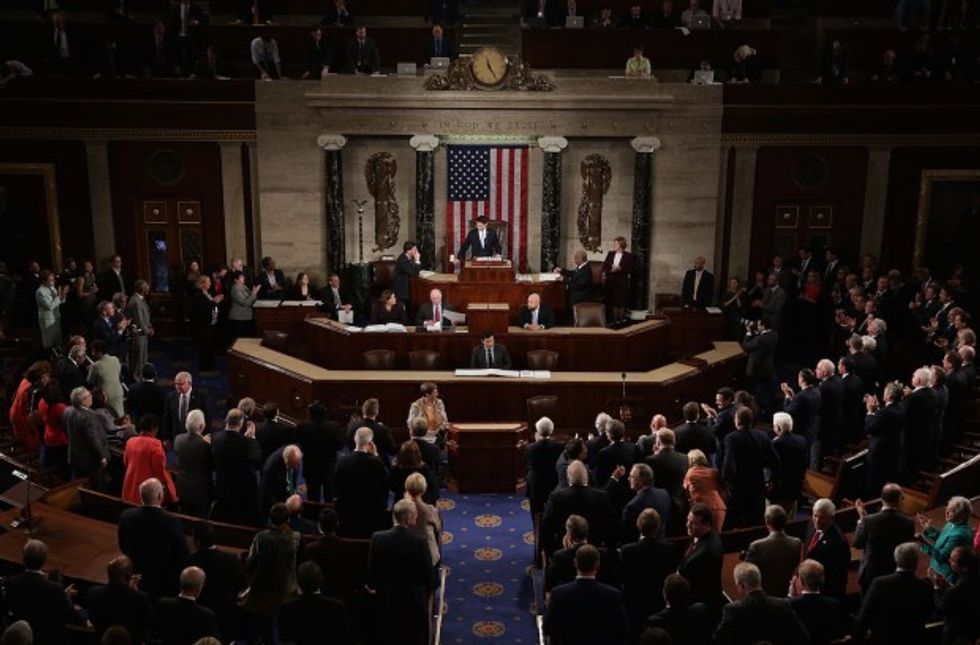 Alex Wong/Getty Images
CQ Roll Call looked into the history of each of the congressmen and discovered that five of them previously accepted money from Ryan's Prosperity Action PAC.
From Roll Call:
Ryan's leadership PAC has given $12,500 since 2010 to Rep. Daniel Webster, R-Fla., who ran for speaker and did not cast a ballot for anyone during Thursday's vote. The PAC gave him $5,000 in 2010 during his tough race against Rep. Alan Grayson, D-Fla. In 2012, Webster received $2,500 from Ryan, and another $5,000 from Ryan's PAC in 2014.

Paul's leadership PAC made a $5,000 contribution to Rep. Paul Gosar, R-Ariz., in 2010, and another $2,500 in 2012.

Reps. Thomas Massie of Kentucky, Randy Weber of Texas and Ted Yoho of Florida each got a $5,000 contribution from Ryan's leadership PAC in 2012.
The vote taken against Ryan was merely symbolic as the former Republican vice presidential candidate easily had enough votes to secure the position.
Brat released a statement following the vote, arguing he had made a promise to his constituents he felt necessary to keep.
"Before Congressman Ryan announced his consideration for the position, I made a promise to my constituents to only vote for a Speaker candidate who was willing to commit, on paper, to the ten Republican consensus principles I laid out," Brat said in a statement. "Unfortunately, I never received that confirmation from Congressman Ryan, preventing me from being able to support him."
Nevertheless, the Virginia congressman congratulated Ryan on his victory.
—
Follow the author of this story on Twitter and Facebook: