In addition to coming under fire from the Republican candidates on Wednesday night, CNBC debate moderator John Harwood was also accused by several critics of "lying" about Marco Rubio's tax plan.
In his questioning, Harwood suggested that Rubio's plan favors the rich, a claim the GOP candidate immediately refuted. Rubio said the poor receive a larger tax benefit under his plan.
"You wrote a story on it and you had to go back and correct it," Rubio said during the debate.
But Harwood dug in, citing the Tax Foundation to bolster his assertion about "after-tax income." Even when later confronted by the Federalists' Sean Davis on Twitter, Harwood stood by debate questioning.
@seanmdav by accurately citing Tax Foundation analysis?

— John Harwood (@JohnJHarwood) October 29, 2015
AYFKM, @JohnJHarwood? The president of the Tax Foundation himself tweeted that you got your facts wrong. https://t.co/6UDWjqQHTP

— Sean Davis (@seanmdav) October 29, 2015
Here's what the Tax Foundation president tweeted following the debate:
Rubio was right about his plan. Poor get larger tax benefit than the rich. #CNBCGOPdebate https://t.co/GOkJyYpdfw

— Scott A. Hodge (@scottahodge) October 29, 2015
So what does the Tax foundation analysis actually say? Here's the portion of the study that Harwood was seemingly referring to:
The dynamic column displays a much different picture. The economic growth enabled by the plan would benefit all income groups. Although the distribution of gains would not be precisely equal, they should be more than large enough to satisfy people at all levels of income. For example, the after-tax income increases would be 17.8 percent on average, 23 percent for the 10-20 percent decile, 27.9 percent for the highest 1 percent, and 15.3 percent for the 50-60 percent decile.
The analysis also included this graph: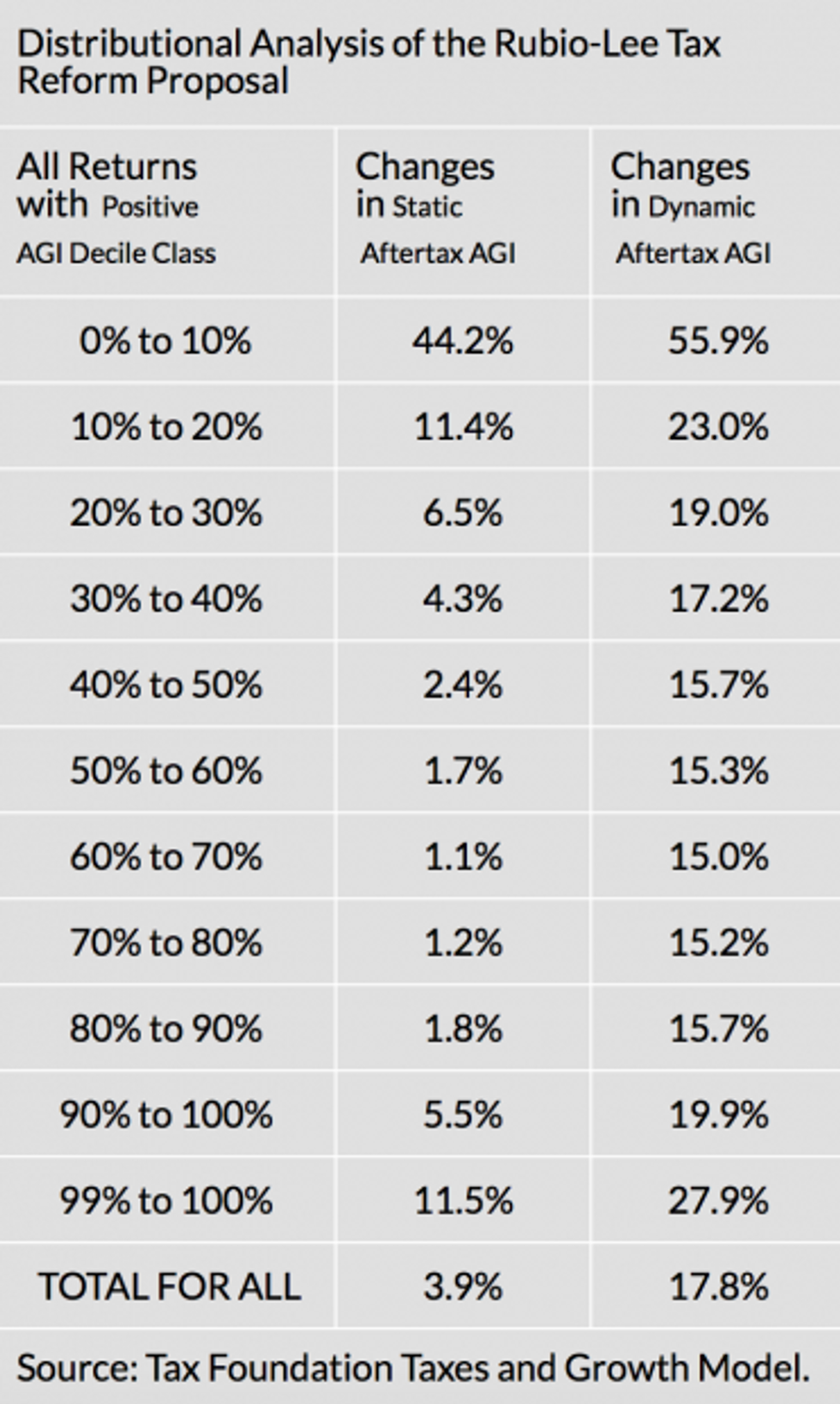 Tax Foundation
While Harwood's claim doesn't appear to be entirely false, Rubio clearly took issue with the way the question was presented during the debate and told Harwood there is more context behind the numbers.
"In addition to a general personal exemption, we are increasing the per child tax credit for working families; we are lowing taxes on small businesses," Rubio said. "Under my plan, no business, big or small, will pay more than 25 percent flat rate on their business income. That is a dramatic tax decrease for hard-working people that run their own businesses."
Interestingly enough, Harwood himself admitted earlier this month that his previous analysis on Rubio's tax plan was off-base.
CORRECTING earlier tweet: Tax Foundation says Rubio benefits lowest 10% proportionally more (55.9) than top 1% (27.9%). Avg for all: 17.8%.

— John Harwood (@JohnJHarwood) October 14, 2015
---