Just three months after 49 percent of Americans favored exempting religious public employees from being forced to issue gay marriage licenses, that proportion has notably dropped in a recent Associated Press-GfK poll, coming in at just 41 percent.
The 47 percent who wanted to require public officials to grant licenses regardless of religious objections back in July is now up to 56 percent in the latest wave of polling.
These changes come following months of debate surrounding defiant Rowan County clerk Kim Davis' decision to refuse issuing marriage licenses in her name — a story that originated in Kentucky and quickly reverberated throughout America.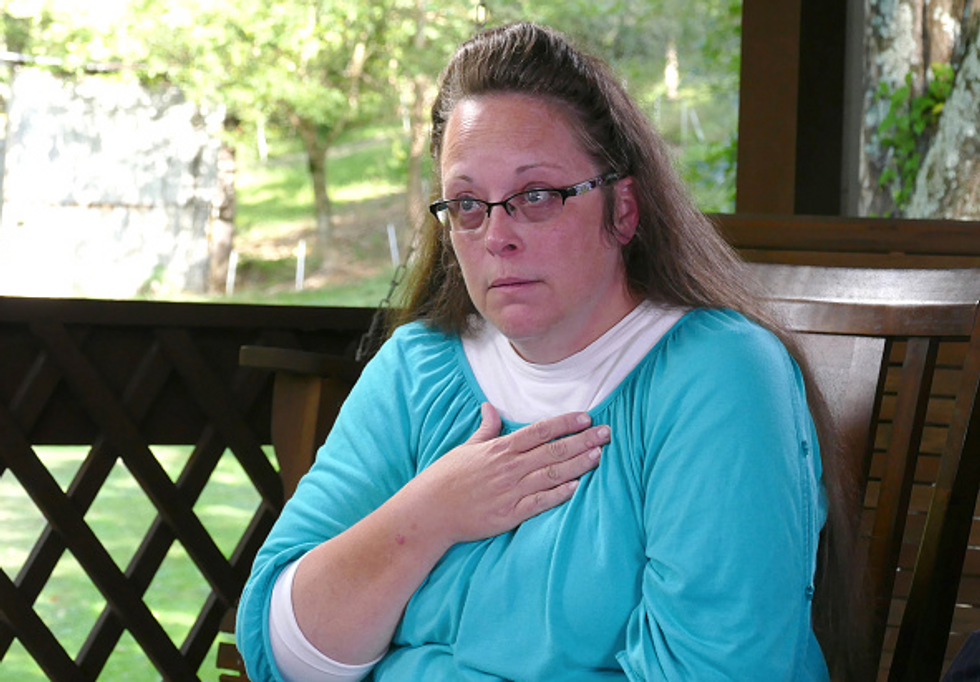 ABC NEWS - 9/21/15 - Paula Faris speaks to Kim Davis, the Kentucky court clerk who went to jail because she refused to issue gay marriage licenses. The exclusive interview will air on all ABC News programs and platforms. (Photo by Ida Mae Astute/ABC via Getty Images)
It was a battle that landed Davis briefly behind bars, while ramping up a tough and contentious debate over how society should balance the freedom of religion with freedom of equality under U.S. law, as the Associated Press reported.
The most notable change in perspective unfolded among Republicans, with the proportion of support for an exemption plummeting from 72 percent in July to 58 percent in the most recent wave.
The results are most likely a disappointment for conservative activists hoping to secure exemptions for public officials like Davis, though public opinion is sometimes fluid and is not always indicative of where the law will end up on contentious issues such as this.
Still, a separate battle continues over whether private business owners such as bakers and photographers should also hold the right to refuse service to same-sex weddings, with numerous cases heading to court around the country. Questions on that front were seemingly not asked by the AP in this research wave.
Photo credit: Shutterstock
The latest AP-GfK Poll was conducted from October 15-19 among a sample of 1,027 adults, with a margin of sampling error of +/- 3.3 percentage points.
Follow the author of this story on Twitter and Facebook: