Taya Kyle has a mission.
Armed with a TrackingPoint rifle, Kyle will dodge explosions and flying trucks in her own battlefield for approximately two hours in December — all in an effort to raise money for families of first-responders and veterans.
Kyle, the wife of famous "American Sniper" Navy SEAL Chris Kyle, will compete Dec. 5 in what is being heralded as "the Super Bowl of shooting competitions" against Bruce Piatt, reigning National Rife Association world champion shooter, for the hefty prize of $1 million in the "American Sniper Shootout."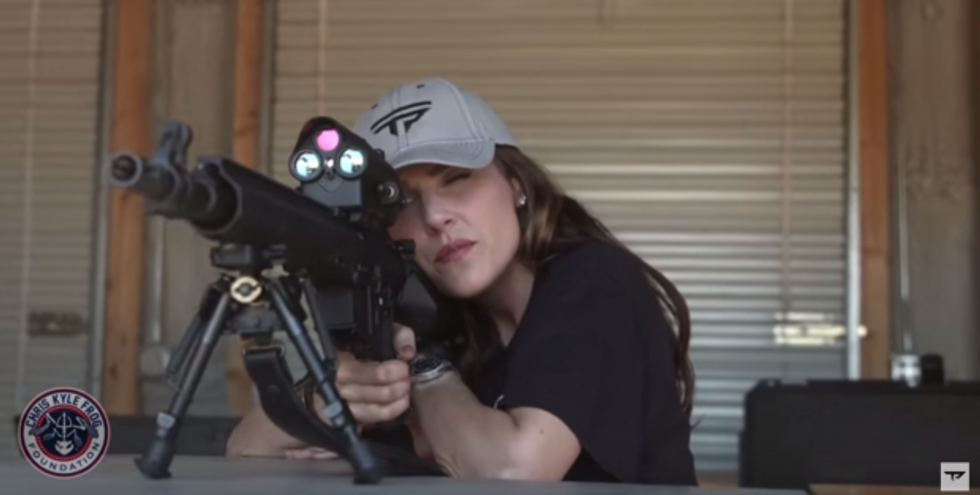 Image source: YouTube
John McHale, CEO and chairman of TrackingPoint, told TheBlaze in an interview that the competition to be held in Mason, Texas, is designed as a "made for TV event" that will eventually be turned into a documentary. During the competition, Kyle and Piatt will take shots designed to mimic those that U.S. soldiers may have to take during war.
"That's a pretty unique element to this shooting competition," McHale told TheBlaze. "Typical shooting competitions [include] sort of well-known geometric targets, known ranges, very non-threatening conditions, but in this case, we will be simulating battle stress and the types of targets they see in war and the shooting positions they see in war. It's far more challenging than a typical shooting competition."
"This thing is going to be wild," McHale said, adding that the competition will be aired on cable channels such as National Geographic and the Outdoor Channel.
While Kyle will use the TrackingPoint Precision-Guided Firearm and its technology during the competition — which zeroes in and focuses on the target without needing much from the person pulling the trigger — Piatt will use the same rifle that U.S. soldiers use in battle. If Piatt beats Kyle — who told TheBlaze that other than having a shooting coach who helps her with self-defense and her CHL, she doesn't have too much experience with guns — he will win $1 million.
Kyle said that she's been introduced to the gun and she still needs to practice —  but only a little as the gun will do most of the work for her.
"You just have to know about the safety and how to operate it and be cognizant of what you have in your hands, and then the gun does the rest of the thinking for you," Kyle told TheBlaze in an interview. "I'm going to practice a little bit and hope for the best. The beauty of it is that there's no way I should lose. If I lose ... it would have been an operating error in a big, big way."
"If you put us on equal guns, any shooter could probably beat me and take home $1 million," Kyle said during a promotional video for the competition. "I'm no where near a world-class marksman. I don't think I consider myself a marksman at all."
McHale said the idea behind the technology of the gun began six years ago when he met Chris at a ranch in East Texas. According to McHale, Chris taught his own daughter how to shoot and engaged in conversations with McHale about the technology for the gun.
"From our perspective, the point of the shootout is to raise money for the Chris Kyle Frog Foundation and for TrackingPoint to raise awareness around our country that there are now weapons available for our soldiers that we think are going to save a lot of lives and help us protect our country," McHale said.
Chris Kyle (AP)
Kyle said the mission of the foundation that bears the name of her late husband is, in part, to strengthen marriages and honor God and country "by serving those who serve."
"It's unique in that it works for first-responders' marriages and veterans' marriages. When you look at the Bible, it says, God first, marriage second, children third, and in doing that, everybody benefits the most," Kyle said. "What we're trying to do is strengthen those marriages. The divorce rate is very, very high, but there are things that Chris and I lived through and experienced that I feel we can use to benefit others, and some of the lessons learned and things we went through — both good and bad — we can use to strengthen these marriages of people who serve."
"It's tragic to me that there are the types of people who love each other enough to get into a marriage that they know isn't going to be easy, they love each other that much," Kyle continued. "And they're the people who believe in serving something bigger then themselves, and they're not used to getting help, and we can help them."
Kyle said that not only will this event enable the foundation to be able to serve more people, it also helps people by raising awareness of TrackingPoint's technology for police officers and soldiers.
"Since [the technology] was developed based on interactions and discussions with Chris, I just feel like it couldn't be a better combination to celebrate his life and carry forward Chris' mission with helping people," she said.
The TrackingPoint rifles are equipped with fighter jet tracking technology that enables the rifle to lock onto a specific target. 
"Once the gun points at a target, it gets locked onto. At that point, the shooter can just pull the trigger and get somewhat close to the target, the computer fires the gun in the perfect position to impact the target," McHale said. "There's still a shooter, what they call a shooter in the loop, the shooter has a much easier job than they'd have today on a traditional gun."
The TrackingPoint technology is available in both military and consumer applications — including for hunting purposes.
McHale said this technology enables hunters to shoot deer in a way that would kill them instantly instead of wounding the animal where it dies slowly. Kyle added that the technology would also enable those who live in an area with many predator animals to be able to defend themselves or their livestock.