U.S. intelligence officials suggested that the Russian passenger jet that crashed over the weekend was most likely because of a bomb planted on the plane by the Islamic State or an affiliate, CNN reported Wednesday.
Citing a U.S. official familiar with the situation, CNN reported the crash most likely occurred because of a bomb that was on the plane. However, the official stressed that no definite or formal conclusion has been reached yet.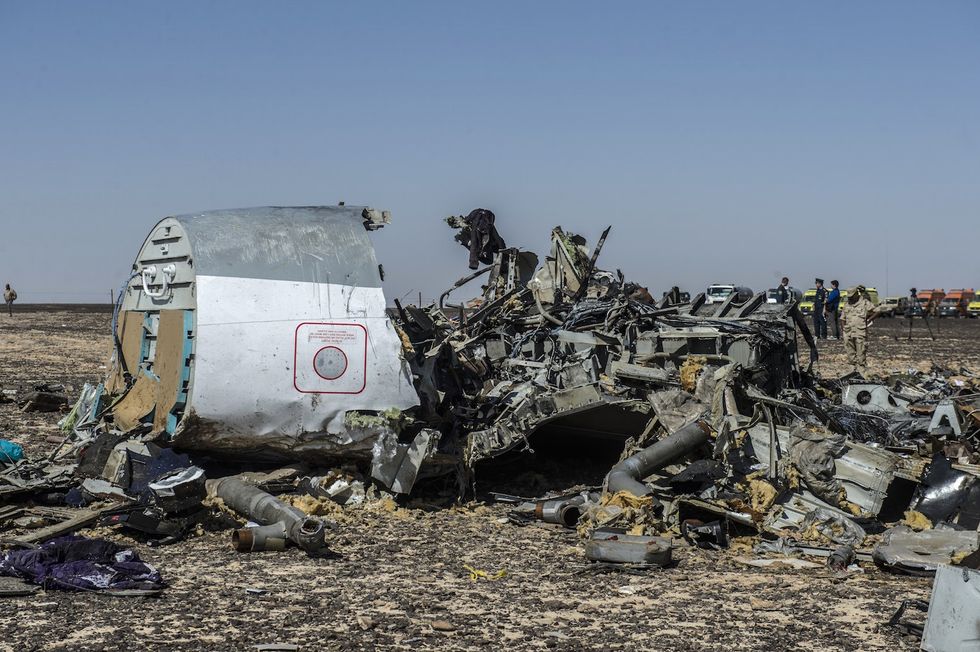 Debris of the A321 Russian airliner lie on the ground a day after the plane crashed in Wadi al-Zolomat, a mountainous area in Egypt's Sinai Peninsula, on November 1, 2015. (KHALED DESOUKI/AFP/Getty Images)
"There is a definite feeling it was an explosive device planted in luggage or somewhere on the plane," the official told CNN.
A militant group associated with the Islamic State immediately took credit for the plane's crash in Egypt on Saturday that killed all 224 people on board. However, on Saturday Russia's transport minister Maksim Sokolov said the claim by the group "can't be considered accurate."
A U.S. official told the Associated Press that they had ruled out the possibility of a missile striking the plane because neither a missile launch nor an engine burn had been detected. However, officials did say on Tuesday that U.S. satellite imagery detected heat around the jet just before it went down.
Russian officials say the plane broke up in the air 23 minutes after takeoff after reaching an altitude of 31,000 feet.
The British government also announced on Wednesday that the plane was most likely brought down by a bomb, according to the Associated Press. 
"But as more information has come to light, we have become concerned that the plane may well have been brought down by an explosive device," it said.
Prime Minister David Cameron's office said British aviation experts would travel to tourist resort in Sinai where the flight originated. These officials will check on security at the resort before flights, scheduled to depart back to Britain, would be able to leave.
Douglas Barrie, military aerospace expert with the International Institute for Strategic Studies in London, said it was too soon to say for sure the cause of the crash but the "general suspicion" that an explosive device was involved has been mounting. He said the British government's decision made sense.
"It's a political decision to err on the side of caution if it has been deemed possible that an explosive device was involved and there are concerns about the levels of security at the airport involved," he said.
The Associated Press contributed to this report.