If you've ever wanted to be a NASA astronaut, here's your chance to at least apply.
The agency announced Wednesday that it was seeking astronauts in "anticipation of returning human spaceflight launches to American soil, and in preparation for the agency's journey to Mars."
NASA will start accepting applications for "the next class of astronaut candidates" starting December 14 until mid-February 2016, with the selected candidates being announced in mid-2017.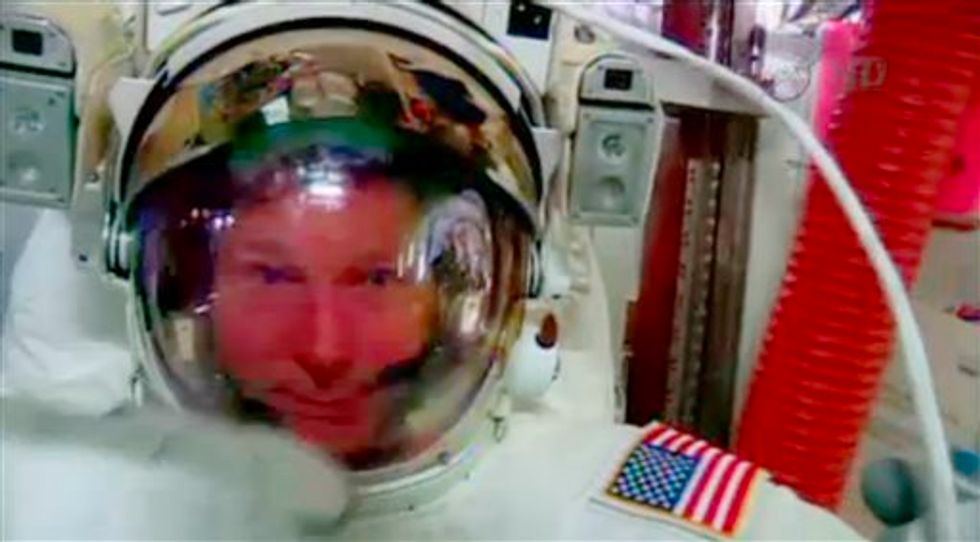 In this file image made from video provided by NASA, astronaut Terry Virts points to his helmet as he sits inside the International Space Station on Wednesday, Feb. 25, 2015, during an inspection for water in his suit. (AP/NASA, File)
"This next group of American space explorers will inspire the Mars generation to reach for new heights, and help us realize the goal of putting boot prints on the Red Planet," NASA Administrator Charles Bolden said in a statement. "Those selected for this service will fly on U.S. made spacecraft from American soil, advance critical science and research aboard the International Space Station, and help push the boundaries of technology in the proving ground of deep space."
Watch NASA's recruitment video:
NASA explained that its pool of astronauts have diverse backgrounds, ranging from pilots to engineers to scientists to physicians. The current applicant requirements include a bachelor's degree in engineering, a biological science, physical science or mathematics. An advanced degree, such as a masters or Ph.D., is "desirable," according to NASA.
"Candidates also must have at least three years of related, progressively responsible professional experience, or at least 1,000 hours of pilot-in-command time in jet aircraft," NASA stated.
If selected as a candidate, applicants will need to pass the agency's "long-duration spaceflight physical."
The application process will take place through the federal government's jobs site, USA Jobs.
NASA's announcement comes just a couple of days after the 15th anniversary of human's continuous residency at the International Space Station.
Since the first permanent crew moved in on Nov. 2, 2000, 220 people have come and gone, representing 17 countries.
NASA and its global partners celebrated the milestone this week, as did the six astronauts on board. The U.S., Russian and Japanese spacemen planned a special dinner 250 miles up.
Commander Scott Kelly, seven months into a yearlong mission, said the biggest benefit of the orbiting lab is furthering long-term exploration goals deeper into space.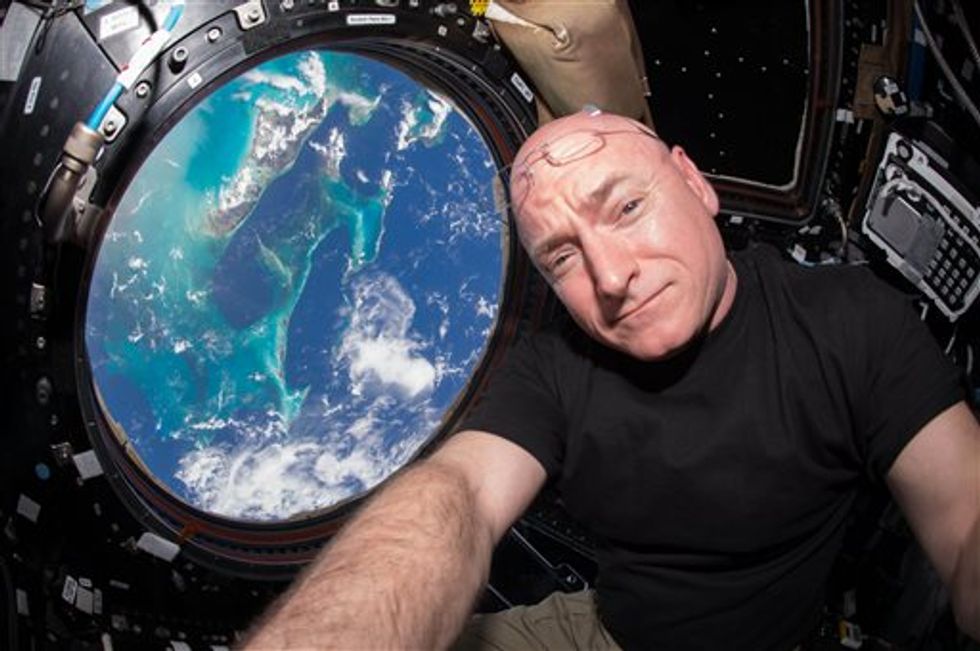 This July 12, 2015 photo made available by NASA, astronaut Scott Kelly poses for a selfie photo in the "Cupola" of the International Space Station. On Friday, Oct. 16, 2015, Kelly broke the U.S. record for the most time spent in space Friday --  383 days. (Scott Kelly/NASA via AP)
"The space station really is a bridge. It's a test bed for the technologies that we need to develop and understand in order to have a successful trip to Mars," American astronaut Kjell Lindgren noted during a news conference.
The most important experiment, Kelly said, is about keeping humans alive in space. His one-year mission with Russian Mikhail Kornienko, due to end in March, includes 400 experiments, many of them medical. Americans have never spent this long in space; the Russians have, but it was decades ago on the former Mir station.
NASA puts the number of experiments at this space station, over the years, at more than 1,760. At the same time, there have been 189 spacewalks to build and maintain the outpost since construction began in 1998; No. 190 will occur Friday when Kelly and Lindgren venture out for the second time in 1½ weeks.
As the space station ages, more maintenance will be required. NASA hopes to keep the complex running until 2024.
—
The Associated Press contributed to this report. Front page image via NASA.