Just one day after she become secretary of state, Hillary Clinton signed a document asserting that she understands "negligent handling" of classified information poses a potential danger to national security, the Washington Free Beacon reported.
"I have been advised that the unauthorized disclosure, unauthorized retention, or negligent handling of SCI by me could cause irreparable injury to the United States or be used to advantage by a foreign nation," said the Sensitive Compartmented Information Nondisclosure Agreement, which included possible criminal penalties for the disclosure of such information.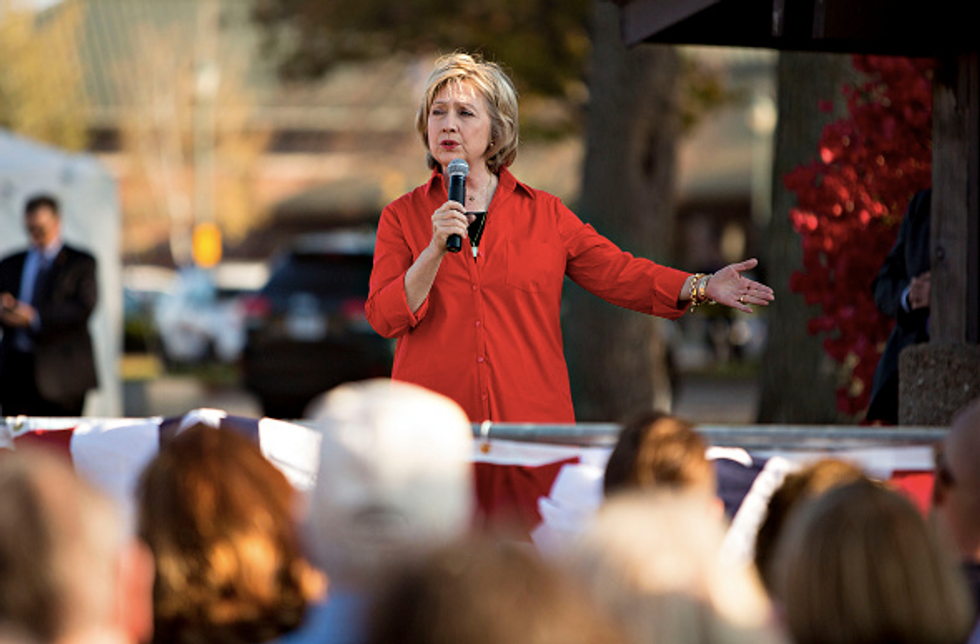 Hillary Clinton, former U.S. secretary of state and 2016 Democratic presidential candidate, speaks during a town hall event at S.T. Morrison Park in Coralville, Iowa, Tuesday, Nov.3, 2015. (Daniel Acker/Bloomberg via Getty Images)
The FBI is investigating the handling of top-secret classified information on the Democratic presidential candidate's private email server while she served as secretary of state. At least two emails were marked as "TS/SCI," meaning top secret/sensitive compartment information, based on the intelligence community's inspector general.
While Clinton has repeatedly said nothing was marked classified, the language of the agreement, which Clinton signed on Jan. 22, 2009, suggests it's up to the official to know, after receiving training on what qualifies as classified information.
"I understand that it is my responsibility to consult with appropriate management authorities in the Department … in order to ensure that I know whether information or material within my knowledge or control that I have reason to believe might be SCI," the agreement says.
A copy of the agreement was obtained by the Competitive Enterprise Institute, a free market think tank, in a Freedom of Information Action Act request. The CEI shared the document with the Free Beacon.
In addition to her SCI agreement, Clinton signed a separate NDA that prohibits "negligent handling of classified information," and says,
"I will never divulge classified information to anyone unless: (a) I have officially verified that the recipient has been properly authorized to receive it; or (b) I have been given prior written notice of authorization."