While Republican presidential candidate Ben Carson has criticized a variety of new outlets for their "biased" reporting of late, the retired neurosurgeon did have something to thank them for — campaign donations.
In a post on his Facebook page, Carson said his presidential campaign has garnered more than 100,000 new Facebook followers and has raised $3,500,000 from nearly 70,000 donations.
"Their bias will only make us grow bigger, better and bolder!" the post on Carson's page reads.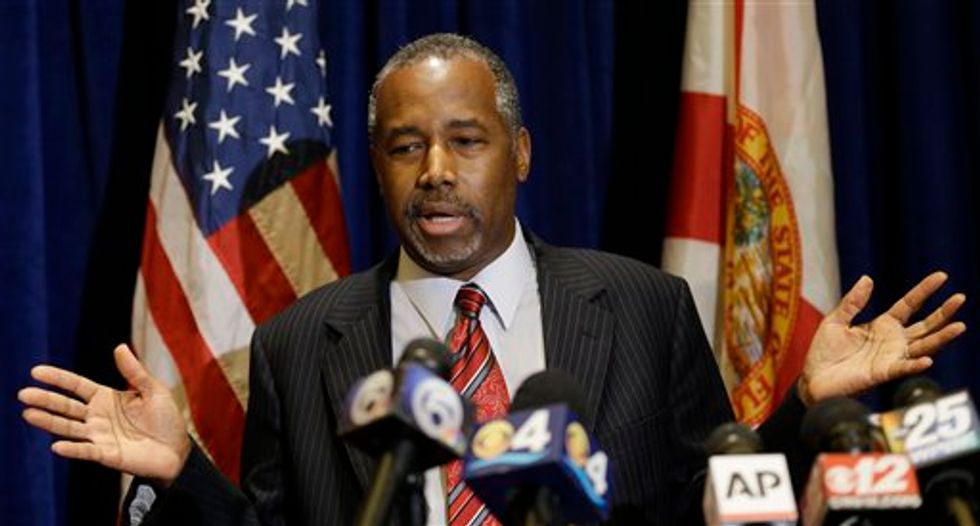 Republican presidential candidate Ben Carson speaks to reporters during a news conference before the Black Republican Caucus of S. Florida "Diamonds & Ice" Scholarship gala, Friday, Nov. 6, 2015, in Palm Beach Gardens, Fla. (AP Photo/Alan Diaz)
Carson has specifically called out CNN, Politico and the Wall Street Journal for a variety of reports from the publications. In particular, Carson said he is writing a letter to CNN and encouraged his followers to sign their names to the letter in support. 
"Join me in sending a strong message to the liberal media that We the People are united in our resolve," the post reads.
We the People have made 10,000 donations each day this week, raising $3.5M this week alone. Thank you biased media.

— Dr. Ben Carson (@RealBenCarson) November 7, 2015
On Sunday morning, Carson criticized a Wall Street Journal report that looked into the claim he made in his book, "Gifted Hands," that a Yale psychology professor duped his class into thinking  their final exams had "inadvertently burned" — requiring the class to retake them. Yale Librarian Claryn Spies told the Wall Street Journal that such a class, called Perceptions 301, did not exist and a search of the Yale Daily News database did not turn up a copy of the photo Carson wrote was taken after he was the only one in the class who finished the second final exam. 
Carson posted what appears to be a newspaper clipping from the Yale Daily News which detailed the hoax involving a final examination as well as a link to what he said is the course syllabus.
"Will an apology be coming," Carson wrote. "I doubt it."