Besides the mock heckling Donald Trump weathered from Larry David during the GOP presidential candidate's monologue, another notable "Saturday Night Live" sketch lampooned Democratic presidential candidates Hillary Clinton and Bernie Sanders — and even MSNBC.
The setting for the show's cold open was last week's First in the South Democratic Presidential forum hosted by Rachel Maddow, who was played by SNL cast member Cecily Strong — and her main focus was interviewing Hillary Clinton, played per usual by Kate McKinnon, and Bernie Sanders, who was again handled by Larry David.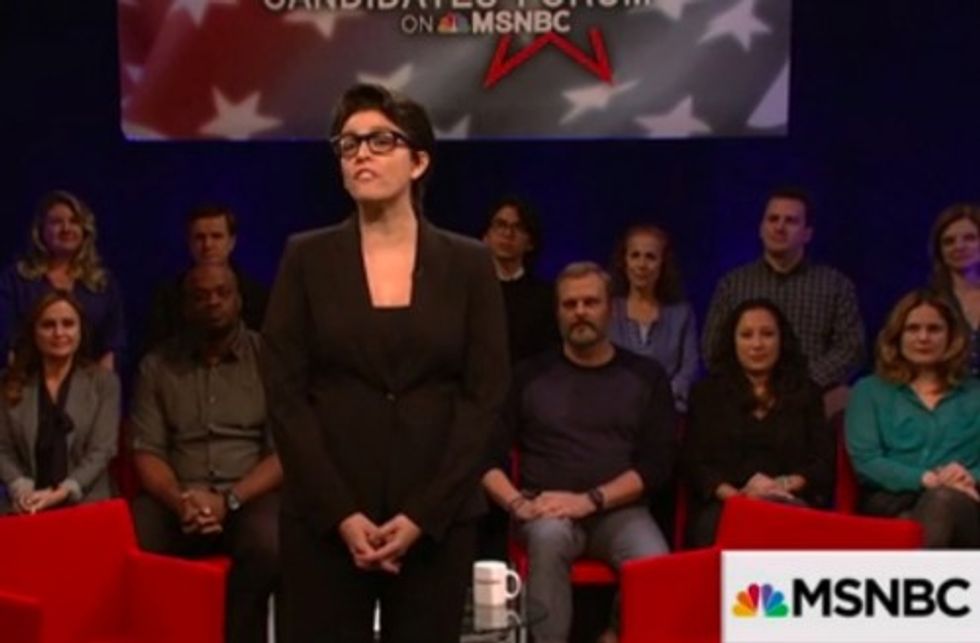 Image source: Hulu
"Maddow" introduced "Clinton" by saying she's "hot off crushing the Benghazi hearings" before McKinnon made failed attempts to sit casually in her chair.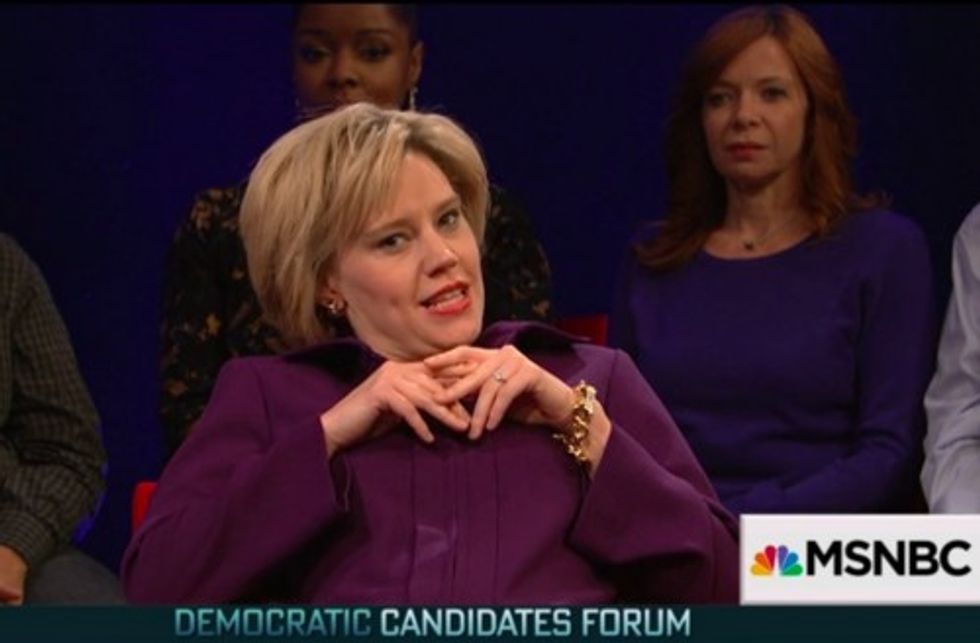 Image source: Hulu
"Hillary, let's dive into some tough questions," "Maddow" asked "Clinton." "But don't worry, not actually tough — just MSNBC tough."
After McKinnon mocked Clinton's penchant for changing her accent according to what part of the country in which she campaigns, Strong asked a question used at the actual forum.
"What language would you most like to learn?" Strong asked "Clinton."
"I think I'm going to say casual English," McKinnon replied. "You know, there are so many phrases I hear but I don't know how to use. Like 'hang out' or 'I'm good either way.'"
David was met with huge applause when he walked onstage and did his best Sanders imitation: "I don't need no fancy introduction. I'm not Elvis Presley. Let's just get on with it."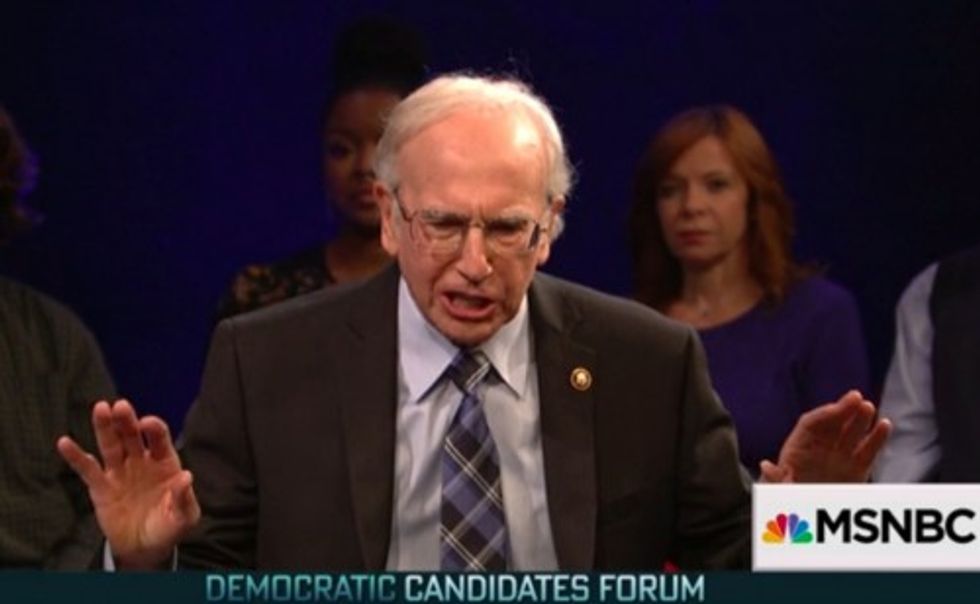 Image source: Hulu
Sanders' bare-bones persona was mocked when David said he doesn't cross bridges or enter tunnels because the nation's infrastructure is so bad — instead he rows across rivers with a kayak strapped to his car.
When Strong asked about "Sanders'" fundraising efforts, David revealed that he'll "only accept coins, and I'm not talking about fancy coins like dimes and quarters. I just want nickels and pennies. The coins of the middle class."
"Sanders" added that black people love him and that he got 50 percent of the black vote in Vermont — "his name is Marcus," David quipped.
And when Sanders to picked an envelope containing a question, he requested the "one on the far left. So far left it could never be elected."
(H/T: BizPac Review)
—
Follow Dave Urbanski (@DaveVUrbanski) on Twitter