Israeli Prime Minister Benjamin Netanyahu, during his first visit to the White House in more than a year, talked about his country's commitment to peace with the Palestinians — but only if the other side is willing to go along.
"We have not given up our hope for peace. We will never give up our hope for peace, and I remain committed to two states for two people, a demilitarized Palestinian state that recognizes a Jewish state," Netanyahu said in the Oval Office, sitting next to President Barack Obama. "I don't think anyone should doubt Israel's determination to defend itself against terror and destruction. But neither should anyone doubt Israel's willingness to make peace with any of it's neighbors that genuinely want to achieve peace. I look forward to discussing with you practical ways in which we can lower the tension, increase stability and move forward for peace."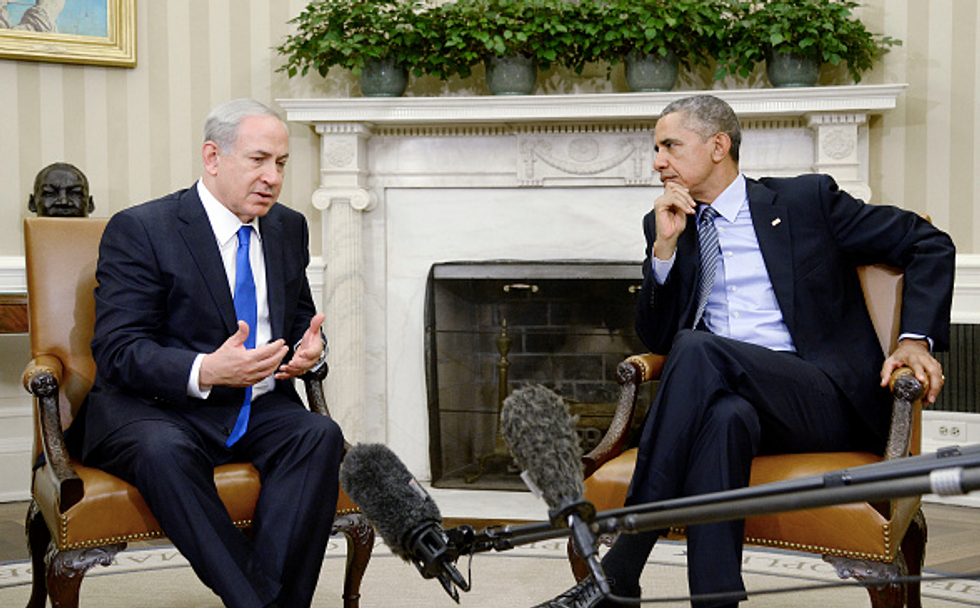 President Barack Obama meets with Israeli Prime Minister Benjamin Netanyahu in the Oval Office of the White House Nov. 9, in Washington, D.C. (Olivier Douliery-Pool/Getty Images)
The two leaders have had a frosty relationship, and publicly disagreed on the Iran nuclear deal. Obama declined to meet with the prime minister when Netanyahu visited Washington to deliver an address to Congress this spring. During the Monday meeting, Obama referred to the Iran deal as a "narrow issue" that is part of a broader relationship.
As the two leaders talked to reporters briefly before going into a private meeting, Obama concurred that seeking peace between Israel and Palestine was paramount.
"I want to be very clear that we condemn in the strongest terms Palestinian violence against innocent Israeli citizens. And I want to repeat once again it is my strong belief that Israel has not just the right but the obligation to protect itself," Obama said. "I also will discuss with the prime minister his thoughts on how we can lower the temperature between Israeli and Palestinians, how we can get back on a path towards peace and how we can make sure that legitimate Palestinian aspirations are met through a political process, even as we make sure that Israel is able to secure itself."
Both leaders talked about the need to battle the Islamic State, Hezbollah and other terrorist groups in the region.
Though the Iran nuclear deal has been the biggest public point of contention between the leaders, only Obama raised the issue.
"We'll also have a chance to talk about how implementation of Iran nuclear agreement is going on," Obama said. "It's no secret the prime minister and I have had a strong disagreement on this narrowing issue, but we don't have a disagreement on the need to making sure Iran does not get a nuclear weapon, and we don't have a disagreement about us blunting destabilizing activities in Iran that may be taking place. We'll be looking to make sure we find common ground there."