A British adventurer known for skirting the rules, at times, to reach new heights (literally) recently posted video of his latest conquest: the Eiffel Tower.
As one might imagine, the Paris landmark is off limits for such climbs without permission. Though James Kingston wrote that he narrowly avoided security to make it to the top, he did not make it out of this adventure unnoticed.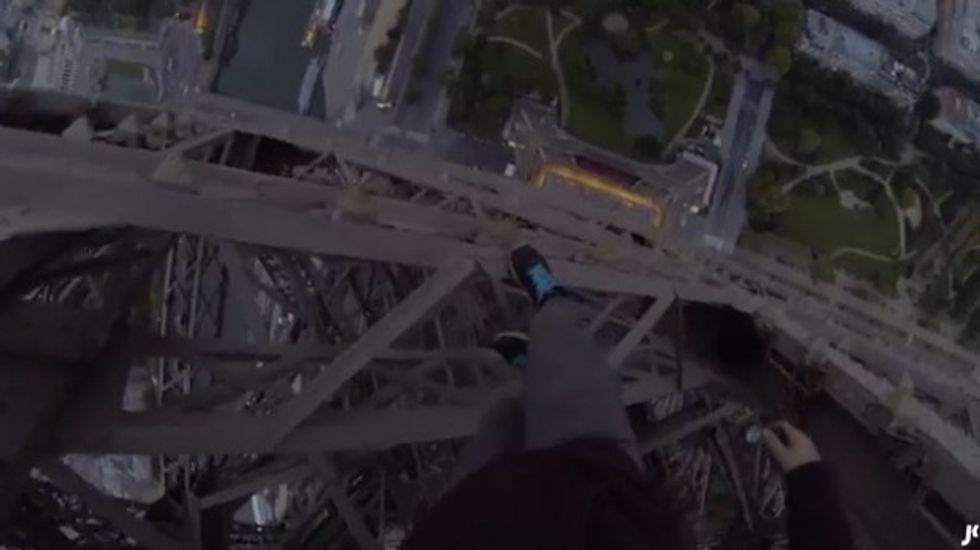 Image source: YouTube
"The Eiffel Tower has been one of my goals for quite a while," Kingston wrote in a description of his video posted to YouTube Sunday. "Plan A for the Tower was to buy tickets to the second platform & climb out of one of the stairways. This immediately failed as it was just too busy."
Without a true plan B, he continued, he climbed up the right side of the tower starting around 1 a.m. to "see what happens."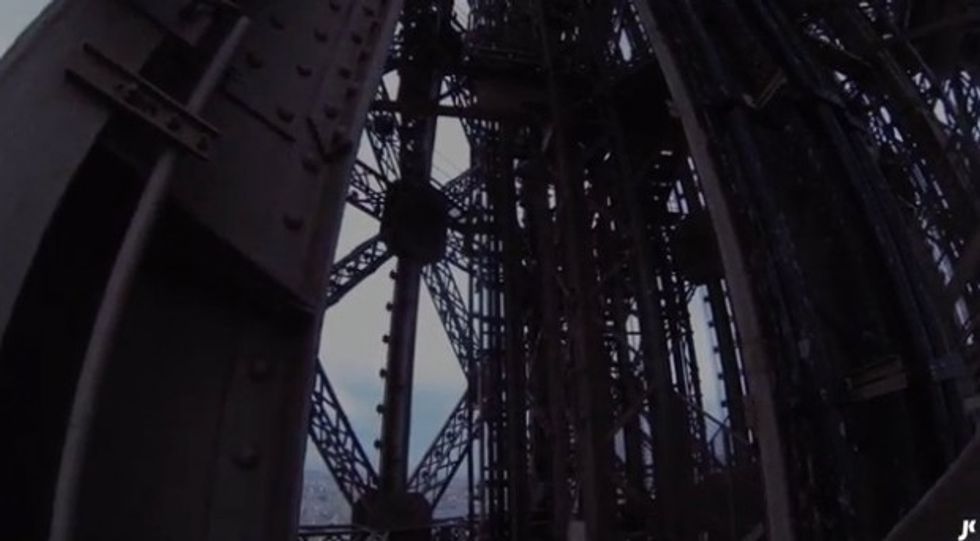 Image source: YouTube
After he and a friend "wormed our way through what seemed like endless CCTV cameras" and made it about 20 meters up, he wrote they felt the "tower was ours for the night."
"After slowly making our way up through the framework of the Tower, we finally reached the top platform which was fully lit up," Kingston continued. "This is where we should have probably stopped but my curiosity got the better of me. I unlocked the door, slowly crept in and was immediately hit with the sound of a walkie talkie going absolutely mental in French."
Watch Kingston's video:
That's when he wrote that they went down a few stories and hid, watching as security searched for them to no avail at the time. Morning came, along with workers and tourists, and Kingston and his friend might have felt safe emerging at this time, but they weren't. They were spotted.
"We were handcuffed & taken to the local police station where we were held & questioned for around 6 hours before being released without charges (I also had to promise them I wouldn't climb it again for 3 years)," he wrote.
Even after being caught by the authorities and making off without charges, Kingston seems pretty pleased with his climb, finishing his post with "I can now officially tick the Eiffel Tower off my list."
(H/T: Gizmodo)