During an address to the conservative Federalist Society Thursday, White House Counsel Neil Eggleston highlighted the significant bipartisan support President Barack Obama's move for criminal justice reform is receiving.
The Senate Judiciary Committee recently passed a bill that would cut mandatory minimum sentences for certain crimes deemed non-violent.
However, many law enforcement groups such as assistant U.S. attorneys, are reluctant to change sentencing laws. They contend that the mass release of prisoners late last month were drug offenders charged trafficking or distribution, rather than users.
"The Senate bill really addresses that," Eggleston told TheBlaze shortly after his remarks. "If it's a violent person or someone who is part of organized crime trafficking, I think the safety valves simply wouldn't apply. So this is pretty well directed, and I think it's in a pretty good place."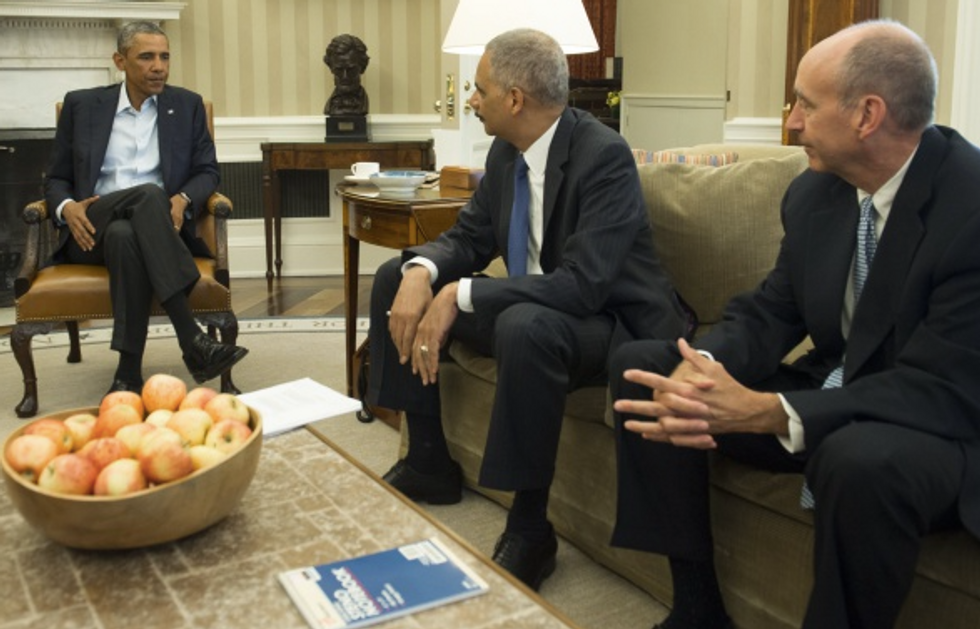 President Barack Obama, former Attorney General Eric Holder and White House Counsel Neil Eggleston confer in the Oval Office of the White House in Washington, D.C., Aug. 18, 2014. (Saul Loeb/AFP/Getty Images)
"Our justice system has too often become the final default response for people with mental illness and people who have addiction," he told the audience. "We are too often putting the burden of people who have addiction on police."
Briefly speaking to reporters after his speech, he also said that the presidential campaign would not interfere with the momentum.
"Our sense of this is that it has sufficient bipartisan support that we're not worried about it crashing into presidential politics," Eggleston said.
Republican presidential candidates have varying views on criminal justice reform. Kentucky Sen. Rand Paul has made it a central theme of his campaign, including decriminalizing certain offenses and doing away with mandatory minimum sentences, while Texas Sen. Ted Cruz voted against the sentencing reform bill in the Judiciary Committee.