The Republican establishment is apparently in panic mode over the once improbable now increasingly possible nomination of Donald Trump or Ben Carson — so much so that the party is pondering a move to draft Mitt Romney, the Washington Post reported.
Romney already declined to enter the contest, but according to the Post, some Republican strategists fear that either of the two leading candidates — a real estate billionaire and a brain surgeon who have never held political office — would hurt the 2016 "GOP ticket up and down the ballot," giving the White House to Hillary Clinton and handing control of the Senate back to the Democrats.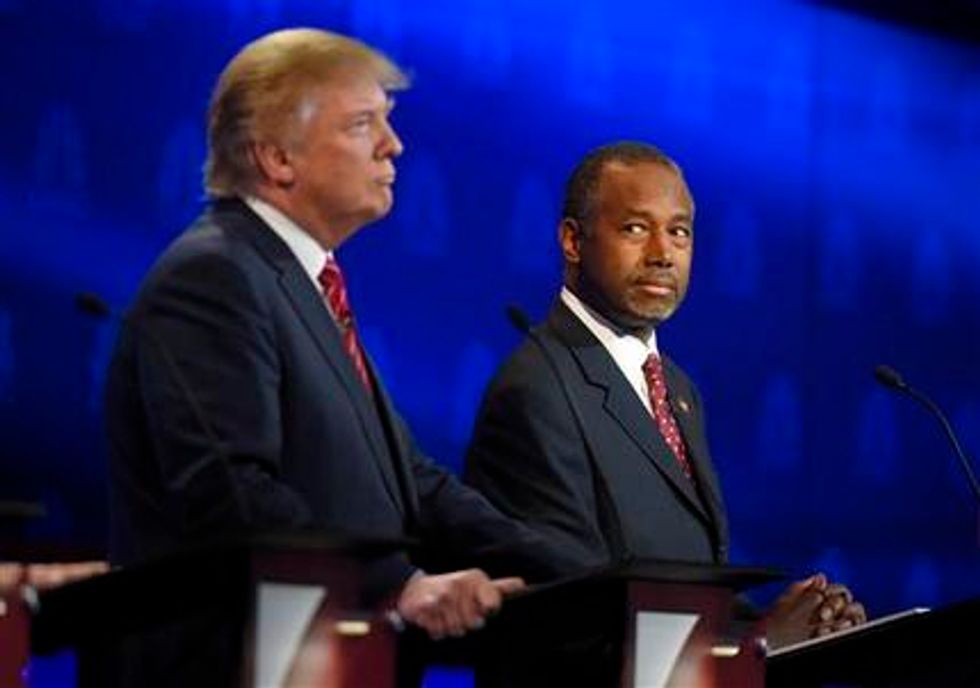 Ben Carson, right, watches Donald Trump during the CNBC Republican presidential debate Oct. 28 in Boulder, Colorado. (AP Photo/Mark J. Terrill)
And then there's the money issue. According to party leaders, with Trump and Carson in the lead and the lack of a "consensus alternative to the outsiders," the Post reported, big-money donors have stayed on the sidelines.
The strategists and party faithful believe that the 2012 Republican nominee is the only hope for the party and are plotting a strategy to have him nominated at the Republican National Convention in 2016.
From the Post.
"The rest of the field is still wishing upon a star that Trump and Carson are going to ­self-destruct," said Eric Fehrnstrom, a former adviser to 2012 nominee Mitt Romney. But, he said, "they have to be made to self-destruct. ... Nothing has happened at this point to dislodge Trump or Carson."

Fehrnstrom pointed out that the fourth debate passed this week without any candidate landing a blow against Trump or Carson. "We're about to step into the holiday time accelerator," he said. "You have Thanksgiving, Christmas, New Year's, then Iowa and a week later, New Hampshire, and it's going to be over in the blink of an eye."

According to other Republicans, some in the party establishment are so desperate to change the dynamic that they are talking anew about drafting Romney — despite his insistence that he will not run again. Friends have mapped out a strategy for a late entry to pick up delegates and vie for the nomination in a convention fight, according to the Republicans who were briefed on the talks, though Romney has shown no indication of reviving his interest.
Former New Jersey Gov. Thomas H. Kean Sr., a moderate Republican, said he gets calls daily from GOP elites.
"People usually start off in the same way: Pollyanna-ish," Kean told the Post. "They assure me that Trump and Carson will eventually fade. Then we'll talk some more, and I give them a reality check. I'll say, 'The guy in the grocery store likes Trump. So does the guy who cuts my hair. They're probably going to stick with him. Who knows if this ends?'"
However, GOP strategist Charlie Black said the 2016 nominating contest "will eventually fall into the normal pattern of one outsider and one insider, and historically the insider always wins."