Dozens of Black Lives Matter protesters shut down a busy interstate in Minneapolis Monday night as a young black man who was shot during an altercation with police over the weekend was taken off life support and died.
More than 50 activists — 43 adults and eight juveniles — were arrested during the protest. The Black Lives Matter protesters were instructed not to talk to the "white media," according to WCCO-TV.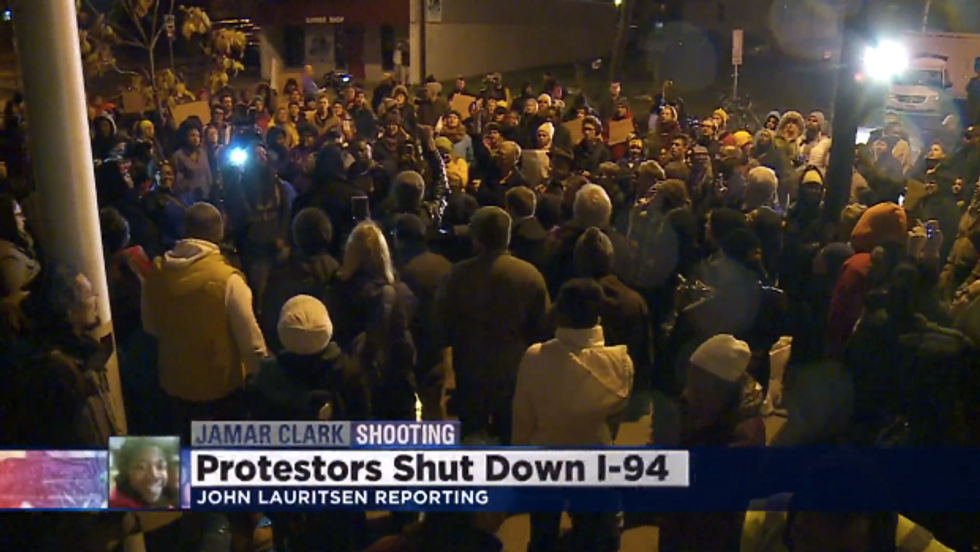 Image source: WCCO-TV
WCCO reported that the Black Lives Matter protesters held a press conference earlier in the day to demand that police release the video of the moment 24-year-old Jamar Clark was shot by police.
Early Sunday morning, Minneapolis police responded to a report that a man, Clark, was assaulting a woman. Police said Clark interfered with paramedics and struggled with officers when they attempted to arrest him. During the struggle, Clark was shot.
Initial witness reports said Clark was handcuffed during the shooting, but police and state investigators said that was not accurate. Police were not wearing body cameras at the time of the shooting, but it remains unclear if any other video exists.
Additionally, protesters have demanded the names of the officers involved in the shooting and requested that Mayor Betsy Hodges call for an independent investigation into the incident. According to WCCO, Hodges has called for federal civil rights investigation into the shooting.
The state has said it cannot release the names of the officers until interviews have been completed.
Clark's family announced Monday night that he had been taken off life support and had passed away.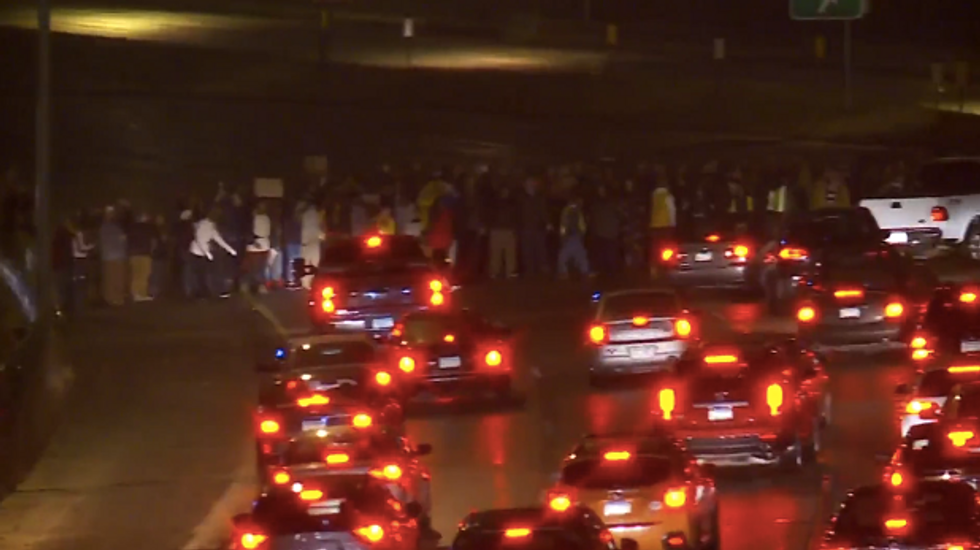 Image source: WCCO-TV
According to WCCO, protesters marched onto I-94 Monday night with shouts of "We're shutting it down!" The protesters blocked the streets for more than two hours as some got into verbal sparring matches with frustrated drivers.
""Look at what the f*** you're doing! Look at what the f*** you're doing! Get the f*** out of here," one angry black passenger can be seen yelling at the protesters in a video.
Originally, law enforcement officials attempted to create alternate routes for drivers, but the protesters blocked those, too, with a human chain — and some were almost hit by vehicles. Police eventually gave the protesters a 15-minute warning as they deemed the gathering unlawful. Those who did not comply with the warning were arrested.
"I appreciate and welcome all avenues and resources that help us find the truth so we can be clear on exactly what happened," Minneapolis Police Chief Janee Harteau told WCCO.
The two police officers involved in the incident have been placed on paid leave, which is standard practice, according to Fox News.
Watch footage of the protest from WCCO-TV below.