Illinois Democratic Rep. Jan Schakowsky told SiriusXM radio this week that the Paris terrorist attacks should motivate stricter gun laws in the United States.
The congresswoman said that "before we killed a jihadist named Awlaki, he did a video that said to Americans, 'join the jihad and get guns, because it's so easy in the United States of America to get a weapon.'"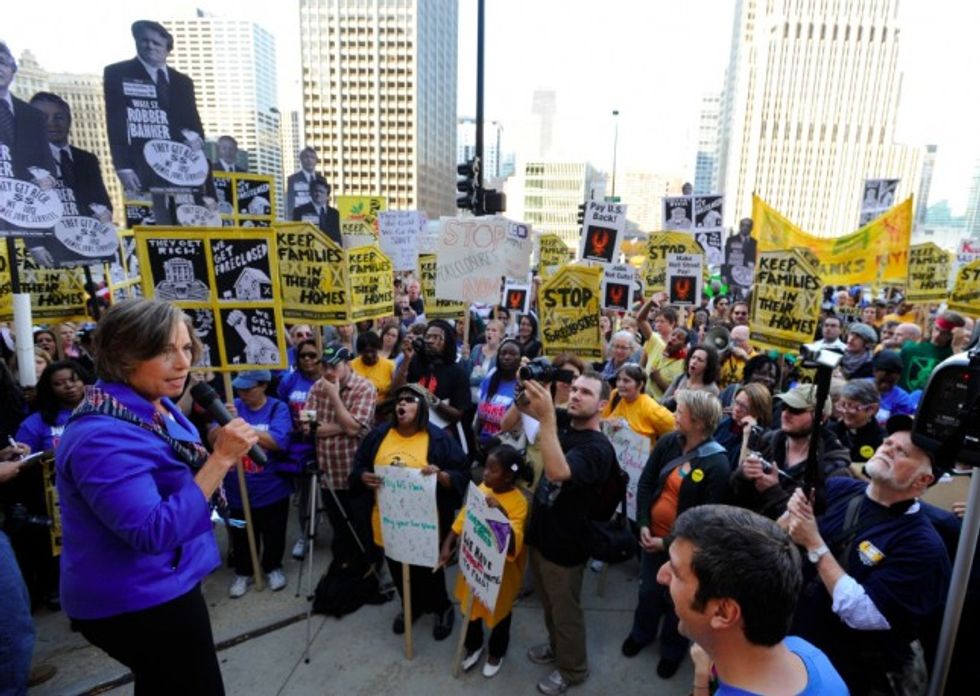 Rep. Jan Schakowsky (D-Ill.) speaks to protestors during a "Take Back Chicago" demonstration, Oct. 10, 2011. (AP Photo/Paul Beaty)
"And that ought to be a chilling reminder because — aside from blowing themselves up, which is, of course, not about small weapons — these people used the kinds of weapons that are still available in the United States of America," Schakowsky added. "And I think it ought cause us to have another consideration of sensible gun safety laws."
When the host came noted that such weapons "were also available in France," which has highly restrictive gun laws, the congresswoman kept her focus on U.S. guns.
"Well, you know, we traffic in some small weapons around the world, and so it's not clear exactly where those came from," she replied. "But you're right, they are — you know, people get them. But they're so available here in the United States was the message that was sent to possible recruits for the terrorist organizations."
Buzzfeed noted that radical cleric Anwar al-Awlaki, presumably the terrorist Schakowsky was referring to in the interview, did not make such a recruitment video. But the outlet added that Al Qaeda spokesman Adam Gadahn said in a 2011 video that "America is absolutely awash with easily obtainable firearms" and encouraged their acquisition.
(H/T: The Gateway Pundit)
—
Follow Dave Urbanski (@DaveVUrbanski) on Twitter