The Defense Department confirmed to TheBlaze Wednesday that local law enforcement agencies have until April 2016 to returnee surplus military equipment. This is part of the administrations effort to "de-militarize" law enforcement.
Calhoun County Sheriff Larry Amerson, a former president and active member of the National Sheriffs Association, said his department is the first he is aware of to be required to surrender the vehicles to the federal government.
"The issue for me is that we are losing an essential capability to move deputies and crime victims around safely in a dangerous environment," Amerson told TheBlaze.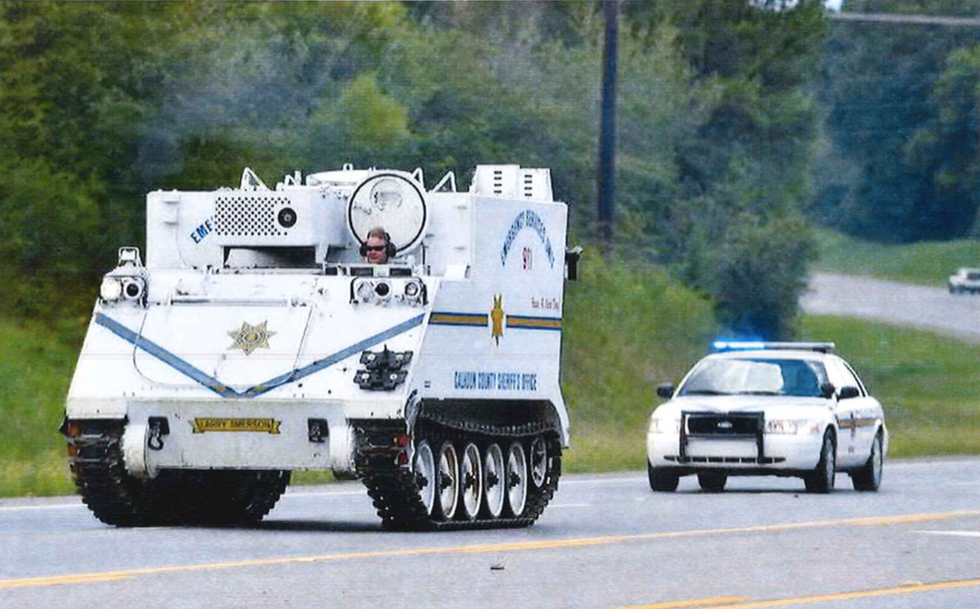 Calhoun County, Alabama, Sheriff's Office
The Obama administration established the Task Force on 21st Century Policing and ordered a review of the Defense Department's 1033 military equipment surplus program after the events in Ferguson, Missouri, where tank-like vehicles were used to quell riots following the Michael Brown shooting. On Jan. 16, 2015 Obama issued an executive order to establish the Law Enforcement Equipment Working Group, which provided recommendations to the president in the areas of prohibited and controlled equipment. Obama accepted the recommendations on Oct. 1.
"Equipment on the prohibited list are tracked armored vehicles; weaponized aircraft, vessels and vehicles; .50-caliber firearms and ammunition; bayonets; camouflage uniforms and grenade launchers," Pentagon spokeswoman Susan Lowe told TheBlaze. "Of those items, LESO has only transferred excess tracked armored vehicles, grenade launchers and bayonets to authorized LEAs."
She said the recall began in October and that nationally, law enforcement agencies must return the prohibited equipment by April 1, 2016.
In the case of Calhoun County, the department wanted extra protection after a mentally ill man shot three police officers in January 2001, and there was no transportation to extract them from the dangerous situation in a timely manner. Amerson said he wanted to do whatever possible to prevent this from happening but did not have $500,000 for an armored track vehicle.
The sheriff's department obtained M113 track armored vehicles, which have no weapons, in November 2004 through the 1033 program. The vehicles were used only a handful of times since since being acquired, including tracking down a man who shot and killed an Anniston police officer in 2011 and searching for an armed home invader. In both cases, the men had fled into the woods.
Multiple law enforcement organizations have said they favor the surplus equipment.
"Taxpayer dollars bought this equipment. The military has no use for it anymore. The common-sense solution is to make them available to law enforcement," Amerson said.
The 1033 program, named for section 1033 of the 1997 National Defense Authorization Act, stems from a concept first introduced in the 1990 defense spending bill when pistol-carrying police were forced to contend with machine-gun wielding drug criminals. Many cash-strapped local police and sheriff's offices couldn't afford equipment, so they applied to the Defense Department for military rifles, armored vehicles, night vision goggles and body armor.
"Another irony is that some people say this puts the community in fear," Amerson said. "About twice a month, we have gotten requests to use these in community events. People ride on them in parades. They are at Fire Department barbecues. It was used in the non-violence march."
TheBlaze contacted the National Association of Chiefs of Police to inquire how many local departments across the nation are being required to surrender equipment but did not immediately get a response.
The sheriff further said that evidence would indicate the Obama administration doesn't favor law enforcement.
"Law enforcement professionals are trained to investigate and follow the evidence to the logical conclusion," Amerson said. "The evidence we can see makes it apparent that they seem to believe that law enforcement is a bully and a danger to the community. This is my 21st year as a sheriff, and I strongly disagree."
The White House did not immediately responded to inquiries from TheBlaze.
Many Democrats, and some Republicans, including GOP presidential candidate Sen. Rand Paul of Kentucky, have called for de-militarizing local law enforcement agencies.
Amerson said that may sound good in theory, but in reality, local police do face militarized dangers sometimes.
"Police are a quasi-military, like it or not," he said. "They wear uniforms, and they are put in violent situations."
This post was updated to include a response from a Pentagon spokeswoman.