French President Francois Hollande said Wednesday that his country is 'at war' against terrorism issued by the Islamic State group.
Hollande's statement came during a televised address Wednesday after a seven-hour police siege on an apartment north of Paris where police suspected the mastermind of the deadly Paris attacks might have been.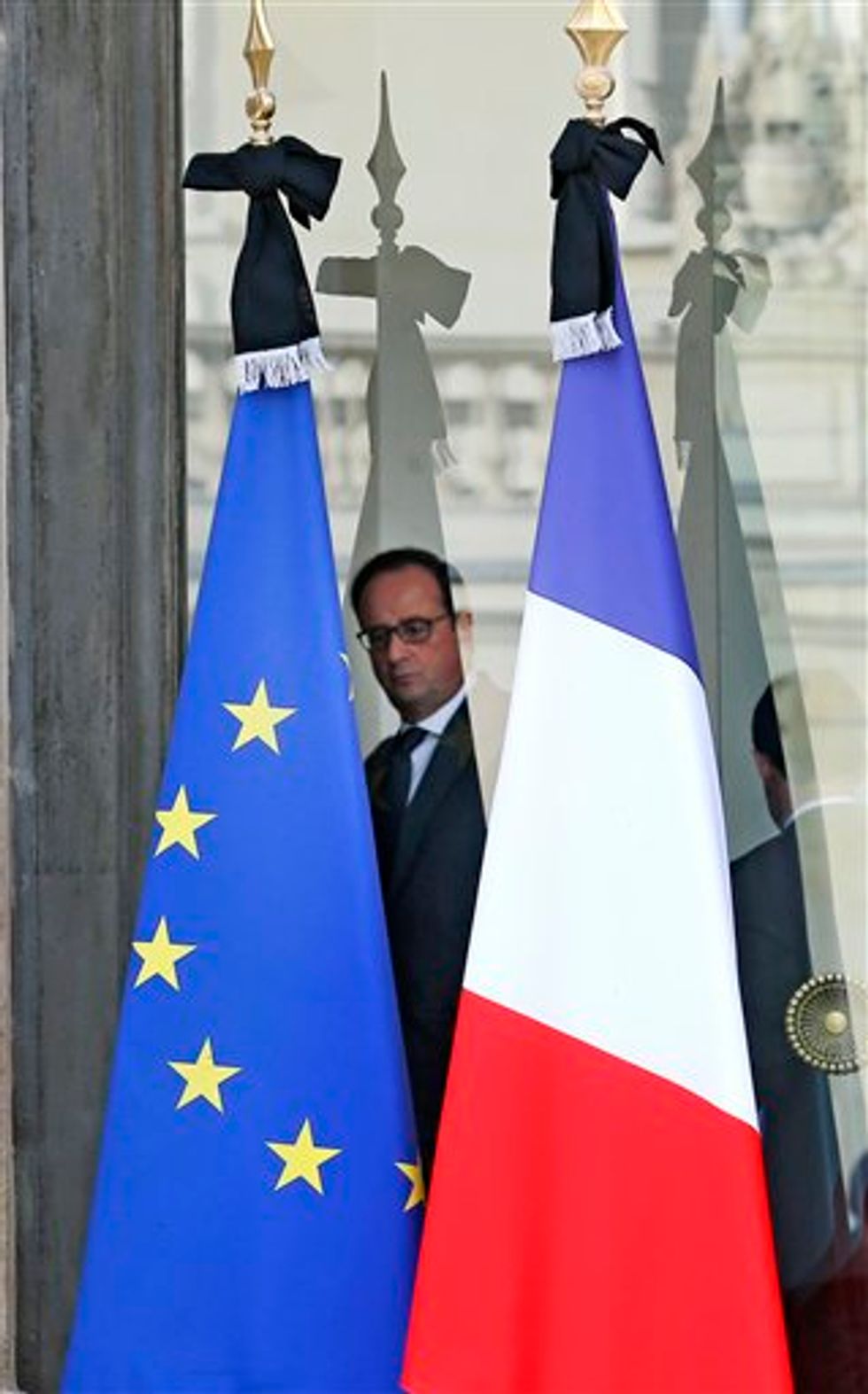 French President Francois Hollande is framed by the French flag, right, and the european flag as he walks through the lobby of the Elysee Palace after the weekly cabinet, in Paris, Wednesday, Nov.18, 2015. Hollande earlier held an emergency meeting at the Elysee Palace to monitor the raid on a suburban Paris apartment. (AP/Jacques Brinon)
"We are at war," he said.
Hollande said he wants a "large coalition" to work together against the Muslim extremists associated with the IS, an organization he said "commits massacres" in the Mideast.
The attacks at a Paris concert venue and soccer stadium last Friday killed 129 people and injured 350 others. Since then, the French military has conducted various raids and air strikes.
Seven attackers died in Friday's attacks, which also targeted several bars and restaurants in addition to the Bataclan concert hall and Stade de France stadium. IS claimed responsibility for the carnage.
Most recently, the French aircraft carrier Charles de Gaulle left to help French military operations in Syria against IS.
Just hours after the attack occurred on November 13, Hollande said his country was "going to lead a war, it will be pitiless," NBC News reporter Katy Tur recounted at the time.
Then speaking to parliament in a rare joint session Monday, Hollande called Friday's attacks "acts of war," which he said were decided upon and planned in Syria, then organized in Belgium before they were "perpetrated on our soil with French complicity with one specific goal: to sow fear and to divide us."
Determined to root out jihadists within French communities, Hollande said he would present a bill Wednesday seeking to extend a state of emergency - granting the police and military greater powers of search and arrest, and local governments the right to ban demonstrations and impose curfews - for another three months.
He also pledged to hire 5,000 more police within the next two years, to freeze cuts in military personnel through 2019, and to introduce other bills that would stiffen jail terms for arms trafficking and make it easier to deport suspected terrorists.
Hollande said he hoped to meet soon with U.S. President Barack Obama and Russian President Vladimir Putin, who on Monday were attending the G-20 summit of nations in Antalya, Turkey. The two leaders maintained a publicly frosty demeanor, reflecting strained relations over Russia's support for Syrian President Bashar Assad and Russia's go-it-alone pursuit of airstrikes against both IS and anti-IS rebels in the country, a strategy that bolsters Assad. The air power of the United States, France and Britain is solely targeting IS targets.
In his Versailles address, Hollande said the United States and Russia needed to cooperate in attacking IS targets "to unify our strength and achieve a result that has been too long in coming."
"We need a union of all who can fight this terrorist army in a single coalition," he said.
"We are not in a war of civilizations, because these assassins don't represent one. We are in a war against jihadist terrorism, which threatens the entire world."
"We are not committed to a war of civilizations, because these assassins don't represent any civilization," Hollande said. "We are in a war against terrorism, jihadism, which threatens the whole world."
—
The Associated Press contributed to this report.