The U.S. House approved a GOP bill to strengthen the vetting process of Syrian and Iraqi refugees on Thursday, ignoring a veto threat from President Barack Obama.
The bill was reportedly passed 289-137, giving the legislation the two-thirds majority required to override a veto. A total of 47 Democrats voted with Republicans to pass the "veto-proof" bill.
All the Dems who votes for the bill pic.twitter.com/BiGZWTwtSh

— Tarini Parti (@tparti) November 19, 2015
CNN's Deirdre Walsh reported that testimony from White House and Department of Homeland Security officials prior to the vote actually "lost votes" for the Obama administration as several Democrats supported the bill.
The measure, which in effect would suspend admissions of Syrian and Iraqi refugees, would require the FBI to conduct background checks on people coming to the U.S. from those countries. It would oblige the heads of the FBI and Homeland Security Department and the director of national intelligence to certify to Congress that each refugee "is not a threat to the security of the United States.
The legislation's future is still uncertain as it still must pass through the Senate.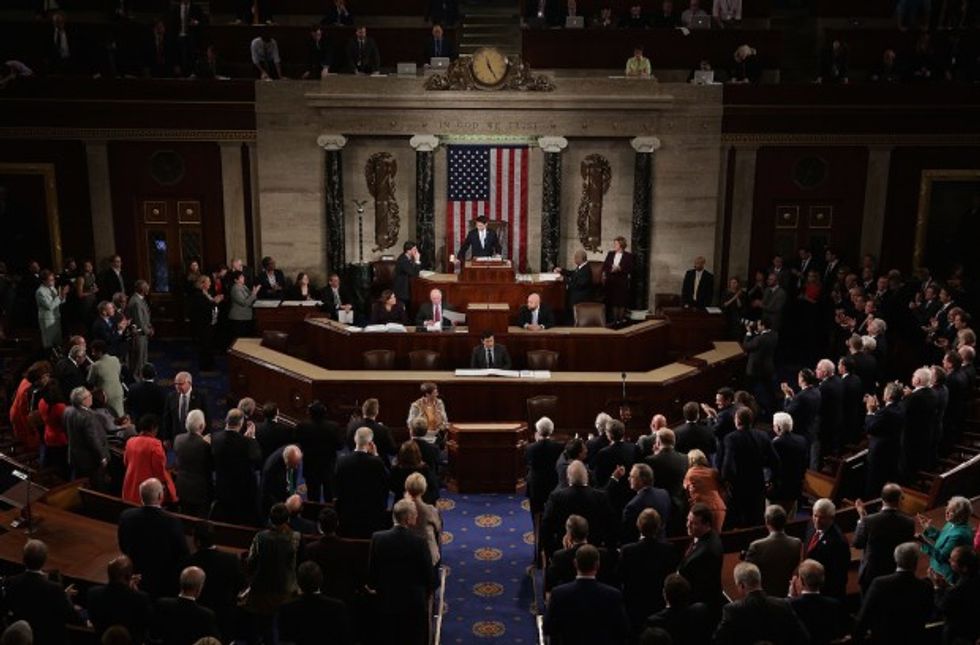 Alex Wong/Getty Images
Thursday's roll call came six days after a burst of bombings and shootings in Paris killed 129 people, wounded many more and revived post-9/11 jitters in the U.S. and Europe. The attacks have turned the question of admitting people fleeing war-torn Syria and Iraq into a high-stakes political issue in both the United States and Europe, and many congressional Democrats were willing to vote against Obama for fear of angering voters nervous about security at home.
Democrats opposing the GOP bill said the U.S. has no business abandoning its age-old values, including being a safe haven for people fleeing countries racked by violence. The Islamic State group has claimed responsibility for the Paris attacks and controls vast swathes of Syria and Iraq, despite a growing military campaign against them by the U.S. and other nations.
"Defeating terrorism should not mean slamming the door in the faces of those fleeing the terrorists. We might as well take down the Statue of Liberty," said Rep. Jerrold Nadler, D-N.Y.
Republicans said that in dangerous times, the government must first protect its own.
"It is against the values of our nation and the values of a free society to give terrorists the opening they are looking for" by not tightening entry restrictions, said House Majority Leader Kevin McCarthy, R-Calif.
Besides the 47 Democrats, 242 Republicans voted for the bill. Opposing it were 135 Democrats and two Republicans, Reps. Walter Jones (R-N.C.) and Steve King (R-Iowa)
The Associated Press contributed to this report.
---