Bill Maher concluded his show Friday night by mocking Republican presidential candidate Ben Carson's religion.
Specifically, Maher blasted Carson as a Seventh-day Adventist and the belief in the eventual return of Jesus. Maher did not hold back in mocking "The Great Disappointment," or the date in 1844 that was heralded by some as the original date of Jesus' return.
"I don't have to agree with a politician on everything. We can disagree on abortion, entitlements, paid sick leave, the earned-income tax credit, but the Earth staying is kind of a deal-breaker for me," Maher said. "You know what my great disappointment is? That I live in a country where four out of 10 people believe that we're living in 'end times.'"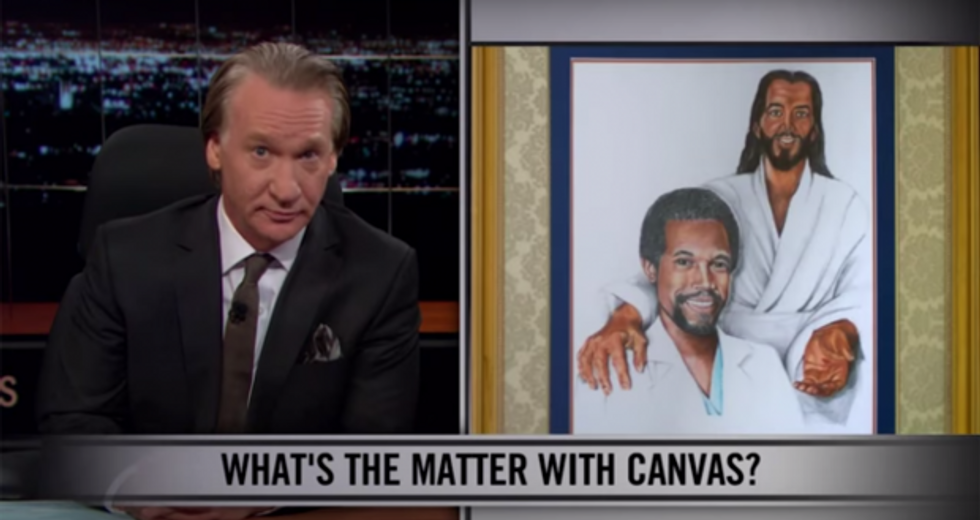 Image source: YouTube
"New rule. I know the Constitution says there can be no religious test for holding office, but sorry, you can't get your hands on the nuclear launch code if you own a painting of yourself with Jesus in a bathrobe," Maher said.
The HBO host also went after the now infamous painting that Carson apparently has hanging in his house as a painting of Jesus and Carson "enjoying a spa day."
The comedian said the "stupid media" should ask "Jesus freaks" running for office two questions: "Is the world ending soon?" and "Do you think that's a bad thing?"
Watch a clip of Maher's show, which includes strong language and content, below.
(H/T: Mediaite)