Republican presidential contender Marco Rubio released his first television advertisement on Sunday.
The 30-second spot — which will begin to air nationwide on Tuesday, according to a press release from his campaign — precisely reiterates comments the Florida senator made in a video message released in the wake of the Paris terrorist attacks earlier in November that left more than 125 people dead.
"This is a civilizational struggle between the values of freedom and liberty and radical Islamic terror," Rubio said in the ad.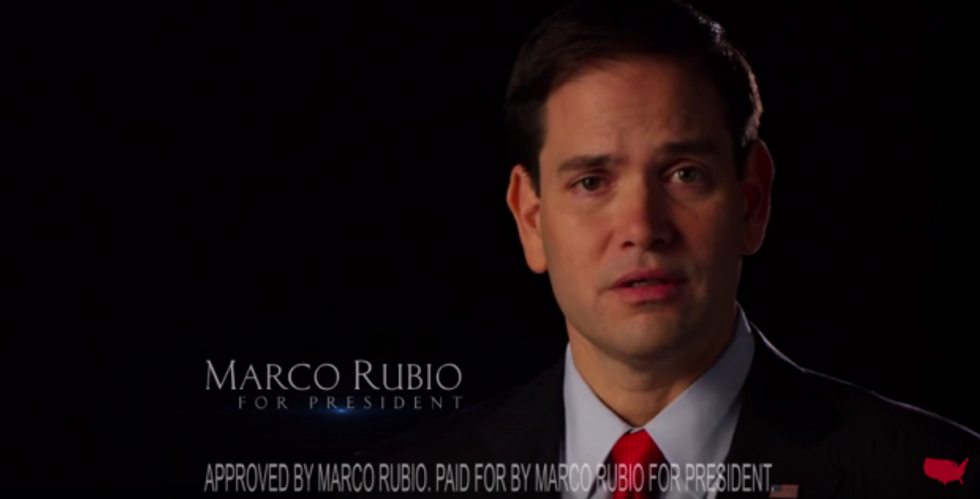 Image source: YouTube
With a dark background and simple music, Rubio warns that the Paris terrorist attacks could very well occur in the U.S. as well.
"These aren't disgruntled or disempowered people," he said. "These are radical terrorists who want to kill us because we let women drive, we let girls go to school."
In an op-ed for Politico Thursday, Rubio laid out his hawkish four-point plan for defeating the Islamic State which includes stopping the flow of Syrian migrants to the U.S., reversing the defense sequestration and sending in troops to "go on the offense" against the Islamic State and defeating Syrian President Bashar al-Assad.
According to an aggregate of polling data from Real Clear Politics, Rubio is polling in third place among the Republican contenders with 12.5 percent, behind Donald Trump with 27.5 percent and Ben Carson with 19.8 percent.
Watch the advertisement below.