A spokesman for House Select Committee on Benghazi Chairman Trey Gowdy (R-S.C.) pushed back hard against an ex-staffer's lawsuit Monday, arguing that the case is "meritless."
The lawsuit, announced today, sues Gowdy for defamation and discrimination — and alleges that the chairman led a "witch hunt" against former Secretary of State Hillary Clinton using his panel tasked with investigating the Sept. 11, 2012, attack on the U.S. Consulate in Benghazi, Libya.
"The committee understands that a lawsuit has been filed by Bradley Podliska asserting claims pursuant to the Congressional Accountability Act, among others," Gowdy's spokesman Jamal Ware said in a statement. "We disagree strongly with those claims, which are meritless and which improperly strike at the heart of the committee's legislative functions."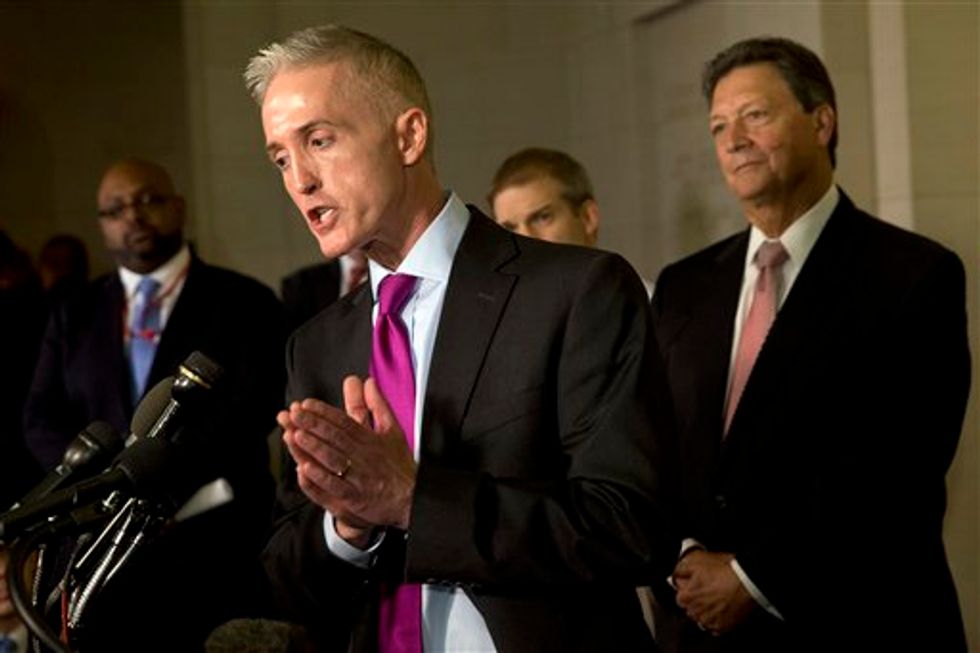 Rep. Trey Gowdy (R-S.C.), chairman of the House Select Committee on Benghazi, speaks to the media after a marathon hearing with Democratic presidential candidate and former Secretary of State Hillary Rodham Clinton on Capitol Hill in Washington Oct. 22, 2015. (AP/Jacquelyn Martin)
Ware also disputed Air Force Reserve Maj. Podliska's claim that he was fired because he took time off for active-duty military service, saying: "The committee did not and does not discriminate or retaliate based on military service, military status or any other unlawful factor."
Once all the facts are known — if the case proceeds to court — Ware vowed that the committee and its chairman will be "fully exonerated."