President Barack Obama will be a featured vocalist on the band Coldplay's next album, according to a report by British tabloid The Sun.
The group reportedly used an audio clip of the president leading the congregation of Emanuel African Methodist Episcopal Church in the hymn "Amazing Grace" during his eulogy for Rev. Clementa Pinckney in the wake of a gunman's shooting at the Charleston, S.C., church in June, which killed nine people.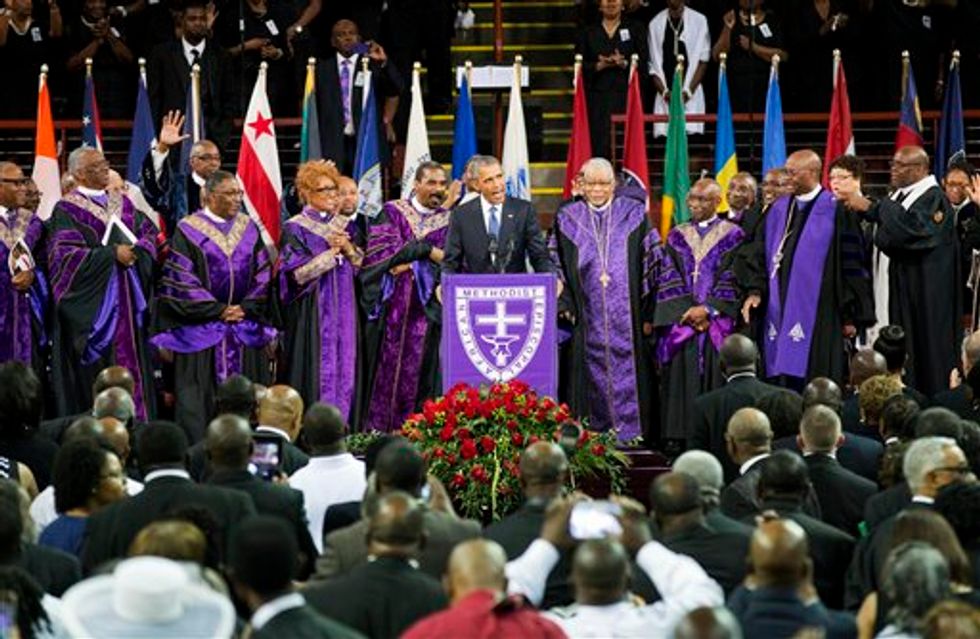 President Barack Obama leads a singing of "Amazing Grace" while delivering the eulogy at the funeral service for Rev. Clementa Pinckney June 26, 2015, in Charleston, S.C. (AP/David Goldman)
The album, which is set for release on Friday, will use a clip of Obama singing the hymn as an "interlude," The Sun reported.
"We have a tiny clip of the president singing Amazing Grace at that church," Coldplay frontman Chris Martin told The Sun. "Because of the historical significance of what he did and also that that song being about, 'I'm lost but now I'm found.'"
Coldplay reportedly had to get permission from the White House and also the Emanuel AME Church to use the sample.
Here's the full version of Obama's song: