Youngstown State University students awoke to pro-Islamic State messages painted onto a rock on campus when they awoke Monday morning.
"We are coming," read one message on the rock.
"France deserves destruction," read another message.
My brother and sister attend Youngstown State and this was on their campus rock today. So theres that. pic.twitter.com/vbibAiXUiw

— Megh (@meghahan) November 23, 2015
Students were sent a text message from the university that said the painting is not viewed as a "credible threat."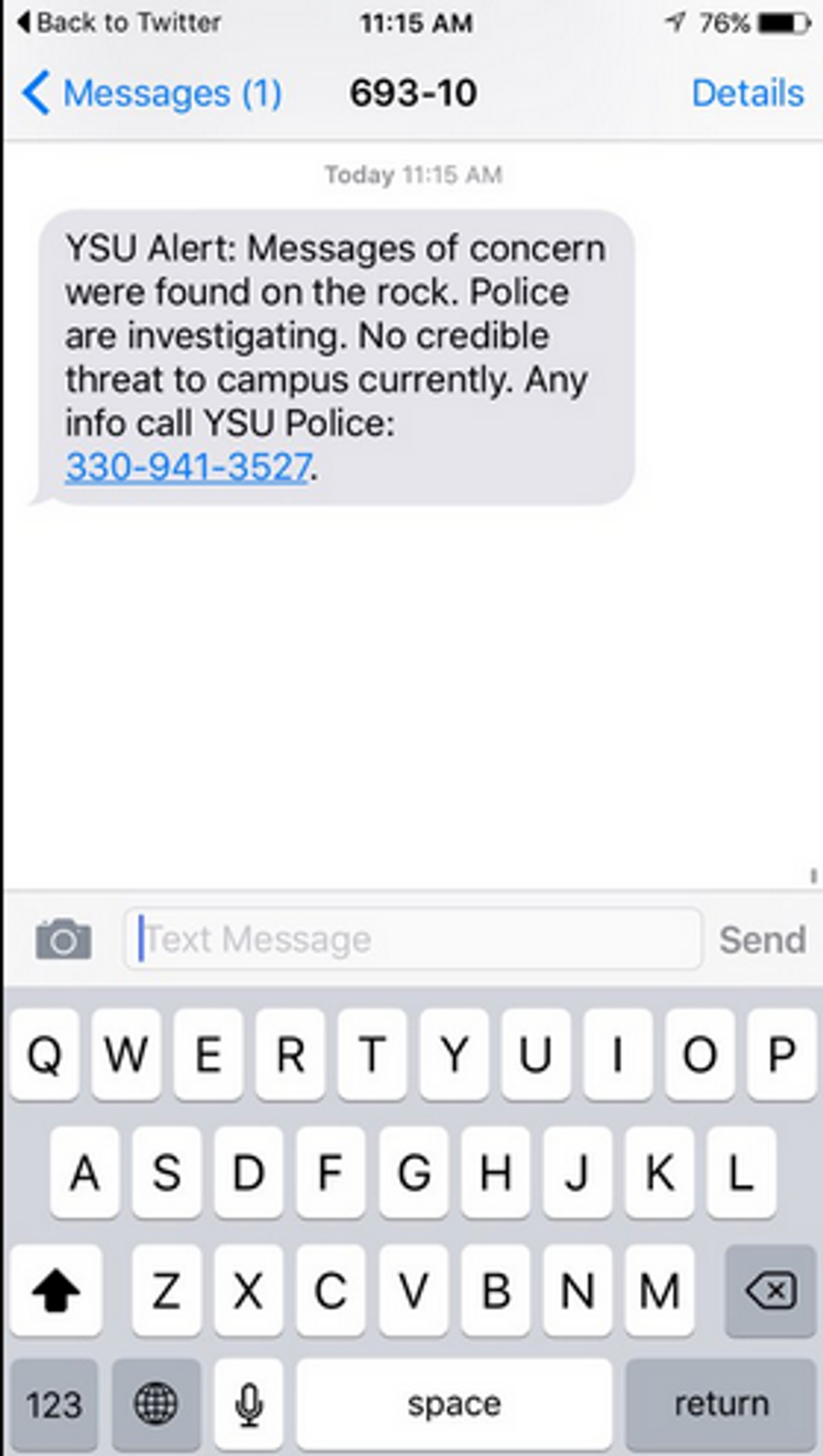 Image provided to TheBlaze
Shannon Tirone, associate vice president for university relations, told TheBlaze Monday morning that campus police are working with the local Youngstown Police Department as well as the FBI to determine who wrote the threatening message. Tirone said officials are reviewing security cameras in the area.
"We take those threatening messages very seriously," Tirone said. "With everything going on around the world today, we make sure we look into everything."
Tirone added that the university is prepared to prosecute the individual or individuals who wrote the messages to the fullest extent for inciting panic on campus, regardless if those responsible are actually affiliated with the Islamic State or not.
Meghan Brammer, who posted photos of the rocks to social media and has two siblings who attend the university, told TheBlaze that the images were "scary," especially considering recent events.
"Whether it was serious or just someone pulling a prank -- its not something to joke around about," Brammer said.
A campus police officer told TheBlaze he knew of painted rock and his department's involvement in to the investigation but was not authorized to speak to the media.
The message was painted on the rock either late Sunday night or early Monday morning, Tirone told TheBlaze, adding that the rock is typically used to promote school spirit, homecoming events or student organizations. The pro-Islamic State messages have already been painted off by late Monday morning.
Youngstown State is an urban research university with approximately 15,000 students in northeast Ohio.