© 2023 Blaze Media LLC. All rights reserved.
Glenn Beck Reluctantly Claims His Prediction Is Coming True: 'I Wish We Would Have Been Wrong…but We're Not\
"...reaping what has been sown by our own president."
Glenn Beck warned Tuesday morning on The Glenn Beck Radio Program that he believes his years-old World War III prediction is coming true.
"I wish we would have been wrong," Beck said. "But we're not."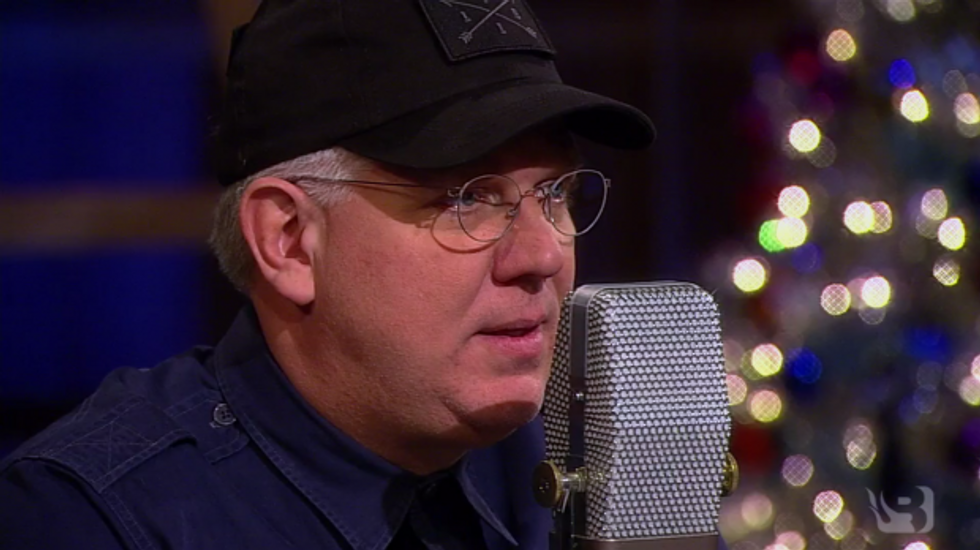 Glenn Beck discusses his prediction of a coming World War during "The Glenn Beck Radio Program" Nov. 24.
Beck insisted people should listen for a country in the North Atlantic Treaty Organization (NATO) to invoke Article Five. The radio host believes the invocation of the policy "brings us to war."
"If anybody is talking about Article [Five] — and this could be brought up by France. I don't think it will be brought up by Turkey, but it could be," Beck said. "If anybody starts talking about Article [Five], that is the article in the NATO alliance that brings us all to war."
The policy Beck is talking about unites all NATO allies against a singular threat.
"This principle is enshrined in Article Five of the North Atlantic Treaty, which states that an attack on one ally shall be considered an attack on all allies," the NATO's website reads.
The only other time Article Five has been invoked was in the wake of the attacks on 9/11, according to NATO.
Invoking Article Four, which calls together all NATO members for an emergency meeting, the countries in the Organization met Tuesday at 11 a.m. Eastern time after Turkey shot down a Russian fighter jet. Article Five was not invoked during that meeting.
Later in the program, Beck backed up his claim that war is coming. He described President Barack Obama as the "architect behind what is happening right now" in the Middle East, a marked change from his appearance on Fox News Channel's "Kelly File" two weeks ago.
"Let me make the case that I was wrong when I was on [the "Kelly File"] and I gave him the benefit of the doubt and I said, 'This president has been wrong every step of the way,'" Beck told his radio audience.
Beck went on to share a recently declassified Department of Defense document that seems to suggest the Obama administration knew about the potential for a radicalized group like the Islamic State, but allowed it to flourish in hopes that it would topple Syrian dictator Bashar al-Assad's regime.
The Defense Department paper is from 2012, months before Election Day.
"The election was nearing," Beck said. "[A]nd they were in the midst of a horrible PR disaster, trying to appear strong on terror as terrorism was surging."
The document describes a strong potential for a Salafist, or orthodox Sunni Islamic, movement to arise in Syria. The Islamic State had not yet declared its desired "caliphate," but Beck said the intelligence community was "spot on."
"If the situation unravels, there is the possibility of establishing a declared or undeclared Salafist principality in eastern Syria (Hasaka and der Zor), and this is exactly what the supporting powers to the opposition want, in order to isolate the Syrian regime," the Defense document reads.
According to Beck, the Obama administration allowed the Islamic State to grow because "this president wanted an extremist Islamic group fighting Assad."
"Team Obama would have you believe that ISIS caught them by surprise and we're doing everything we can to destroy them," Beck said. "In reality, they saw ISIS coming. They wanted ISIS to come."
Beck said the U.S. is now "reaping what has been sown by our own president."
Complimentary Clip From TheBlaze TV The full episode of The Glenn Beck Program, along with many other live-streaming shows and thousands of hours of on-demand content, is available on just about any digital device. Click here to watch every Glenn Beck episode from the past 30 days for just $1!
—
Follow Tré Goins-Phillips (@tregp) on Twitter
Want to leave a tip?
We answer to you. Help keep our content free of advertisers and big tech censorship by leaving a tip today.
more stories
Sign up for the Blaze newsletter
By signing up, you agree to our
Privacy Policy
and
Terms of Use
, and agree to receive content that may sometimes include advertisements. You may opt out at any time.