Solidifying his position as a "top tier" candidate, Republican presidential hopeful Sen. Ted Cruz (Texas) continues to chip into Donald Trump's lead in Iowa, a new Quinnipiac poll released Tuesday found.
According to the poll, the Texas senator has risen to second place in the early caucus state with 23 percent of support — just two points behind front-runner Donald Trump, who sits at 25 percent.
Cruz's elevation to No. 2 in current Iowa polling is the result of a 13-point jump compared to his October numbers. In this most recent poll, Cruz topped all GOP candidates among tea partiers, evangelicals, women and those who identify as "very conservative."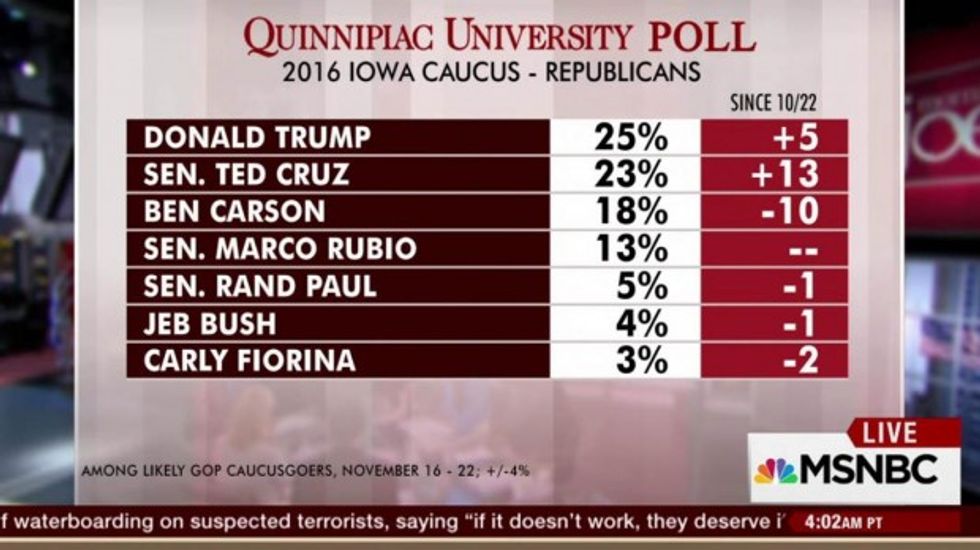 Image source: MSNBC/Morning Joe
Retired neurosurgeon Ben Carson saw his support drop 10 points since October to just 18 percent. Florida Sen. Marco Rubio followed in fourth place with 13 percent. Kentucky Sen. Rand Paul rounded out the top-five with just 5 percent of support, down a point since last month.
No other candidate was able to reach 5 percent support.
Following Paul were former Florida Gov. Jeb Bush at 4 percent and former Hewlett-Packard CEO Carly Fiorina at 3 percent.
New Jersey Gov. Chris Christie, former Pennsylvania Sen. Rick Santorum and former Arkansas Gov. Mike Huckabee each received 2 percent, while Ohio Gov. John Kasich garnered just a single percentage point.
South Carolina Sen. Lindsey Graham, former New York Gov. George Pataki and former Virginia Gov. Jim Gilmore did not register any support.
In terms of favorability, Carson was found to be the most favorable, receiving 79 percent of approval from Iowans. Cruz was second with 73 percent, while Rubio followed with 70 percent. Trump was 20 points off Carson at 59 percent.
The survey of 600 likely GOP caucus-goers was conducted between Nov. 16-22 and had a margin of error of +/- 4 points.
The Ted Cruz campaign did not immediately respond to a request for comment from TheBlaze.
—
Follow the author of this story on Twitter and Facebook:
[facebook //www.facebook.com/plugins/like.php?href=