While many were posting pictures of backyard decks dusted in white and pine trees with picturesque wintery boughs, another scene captured in one of the first snows of the season on a college campus was deemed "vulgar" and "reprehensible."
Traced into the snow on several cars on Calvin College's campus in Grand Rapids, Michigan, were the words "White Power" and images of swastika. The images were found on cars Sunday evening and by Monday the Christian college with the aid of surveillance footage was able to identify two students who then confessed.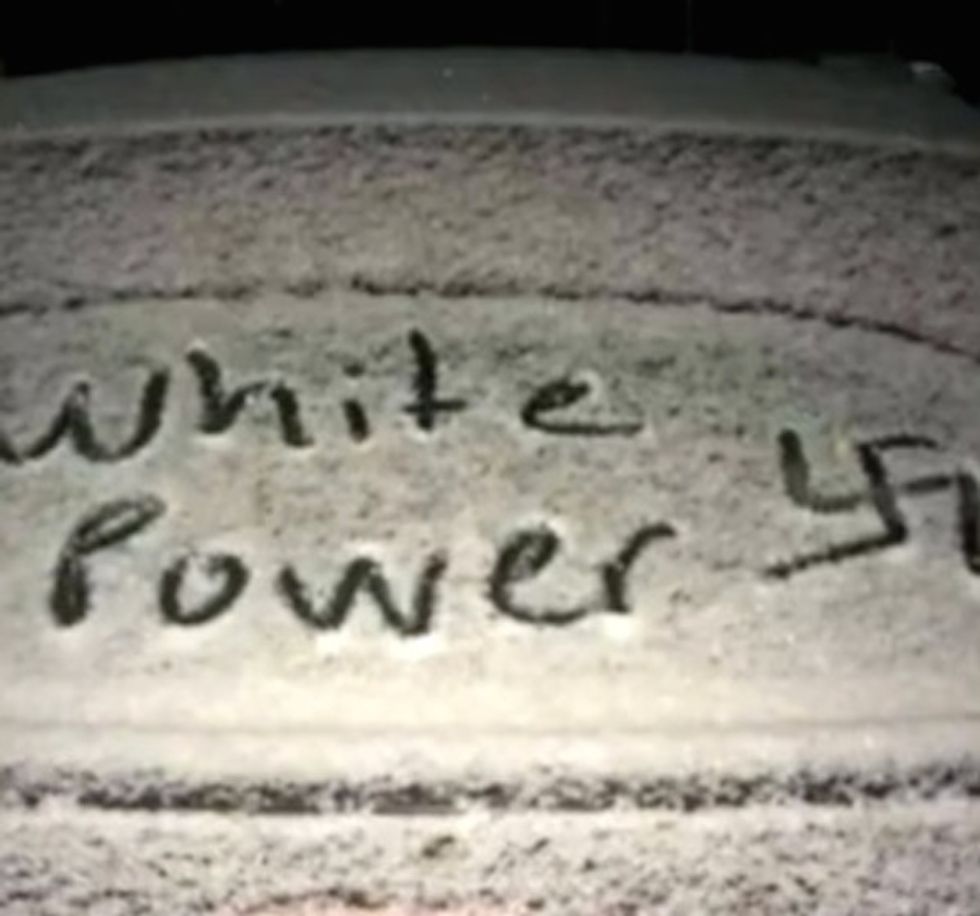 Image source: WOOD-TV
In his latest statement Tuesday morning, Calvin College President Michael Le Roy wrote on Facebook that "those who perpetrated the racialized graffiti incident admitted responsibility. In accordance with Calvin's Safer Spaces policy this is an instance of misconduct."
Le Roy went on to say that the names of the students will not be released, per the school's policy, but said that the "investigation will now move through our student disciplinary process."
Watch WOOD-TV's report:
Le Roy used this opportunity to call upon the Christian faith and the principles the school was founded upon in this incident.
"Now we seek to respond to the demands of truth, justice, and grace, which is a task for all who are involved. This act, like all sins, is reprehensible in God's sight," Le Roy wrote. "It will take time to confess, to forgive, and to heal, but today hundreds of faculty, staff, and students rose together in a pledge to oppose racism and commit to speaking the truth when racism is found. Speaking the truth in a spirit of love and grace is what it means when we claim to live out our commitment to be Christ's agents of renewal in the world. May we not be found wanting in this work."
On Monday, hours after the marks were found on six cars, Le Roy wrote a lengthy piece on the college's Facebook page in which he asked people to think about "how it must have felt for a person to find these words and symbols on a car outside their residence last night or on social media" and what their Christian duty is in the face of such actions:
Here are some of the questions that have been asked: "Were these comments directed at me?" "How can I feel safe if someone casually uses these symbols?" "Did a follower of Jesus do this?" "Are there Nazis on my campus?" "If there is a Nazi on campus, am I safe here?" This bias-related act has violated the trust that is implicit in a community like ours that demands dignity, respect, and civility. Our Christian commitment to dismantle systemic racism is an integral part of student orientation, student life programming, and our academic curriculum. If the perpetrator is a member of our community, it seems those lessons were lost on the person(s) responsible for this act. Our commitment to equipping students as "Christ's agents of renewal in the world" intends that we become changed people by means of God's grace so that we can act and live abundantly in a manner contrary to ideologies of death like white supremacy and racism. Anyone in need of support or wishing to discuss this incident is welcome and encouraged to contact any of the following resources which best meet his or her needs.
Calvin College hosted a gathering at its chapel Monday afternoon as "a time of education, prayerful lament, and responsible action," Le Roy wrote, hoping that it would "help those who are fearful to know that they are not alone."
Watch the college's statement made against these actions:
(H/T: MLive)