More than 600 Democratic lawmakers — current and former — from 32 states signed a letter to President Barack Obama voicing their opposition to his administration's recent power plant regulations that will impact the coal industry. And the number of signatories could grow.
"Disconcertingly, the current direction of U.S. policy — underscored by recent decisions of the U.S. Environmental Protection Agency (EPA) regarding new and existing electric power plants — falls short of these critical benchmarks and, in our view, requires serious reevaluation and adjustment. In sharing these concerns with you, Mr. President, please know that we do so not on behalf of any industry or special interest, but on behalf of the American people we represent in elective office and as leaders within the Democratic Party," said a letter from the CoalBlue Project, a Democratic pro-coal nonprofit.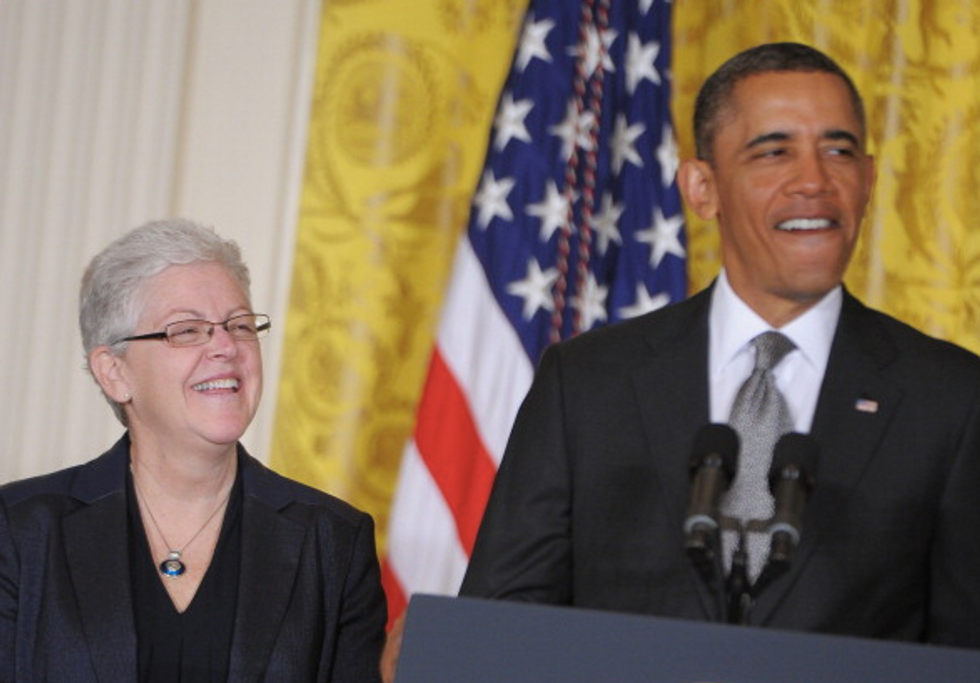 Gina McCarthy, left, smiles during her nomination by President Barack Obama to run the Environmental Protection Agency March 4, 2013, in the East Room of the White House in Washington, D.C. (Mandel Ngan/AFP/Getty Images)
While the letter has 626 names now, the organization's website asks for more Democratic officials to add their names.
The letter from concerned Democrats, many in coal states or states tied to the coal industry, said that the power plant regulations will do little to curb carbon emissions but will have the effect of putting the United States at a competitive disadvantage.
"As for the EPA's rule for existing power plants, there is great concern that it will place tremendous economic burdens on the American economy, American families, and American businesses, without any direct material impact on global CO2 emissions," the letter continued. "Absent other nations following our lead, the EPA's existing-unit rule will do nothing to stem the growth of global CO2 emissions. Leadership requires that others follow, and while we not only support, but call for U.S. leadership in addressing the global climate challenge, policies that increase the cost of electricity and reduce the reliability of the grid — as the EPA's proposal for existing units would do — will not lead other nations to follow, particularly not those in the developing world."
"Moreover, raising the cost of energy in the United States will lead to a transfer of economic activity and jobs from the United States to other nations — many of which generate electricity less efficiently and with far higher rates of CO2 emissions. In such instances, this "carbon leakage" will actually result in a net increase in global CO2 emissions, all the while our constituents will be paying a very real economic price at home," the letter added. "As Democrats, particularly mindful of the impact of policy decisions on American workers and their families, seniors, minorities, and others, we find such an outcome difficult to explain. "
The CoalBlue Project is a coalition of Democrats headed up by chairman Zach Space, a former U.S. House member from Ohio and signer of the letter.
Read the CoalBlue Letter to the President Nov 2015 below: