According to more than a dozen incident reports provided to TheBlaze, a man by the name of Robert Lewis Dear had several run-ins with law enforcement officials in South Carolina as he was investigated for claims of domestic violence, peeping and animal cruelty — among several other things.
According to one report provided to TheBlaze, a woman who was married to Dear at the time of the incident in June 1997 told police that her husband assaulted her and locked her out of their residence.
"The victim wanted something on record of this incident occurring," the report states. "The victim does not wish to file any charges at this time."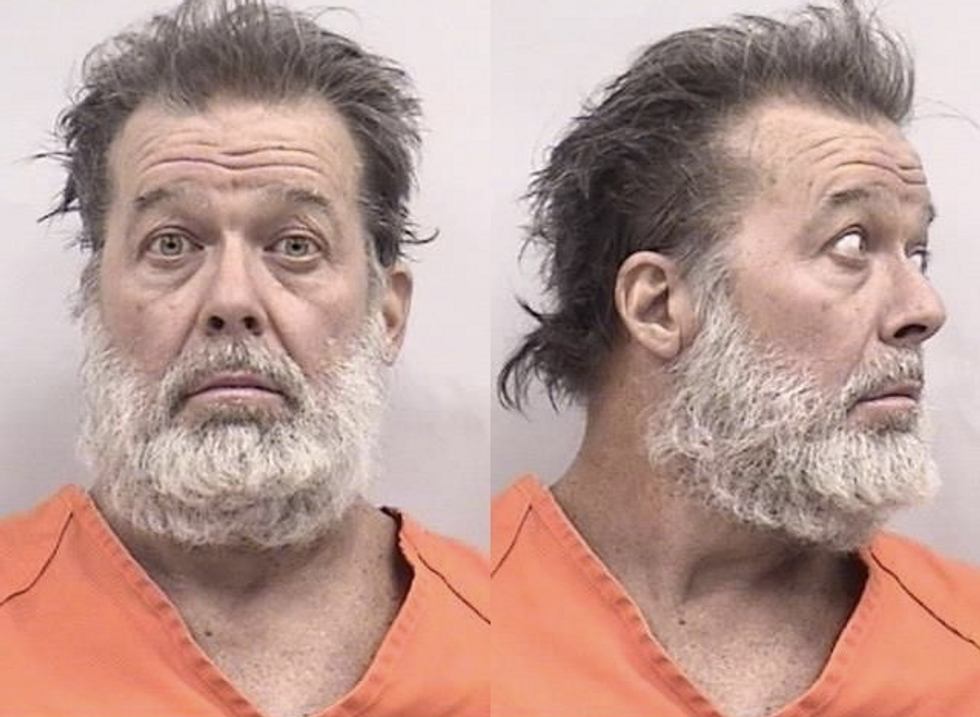 Mugshot of Robert L. Dear, the suspect in the Colorado Planned Parenthood attack Friday that left three people dead, released by the Colorado Springs Police Department. (Image via Twitter @CSPDPIO)
In another report, Dear was accused of shooting a neighbor's dog in 2002. A neighbor told police that his dog was walking down the driveway when a shot rang out. The dog had been shot in the leg with a pellet gun, according to a veterinary examination.
"Douglas was lucky that it was only a pellet that hit the dog and not a bigger round," Dear told an officer who questioned him. According to the police report, Dear had not been told what kind of bullet the dog was hit with.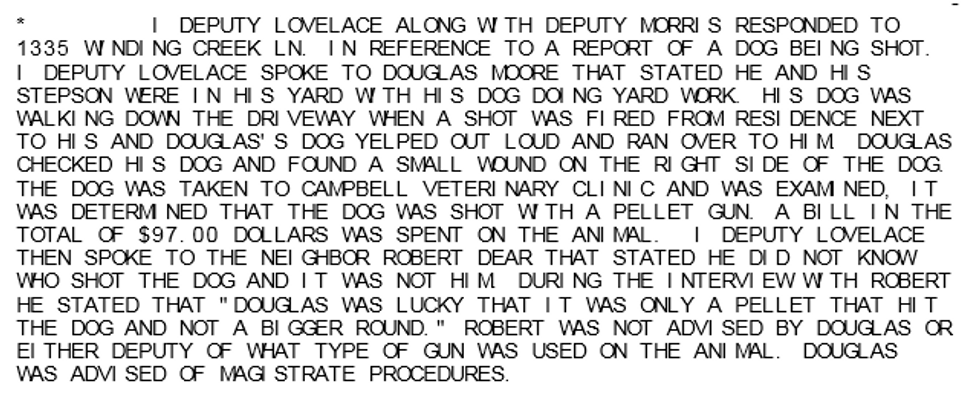 Screen grab of police report provided to TheBlaze
In another 2002 report, Dear's neighbor told police that he had made unwanted advancements toward her. She said both she and her husband had witnessed Dear in the bushes next to their home.
The neighbor informed police then that she was afraid for her safety.

Screen grab of police report provided to TheBlaze
Police also responded to a call from a man who said Dear had called and threatened him in 2004. According to the report, the man said Dear assumed he had pushed over his motorcycle and wished to do him bodily harm. The police report stated that the victim and suspect — Dear — had an ongoing "problem."
Police had also been called to Dear's residence in response to disputes he and his son had with others. Other incident reports show that Dear had called police to report stolen items from a property he rented out in 2007. He told police then that the tenants had damaged toilets in the property by flushing raw chicken.
Lt. Shane Roberts, public information officer for the Colleton County Sheriff's Office, told TheBlaze that he could not confirm that Dear is still an active resident of South Carolina and pointed out that some of the reports list Dear's address as a North Carolina residence. His South Carolina residence, according to the reports, is in Walterboro.
The Associated Press also reported that Dear had a North Carolina address.
"If you talked to him, nothing with him was very cognitive — topics all over place," James Russell, a neighbor in Black Mountain, told the Associated Press.

Screen grab of police report provided to TheBlaze
Pamela Rose, Dear's ex-wife who now lives in Goose Creek, South Carolina, told the Charleston Post & Courier that she and Dear divorced in 2000.
"I know everyone has a lot of questions," Ross said. "We all do. ... We're living it just as everyone else is."
Roberts said Dear had two arrests within his jurisdiction — one in 2003 for animal cruelty and one in 2002 for Peeping Tom. Roberts was unable to provide a disposition of either case.
Roberts told TheBlaze via text message that he could not confirm whether the Robert Lewis Dear in the police reports he provided was the same as the suspect in the Colorado Planned Parenthood attacks although the name and date of birth coincides.
"I have not received any information from Colorado Springs Police Department," Roberts said.
On Twitter, the CSPD said that Dear was a resident of Hartsel, Colorado.
Access to the suspect's address in Hartsel, CO is closed per the Park County Sheriff's Office.

— Springs Police (@CSPDPIO) November 28, 2015
According to voting records, there is a Robert Lewis Dear registered to vote Hartsel, Colorado. However, the voter registered as a female.
The Associated Press reported that those who said they knew Dear said he had little political or religious affiliation.
This story has been updated.