The military's research arm set out to develop "radical advances" in methods to launch satellites from a fighter jet. Testing began less than a year ago, but things apparently did not go as anticipated and the Defense Advanced Research Projects Agency has decided to stop planning launches for its Airborne Launch Assist Space Access program.
"It did not go as predicted," Brad Tousley, director of DARPA's tactical technology office, told Space News, which reported that explosions occurred in two tests.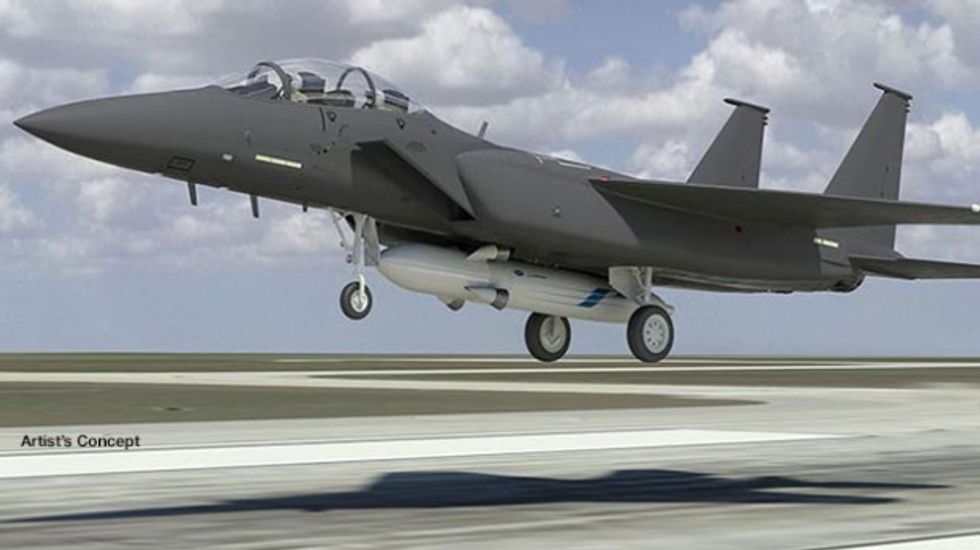 Image source: Boeing
The ALASA program was meant to develop a less expensive method than current ground launches, which can cost more than $30,000 per pound to send equipment into space. DARPA's program sought to create a system that would launch satellites of 100 pounds for less than $1 million.
In 2014, the research agency awarded a $30.6 million contract to Boeing Defense Space and Security to build a 24-foot vehicle that would attach under an F-15E aircraft. The system would be released by the plane at 40,000 feet, at which point it would use its own engines to enter low-Earth orbit.
Watch this concept video showing how it was supposed to work:
When testing began in early 2015 though, things went awry with the propellant that would fire the engines to carry the satellite vessel into space. Here's more from Space News:
"The magic" in Boeing's design, as DARPA officials described it, was the powerful nitrous oxide-acetylene propellant, also known as NA-7. The propellant would be "pre-mixed" to reduce the plumbing needed on the rocket, enabling it to carry more payload.

Boeing led two subsystem tests in Promontory, Utah – one in August and one in April – aimed at learning how the pre-mixed propellant reacted to different temperatures, pressures and atmospheric conditions. In both tests, the propellant exploded.
"From a performance standpoint it's still great but from a safety standpoint you have to work that out," Tousley told Space News. "As of present, we've stopped planning for any launches."
Still, Space News reported that a third test is "imminent," as the agency wants to continue developing the technology. It is also researching how what they've learned so far can be used in other launch applications.
"Maybe it turns out it's better suited for a ground-launch mission," Pam Melroy, deputy director of DARPA's tactical technology office, told Space News.
(H/T: Popular Science)