Two pastors clashed during a heated CNN segment on Monday night while discussing Donald Trump's meeting with 100 black pastors, with one of the preachers doubling down after calling his fellow clergy "prostitutes" for agreeing to meet with Trump.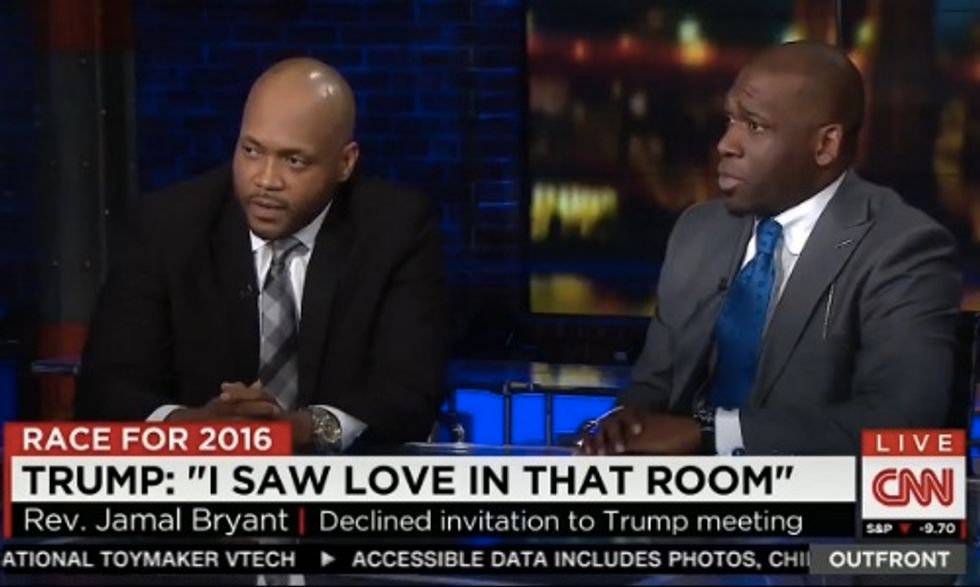 Pastor James Davis and the Rev. Jamal Bryant clash (CNN)
The back-and-forth between Pastor James Davis, who attended the Trump event and the Rev. Jamal Bryant, who criticized his fellow faith leader for doing so, was pretty uncomfortable at moments — particularly during an exchange during which the word "prostitute" was thrown around.
"Dr. Bryant has gone so far to go out on Twitter and call the people who were in that room 'prostitutes,'" Davis said, noting that Bryant compared the preachers' pulpits to poles.
Rather than back away from these comments, Bryant doubled down.
"I want to apologize, because prostitutes get money, and the 100 that went in there walked away with nothing," he said. "They did it for free, so there's another word for that and I would not use that language on a family channel."
Earlier during the exchange, Bryant called Davis a "pawn" and said that he vehemently opposes Trump, who he claimed has been "outlandishly offensive to every minority group in the country."
Davis, though, explained that the meeting with Trump, despite previous claims made by the campaign, "was never about endorsing" the Republican presidential candidate, and said that history was made, as 100 black faith leaders had met with a GOP hopeful.
"He absolutely listened to us," he said of Trump, proceeding to blame President BarackObama and other leaders currently serving for the blight of African Americans. "Right now, under this administration, black folks are worse off than we've ever been."
In the end, Davis wasn't willing to let the "prostitute" debate go either, saying that he believes that Bryant should lose his pastoral credentials.
|REPLAY| Prostitutes for Trump...don't let black pulpit become a pole #katch#Periscopehttps://t.co/Ll8tEgxatSpic.twitter.com/6LonTqCbQH

— jamalbryant (@jamalhbryant) November 26, 2015
"He probably should have his ministerial credentials revoked, because I wouldn't call any of my brothers that name."
Watch the heated segment below:
(H/T: Mediaite)
--
Follow the author of this story on Twitter and Facebook: