Joe Maldonado — more commonly known as Joe Exotic — makes a living keeping and protecting animals, and as he announced last week, he wants to do the same for people.
The Oklahoma zookeeper traveled to Ohio last week to formally announced his candidacy for president of the United States and has mailed his statement of candidacy to the Federal Election Commission, according to a press release from the candidate. Maldonado, formally known by the last name of Schreibvogel before he married and took his husband's name, is running as an independent candidate.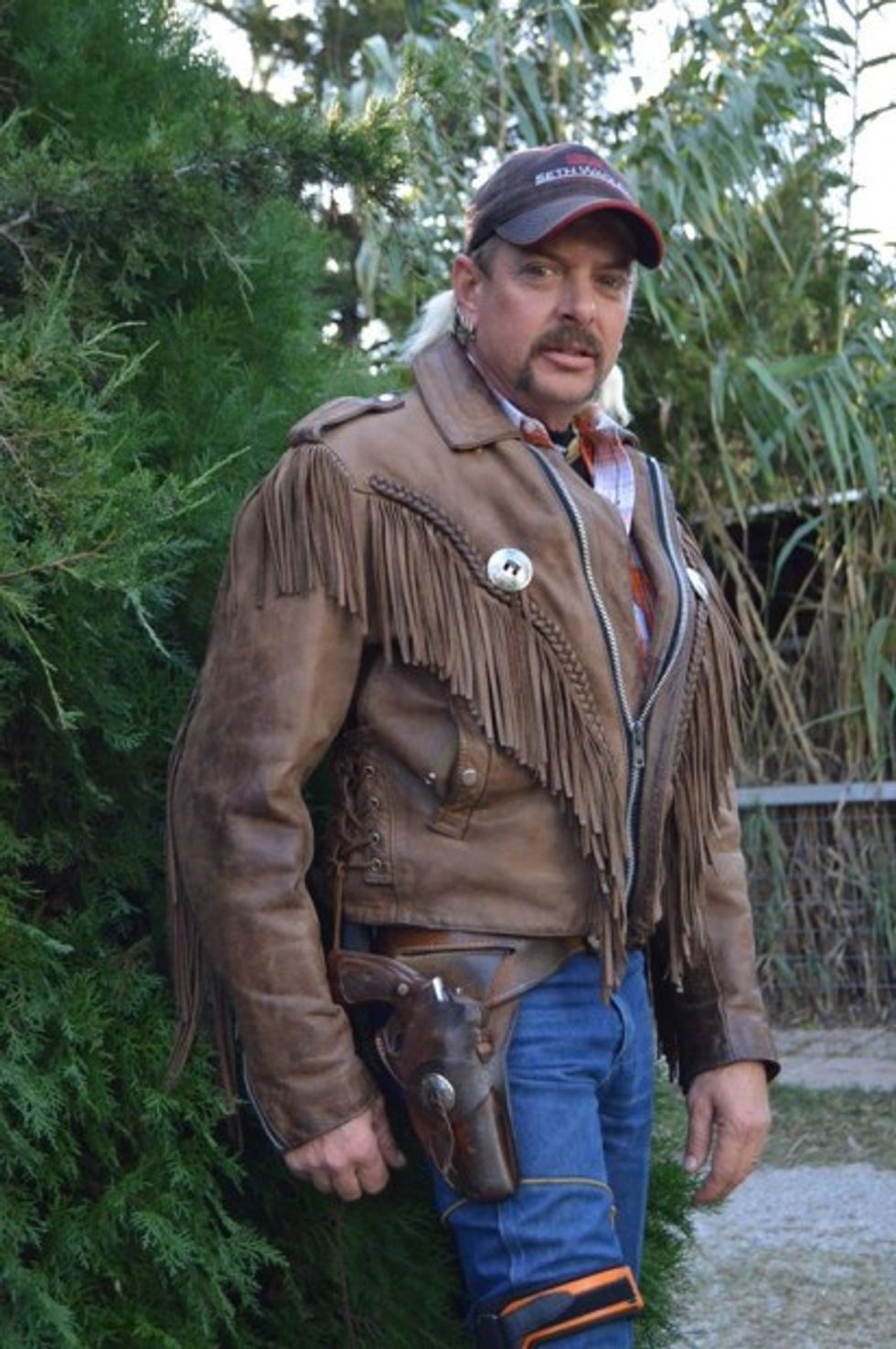 Image via Facebook/Joe Schreibvogel
In his press release, Maldonado said he was running to "support the people of Ohio that is being raided with swat teams for this monopoly." In an earlier press release, he slammed Republican presidential candidate Ohio Gov. John Kasich, specifically referring to him as a "rhino bastard."
"It is time the people who built this country with blood, sweat and tears has a voice," Maldonado said.
Known as Joe Exotic in Oklahoma, he owns GW's Exotic Animal Park in Wynnewood. According to KXII-TV, Maldonado has made a name for himself by granting "last wishes" to terminally ill people. One such wish recipient was Linda Sneed of Sherman, Texas, who is battling pulmonary hypertension and COPD. Thanks to the newly announced presidential candidate, she was able to hold a lion cub.
KFOR-TV reported that Maldonado has previously been fined by the USDA and heavily criticized by animal rights organizations — situations that he has addressed in videos uploaded to his Facebook page.
"What's my chances of winning?  Who knows, you know?  Pretty slim," Maldonado told KFOR. "But I'm going to give them a run for their money."

Image via Facebook/Joe Schreibvogel
Maldonado also told the news station that he's well aware he doesn't have the kind of cash flow comparable to the two major party front-runners — Democrat Hillary Clinton or Republican Donald Trump — but that doesn't matter to the zookeeper.
"It's going to be a grassroots organization, grassroots campaign for the small people for a change," Maldonado said, adding that he's going to focus on issues such as veterans rights and health care.
Maldonado has taken to his Facebook page to address issues for voters, as well. On Monday, he addressed world leaders meeting to tackle climate change.
"Just saw on the news all world leaders under one roof are trying to agree on climate control and pollution. Really more billions spent on carbon emissions? What does it take to convince the world we have to stop multiplying. 353,000 babies are born every day. How long can we add to this. And that is only reported census. Now figure that many new drivers for cars everyday 16 to 18 years everyday there of. We are killing ourselves people," he wrote.
With his hair long and his husband by his side, Maldonado told KFOR that he doesn't plan to change a thing as he campaigns.
"It shouldn't be about my sexual preference.  It shouldn't be about the way I look.  It shouldn't be about anything else," he said.  "I'm not going to wear a suit.  I'm not cutting my hair, because I'm not going to be fake."
KFOR reported that Maldonado has never held public office, but he did say that he's been involved in politics before and was a police chief once.