Lisa Aldrich had her cake picked out at a Michigan Meijer supermarket — all she needed was a "Happy Birthday" message composed on top of it.
So Aldrich turned to a "bakery-looking-employee" and asked if she could do the honors. The employee said she would.
Aldrich noted Sunday that the job took "a long time," but the employee came back with the finished product. "I looked her in the eye and said thank you before I even looked at the cake," Aldrich said.
Soon after, Aldrich said she "nervously laughed" after viewing what the employee had written on the cake: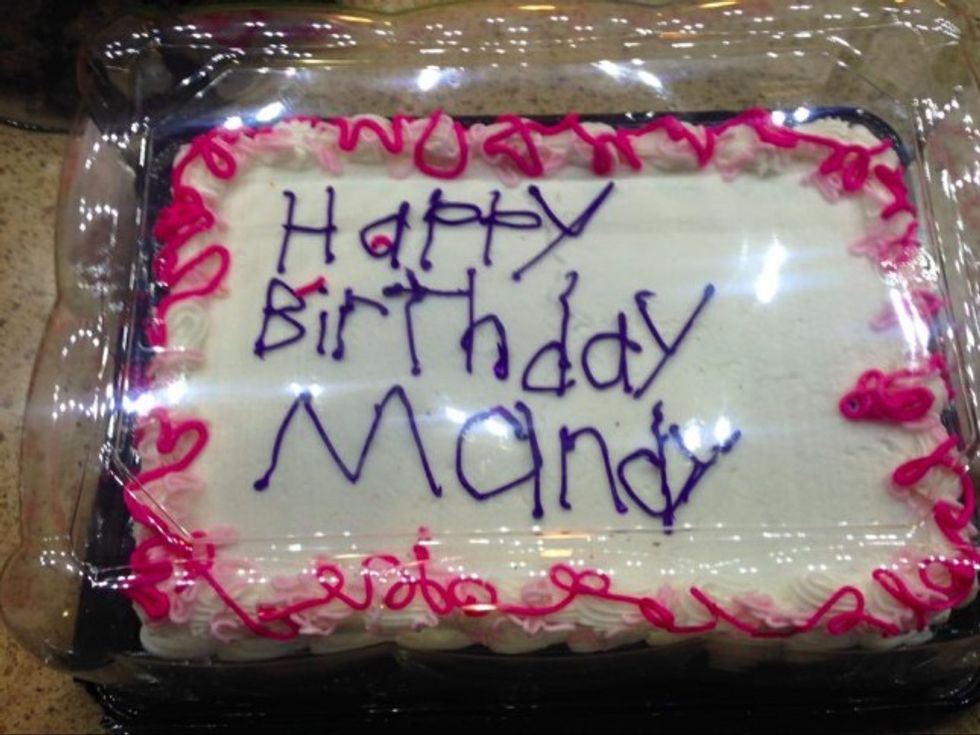 Image source: Facebook
Aldrich headed to the check-out line, noting that "it didn't really matter to me that it looked so bad" and figuring others "would think it was funny."
That's when the cashiers and a manager at the Gaines Township Meijer gave Aldrich the news: The employee who wrote on the cake has autism.
"Thank you for smiling and thanking her," Aldrich said one cashier told her. "Even though she's not supposed to write on cakes, you probably made her day."
As of Wednesday morning Aldrich's post received over 91,000 shares.
In a follow-up comment Monday, Aldrich said she talked to the store manager and was relieved to learn that the "wonderful lady who helped me with the cake did NOT get in trouble" and was told "to do whatever she needed to do to serve the customer's needs, and she did just that."
As reactions to Aldrich's post poured in, she wrote Tuesday:
I am totally overwhelmed by God's goodness, and how he has used this cake story! I am sitting here weeping and reading through 100+ messages from people all over the country who have a loved one with Autism, thanking me. I just feel the need to say again — I didn't do anything special. Be nice. That is all. I can't believe how awesome God is that he is using this story to bless so many people! God is so, so good.
Later she added that "this is why I try to be nice, in case you wondered. Matthew 22:37-39: 'Jesus replied: "Love the Lord your God with all your heart and with all your soul and with all your mind." This is the first and greatest commandment. And the second is like it: "Love your neighbor as yourself."' Love God, love people. God is good."
And on Wednesday morning, Aldrich posted a little more proof that her story is legit:
(H/T: WGHP-TV)
—
Follow Dave Urbanski (@DaveVUrbanski) on Twitter