A man who reportedly worked near the home of one of the San Bernardino mass shooting suspects said he grew suspicious when he noticed half a dozen Middle Eastern men hanging around the area.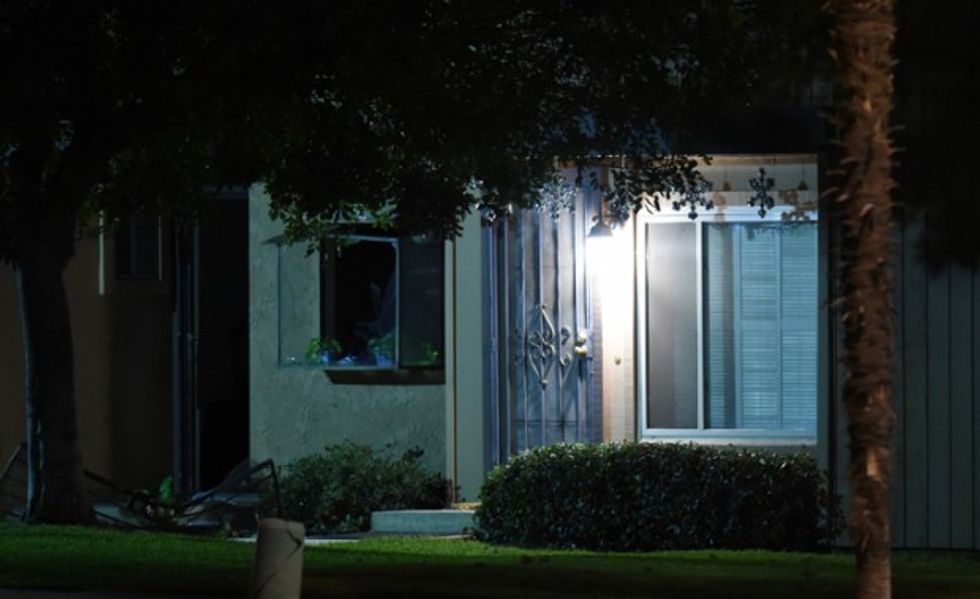 A broken window and crushed fence is seen at a home in Redlands, California linked to the San Bernardino shooting suspects after a SWAT team went in to investigate, in the early hours of December 3, 2015. Redlands police, SWAT, FBI and other law enforcement agencies served a warrant at the home after receiving a tip about a suspicious vehicle at the residence believed to belong to a shooter. A heavily armed man and woman killed at least 14 people and injured at least 17 at a social services center in nearby San Bernardino on December 2, 2015 before the suspects died during a shootout with police. (Photo credit: ROBYN BECK/AFP/Getty Images)
The unidentified man told KCBS-TV he witnessed the men leaving the same area where police conducted a raid on the home linked to the shooting suspects on Wednesday.
"We sat around lunch thinking, 'What [were] they doing around the neighborhood?' We'd see them leave where they're raiding the apartment," he said.
However, the man reportedly declined to report what he felt was suspicious behavior because he didn't want to be accused of racial profiling.
The two suspects in Wednesday's deadly mass shooting in California have been identified as Syed Farook and Tashfeen Malik, believed to be Farook's wife. The suspects allegedly opened fire at Inland Regional Center in San Bernardino, killing 14 and injuring at least 17.
A man claiming to be Farook's father said his son was a devout Muslim. Other reports indicate Farook may have recently traveled to Saudi Arabia where he found a wife he met online.
---