The Bernie Sanders presidential campaign sent out a fundraising email to supporters calling for a federal study on gun violence and injuries — even though the Vermont senator, who has a record of backing gun rights, previously opposed such a study.
In 1996, then-Rep. Sanders voted against an amendment to a Centers for Disease Control and Prevention bill that would fund a study into gun injuries, Reuters reported.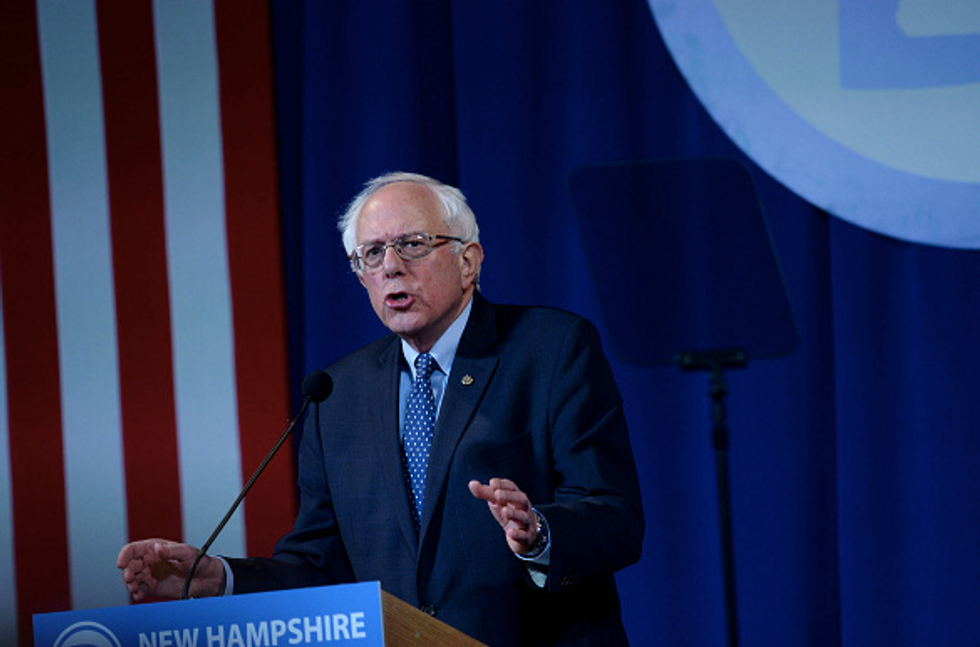 Democratic presidential candidate Vermont Sen. Bernie Sanders speaks at the Jefferson Jackson Dinner at the Radisson Hotel Nov. 29 in Manchester, New Hampshire. (Darren McCollester/Getty Images)
The three Democratic presidential candidates — Sanders, former Secretary of State Hillary Clinton and former Maryland Gov. Martin O'Malley — leaped at the opportunity to demand more gun control measures in the wake of the San Bernardino, California, shooting that left 14 dead Wednesday. On Thursday, the Sanders campaign sent the fundraising message, which said, "We must authorize resources for the Centers for Disease Control and Prevention to study and research the causes and effects of gun violence in the United States of America."
For gun rights advocates, the proposed study is a concern because, if politicized, it could be used for arguing for increased gun control measures.
Though a very liberal state, Vermont traditionally supports gun rights, and the issue has proved somewhat complicated issue for Sanders. As a House member, Sanders voted against the 1993 Brady Bill that required background checks for gun buyers. He also voted for a 2005 law that blocked lawsuits against gun manufacturers. Both of these votes put him to the right of most of the Democratic Party. Typically the self-professed socialist is to the left of the party.
In July, Sanders told some hostile gun control activists at a campaign event, "I come from a state that has virtually no gun control, and it turns out one of the safest states in the country," adding that guns mean something different to people in rural and urban areas. "People in urban America have got to appreciate that the overwhelming majority of people who hunt know about guns and respect guns, and are law-abiding people; that's the truth," Sanders said.
However, in October, Sanders advocated a ban on semi-automatic weapons.
The Sanders campaign did not immediately respond to inquiries from TheBlaze.