After terror attacks in Paris and San Bernardino turned the focus of the 2016 presidential race to national security, Republican candidate Carly Fiorina warned voters today that the U.S. remains vulnerable to massive, crippling cyberattacks.
In a Pearl Harbor Day speech to voters in Cedar Rapids, Iowa, the former Hewlett-Packard CEO touted her background in the technology world — a world accustomed to using Pearl Harbor-like terminology to describe the damage that could be done by a major attack on U.S. infrastructure like power grids or traffic control.
"The United States is woefully unprepared for cyberterrorism," Fiorina said, according to prepared remarks for the Iowa Presidential Tech Town Hall. "We are vulnerable. And … while we sit idly by, our enemies are building their capabilities."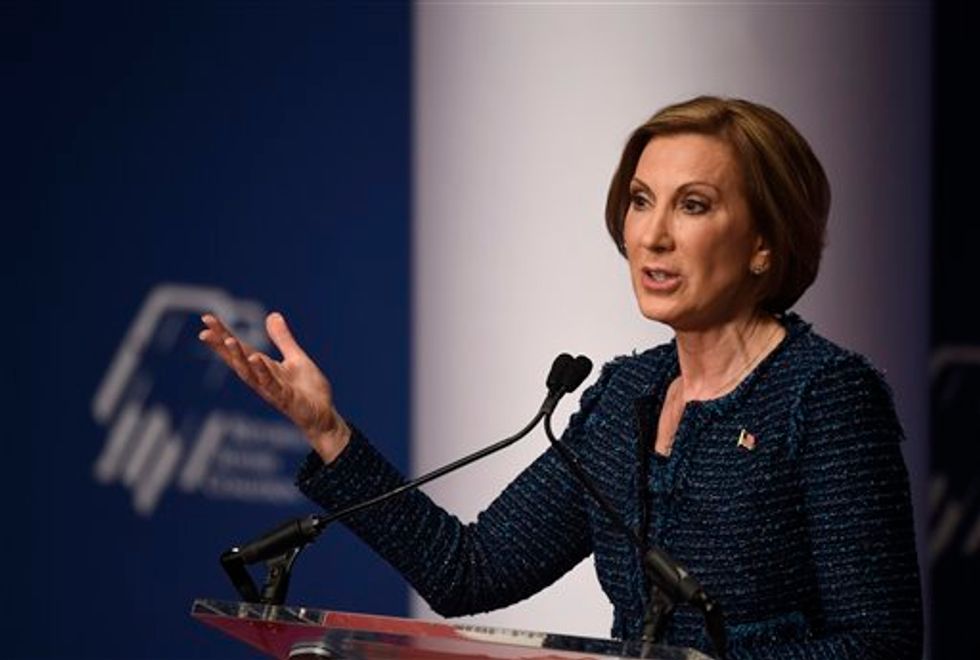 Republican presidential candidate and former businesswoman Carly Fiorina speaks at the Republican Jewish Coalition Presidential Forum in Washington, D.C., Dec. 3. (AP/Susan Walsh)
Other candidates, both Republican and Democrat, have touched on the cybersecurity issue on the trail — former Florida Gov. Jeb Bush has a full cybersecurity plan laid out on his website.
But Fiorina is relying on her tech background in order to stand out on the cyber issue. She made news in the first Republican presidential debate by calling on private companies like Apple and Google to knock down the "cyberwalls" that keep the government from gaining access to their customers' data.
"I spent my career in the technology industry," Fiorina said in her prepared remarks Monday. Then-Director of the National Security Agency Michael Hayden called her on Sept. 11, Fiorina said, saying that he needed help. In response, Hewlett-Packard re-routed a truck full of its products to NSA's headquarters in Ft. Meade.
"The point is — when it comes to protecting our national security — technology experts should be and can be a partner," she said.
In her speech, Fiorina pledged to establish a central government cyber command with an appointed director. She also called on Congress to pass Arkansas Republican Sen. Tom Cotton's legislation that would give the NSA access to the information it needs to "effectively investigate San Bernardino as soon as possible."
Fiorina pointed to statements by the former head of the Pentagon's cyber command, Keith Alexander, who said that the infrastructure that supports U.S. telecommunications, water and energy supplies is not well-prepared for a cyber attack.
The blame for that lies with President Barack Obama and Hillary Clinton, Fiorina said, and asserted that the U.S. strategy for cybersecurity is based on a document that hasn't been updated since 2011.
"Having operated at the highest levels of the tech world for many years, I can tell you: If you wait four years to move, you're going to lose," she said. "The fact that we have not updated our cybersecurity strategy since then is unconscionable."
Adversaries like Russia and China, as well as terror groups like the Islamic State, are clearly foes in the cyber arena, Fiorina said.
China and Russia even signed a pact in May "in which they agreed they that they will not hack each other's government systems and that they will work together to ensure effective censorship of their people," she said.
Fiorina wrapped up her speech with a swipe at Clinton over the Democratic front-runner's response to the controversy over her emails while as secretary of state.
"We must have a president who understands technology — both as a tool and as a weapon," she said. "And, no, you don't wipe a server with a cloth, Mrs. Clinton. We must have a president who will engage with our nation's best and brightest technology minds. I do and I will."