Coca-Cola has pulled a controversial Christmas online advertisement that was deemed racist by opponents.
The advertisement, slammed as discriminatory and racist by a Mixe indigenous lawyer in Mexico, begins with a statistic claiming that 81 percent of indigenous Mexicans feel disparaged for speaking an indigenous language. The advertisement then follows a group of young people — who all appear to be white — working together to bring the beverage to Oaxaca, Mexico as they erect a red Christmas tree that says, "Let's stay united," in the Mixe language.
"This Christmas, a group of youngsters wanted to give them a special message," the ad says.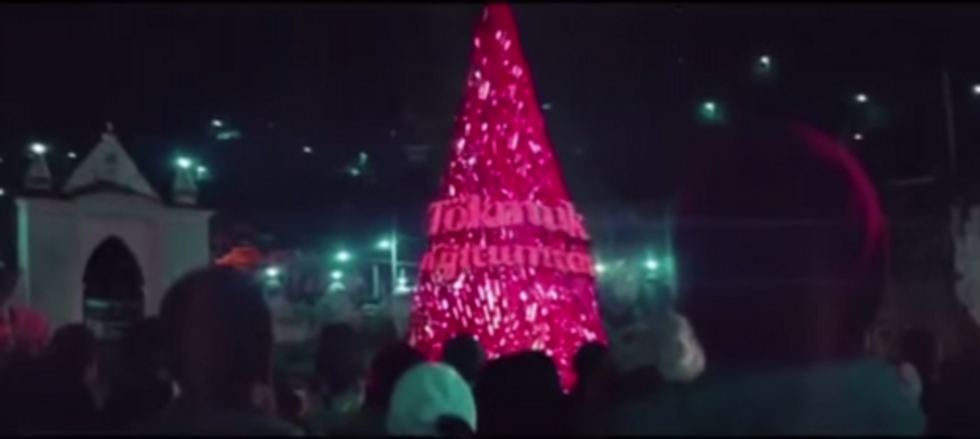 Image source: YouTube
According to Red Alert Politics, some organizations have decried the advertisement for promoting a "white savior."
Elvira Pablo, a Mixe lawyer, said he considers the advertisement as promoting "an act of discrimination and racism."
"As part of Coca-Cola México's Christmas campaign for this year the video 'Mixe Community Totontepec' was launched on digital channels, seeking to convey a message of unity and joy," a Coca-Cola spokesperson told Eater in a statement. "Our intention was never to be insensitive to or underestimate any indigenous group. We have now removed the video and apologize to anyone who may have been offended. In nearly 90 years in the country, Coca-Cola Mexico has worked to share messages of unity and friendship to contribute to build a society free of prejudices."
The advertisement has been removed from the company's YouTube page, but it can still be found online.
Prior to its removal, the Alliance for Food Health advocated for the Mexican government to block the ad as the group said it's an attack on the dignity of indigenous people.
While Red Alert Politics' Ryan Girdusky opined that "it would seem obvious that [those opposed to the ad] should also throw away other things produced by white people such as personal computers, toilet paper, and their telephones," many on social media expressed outrage over the commercial.
Watch Coca-Cola use white privilege to sell Coke to indigenous Mexicans.... https://t.co/kR3vBQ5w9Qpic.twitter.com/51pSCXKPaD

— Laura Martínez ® (@miblogestublog) November 26, 2015
White Mexicans can help. Give them back their land instead of a #CocaCola and stop the repression. https://t.co/3AUEdxRYlD#AbreTuCorazon

— Christopher Haslett (@CJ_Haslett) December 2, 2015
But check it Coca Cola did an add where white Mexicans brought indigenous Mexicans Coke and tools and continued the white savior narrative

— Victor Angel (@VictorxAngel) December 4, 2015
Oh look, @CocaCola exploiting white savior logic to sell product #notsurprisedhttps://t.co/mKtmqMwvzh

— Piinthesky (@pi_steph) November 28, 2015
Watch the advertisement below.